A little over 31 years ago, I began my homeschooling journey. I was so excited to begin teaching my oldest daughter. She was an eager learner, and her younger two siblings played well while I was teaching her.
Fast forward a few years when I was homeschooling 3 kids, and had a toddler and baby. Things weren't as EASY, and one day I realized that I had LOST MY HOMESCHOOLING JOY! It had become more of a burden to me, than a joy. Have you been there?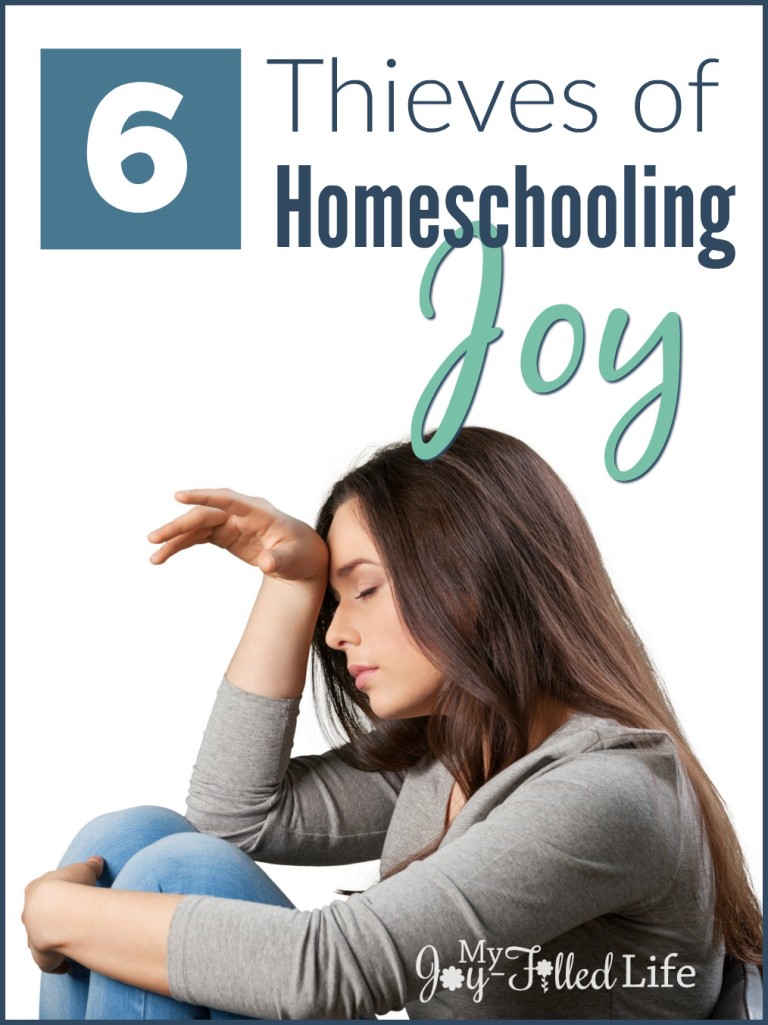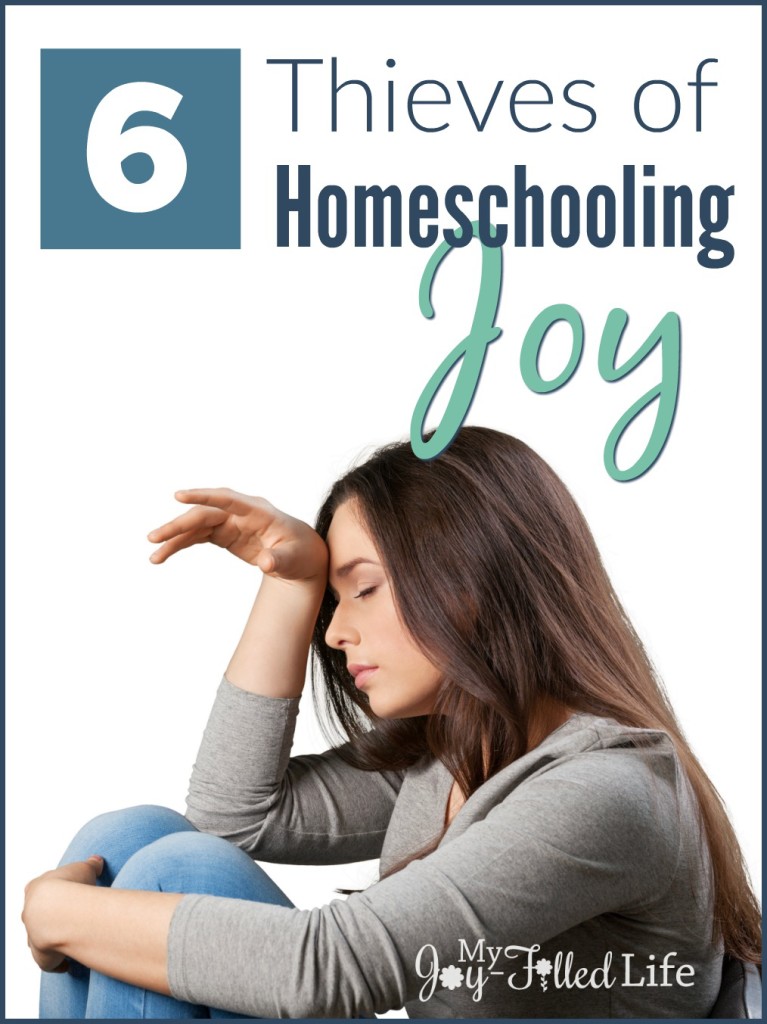 What are some of the things that steal our homeschooling joy?
1. Busyness
It is SO easy to be consumed with activities as we try to give our kids all kinds of opportunities. But the truth is, when we have every hour of every day booked, it stresses US and OUR kids. Not only that, but it often causes us to neglect our priorities, which then leads to guilt.
Time will always be at a premium for homeschooling moms, so it's important to choose prayerfully what activities to be involved in, and what is best for OUR family. Seek God's wisdom in this area, and slow down if you are too busy.
2. Anger
I never felt that I had an anger issue until I started homeschooling. I would find myself getting angry with the demands or needs of little ones when I was struggling to teach a new reader; I would get angry at the child who wasn't listening, etc. My anger usually wasn't real vocal, and I didn't throw things or go into a rage. However, I had an ANGRY SPIRIT. My kids could sense it and feel it. That angry spirit stole my joy many days.
Are you an angry parent? If so, ask God to help you in this area!
3. Comparison
It is SO easy to look at what other homeschooling moms are doing, and feel discouraged. They seem to have it all together, their kids are well behaved, seem to have good attitudes, and they even look nice all of the time! Their curriculum seems to be the perfect one for their family, and we start questioning whether ours is adequate. We wonder why our kids have bad attitudes, and why we are struggling to manage everything. When we allow our thoughts to focus on that, doubt sets in and often leads us to feel like a TOTAL FAILURE. That's one of the reasons that homeschooling moms cry.
4. Lack of Character in Our Kids
Nothing can ruin a homeschooling day faster than kids that don't obey, have no initiative, and show no responsibility. Character is the foundation we need to lay before working on academics. If your child hasn't learned the character trait of obedience or attentiveness, you aren't going to get too far with teaching them.
When character issues are upsetting your home school days, take a break from the academics and focus on character for a few days. We need to keep school in its proper place, and remember what our priorities are.
5. Hormone imbalance
I think many, many homeschooling moms suffer with hormone issues, and they can be very disruptive to our homeschooling. Whether it's PMS, peri-menopause, or menopause, those changing hormones can bring some very real symptoms.

If you dealing with hormone issues, you can find help and encouragement in my posts on Homeschooling & Hormones.
6. Unrealistic expectations
It's easy to have great expectations for our home schools, and for our kids. It's important though to keep those expectations realistic!
Often we expect too much from ourselves, or our kids. Those unrealistic expectations can cause stress, and lead to discouragement. It's important to know OUR limits and what we can realistically accomplish.
Equally important is having realistic expectations for your kids. Realize that they don't all learn the same way, or at the same speed. Don't let that discourage you. Determine what your kids are capable of, and push them when they can do better. At the same time, don't push them if they are doing their best, but their sibling may have done it faster. Allow for differences in how each of your kids will learn.
Don't let any of these things steal your homeschooling joy! Daily ask the Lord to guide you and give you His wisdom and His joy.
The following two tabs change content below.
Kathie Morrissey is the mother of 8 children, wife to Alan for 37 years, and a committed homeschooling mom of 31 years. She is the founder of
The Character Corner
, where she loves to blog about parenting, family life, homeschooling, and life in general. Kathie is a popular speaker at home school conventions and support groups, as well as ladies retreats. Her heart's desire is to help and encourage parents to be purposeful in raising Godly children with strong Christian character, who walk in purity, and have a heart for God.