Even as year round homeschoolers there are times when my children are bored. This makes complete sense when you consider what our summer homeschooling looks like, because there are still many hours in the day when children are awake.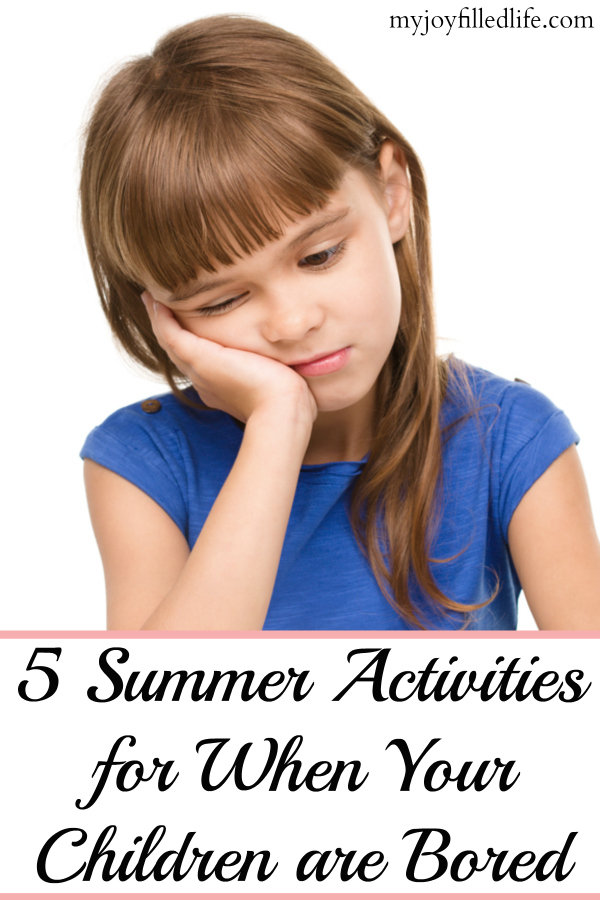 I do believe it is important for our children to be bored sometimes because in those moments are when I see my children growing to be stronger, wiser and more independent. I also love watching them use their imaginations through writing, art and creative play.
There are times (or days!) when I can tell that my children need more structure than our summer homeschooling schedule provides, so there are a few fun educational ideas that I use when my children are bored during the summertime.
I am not an artist, but my daughter loves art, so I try my best to find projects that we can enjoy doing together. Rock painting is a peaceful art project that can be turned into a fun hide and seek game, decoration for a garden or even gifts for family and friends.
My kids are always using my iPhone to take pictures, so when I give them the freedom to use my camera to take pictures of whatever they'd like for the afternoon I know they'll have a blast. Giving them the opportunity to capture what they see allows me to have a glimpse of the world through their eyes and it opens up amazing conversations possibilities!
Lego Building Competitions
My son loves Lego and has more than he could ever play with…at least I think so, he doesn't agree. I'm not an architect or engineer, but we always have fun seeing each other's amazing (or silly!) creations!
We keep a baseball and gloves, a soccer ball and football, jump ropes, weights and bicycles close by during the summertime. Sports are one of our favorite ways to have fun as a family in the summer and no one is ever bored during this time!
This is an activity that I remember from my childhood! There are so many different types of forts that you can build with your kids – indoor and outdoor! We enjoy reading, coloring and napping inside our indoor forts made from blankets and chairs. My kids have a great time using their imagination building outdoor forts from trees, branches and more! While they are inside they spend time telling each other stories and play make believe all day long!
Finding fun summer activities to help keep your kids busy instead of being bored isn't terribly hard to do. Take a few moments and think back to your childhood and consider what you enjoyed doing when you had free time, then contemplate what your children enjoy during their free time. Choose a few of those ideas and change them up a bit to make it a fun family activity to help beat boredom in your home this summer!
What are your favorite fun summer activities for when your kids are bored?
Save
The following two tabs change content below.
Misty is a Daughter of THE King, Native Texas girl, Navy brat at heart, loving Fisherman's wife, blessed homeschooling mother of 2, founder of
Year Round Homeschooling
and author of
Beautiful Ashes
. She is passionate about being real through every stage of life and encouraging homeschool moms throughout their homeschool journey. Her heart is full of ideas and passions, but the hours in her day never multiply to get it all done. Misty enjoys reading, music and photography in her spare time.