We've been year round homeschoolers for the last 4 years. Choosing to move to a year round homeschooling schedule was one of the best decisions I've made for my children's education. After 3 years of hearing how bored my children were for 12 weeks and spending at minimum 6 weeks reviewing the last year's Math and English lessons before actually beginning the new school year, I knew something had to change.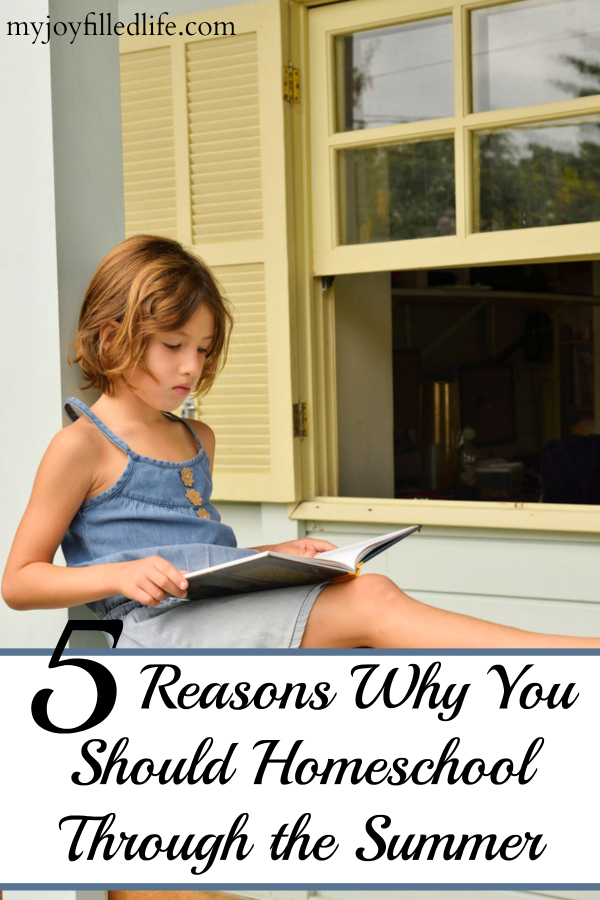 At the time my husband was a commercial fisherman and I was a stay-at-home mom. His schedule followed the weather and when it was sunny he was fishing and when the weather was bad he was home. There were certain months out of the year that he wasn't fishing and it always fell in the traditional school year schedule. When I began creating our new homeschool schedule, I decided that the months that my husband wouldn't be fishing we would take our homeschool breaks. This schedule worked beautifully for our family!
Since we bought our family business in 2014, our homeschool schedule has changed a bit to accommodate our busy seasons. We still homeschool year round, but we take breaks at different times of the year. Winter is our busiest season, so most of our breaks take place from January through April.
When people hear that we homeschool year round, they ask me how I could give up my summers. They assume that because we homeschool year round that our summers are not full of fun and that we give up vacation time for school books. That is far from the truth! Summer is our favorite time of year to homeschool because we can do so much more than we can in Fall, Winter and Spring!
Your kids won't forget or need to review last year's lessons
This was one of the biggest pluses for our family when we began homeschooling year round. When we cracked open our new homeschool books each year we didn't have to spend any time reviewing lessons. My kids just picked up the new books and got to work!
You can homeschool outside
Whether you choose to take your lessons out into the yard or to the lake, you and your children will enjoy a change of scenery and the fresh air will do you all good!
You don't have to worry about your state's homeschool days requirement
When you choose to homeschool through the summer you can add 60+ days to your homeschool year! That is 1/3 of the total required homeschool days for my state!
Summertime homeschool activities abound
Your kids can do lots of physical education all summer long! As a family you can go camping, hiking, swimming, create messy science activities, shoot photography and much more!
Your entire homeschool year can be more flexible
We never know what will happen during our homeschool year, sometimes we have to take breaks that we don't expect. By homeschooling through the summer you'll have extra days on the books for the unexpected breaks that you may need or have to take throughout the year.
Homeschooling through the summer brings our family together as we spend time doing things outside we enjoy! I find myself taking a book or notebook along to read or write while my kids do school work outside, we enjoy taking family trips hiking and boating during the summertime too! Just because you choose to homeschool through the summer doesn't mean you are tied down to the house or school books! It can be an amazing part of your family's homeschool journey and create memories that you'll hold near for the rest of your life!
What do you love about homeschooling through the summer?
The following two tabs change content below.
Misty is a Daughter of THE King, Native Texas girl, Navy brat at heart, loving Fisherman's wife, blessed homeschooling mother of 2, founder of
Year Round Homeschooling
and author of
Beautiful Ashes
. She is passionate about being real through every stage of life and encouraging homeschool moms throughout their homeschool journey. Her heart is full of ideas and passions, but the hours in her day never multiply to get it all done. Misty enjoys reading, music and photography in her spare time.