One piece of wisdom that comes out of the Depression era that I really like is the idea of "use it up, wear it out, make it do, or do without." I admire the people of the time for their creativity in reusing materials on hand to make things they needed, like turning flour sacks into skirts and dresses.
I think it's great advice, and I really try to keep it in mind. I've even asked my husband to cross-stitch the quote for me. (Fun fact: my husband is a fantastic cross-stitcher. Seriously.)
Not only does following this dictum help you save money, but it also helps you be more environmentally friendly! When you think about it, it's a win-win.
Nonetheless, in our society that's always craving the newest, biggest, best thing, it can be hard to find ways to do these things. While I'm not a big Dave Ramsey devotee (after all, I love my credit card points!), there's one quote of his that I absolutely love:
"If you will live like no one else, later you can live like no one else."
Sometimes, going against the grain is the best thing you can do, and the following list will help you do just that.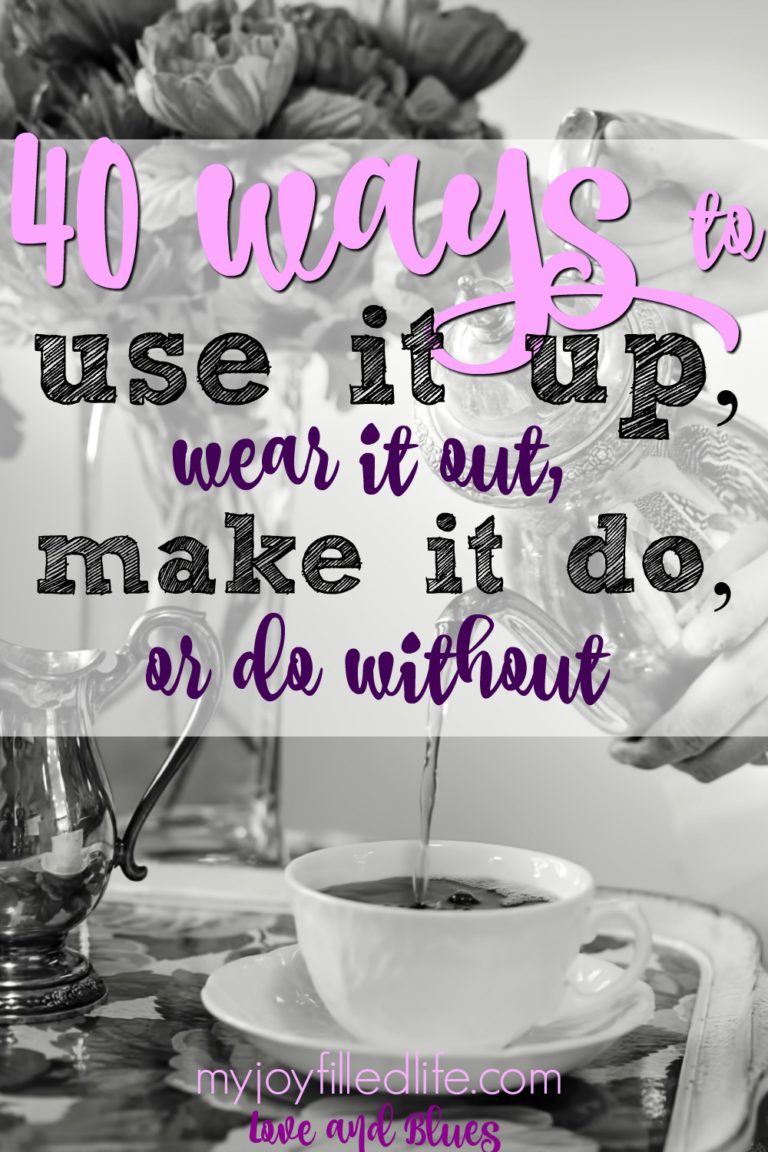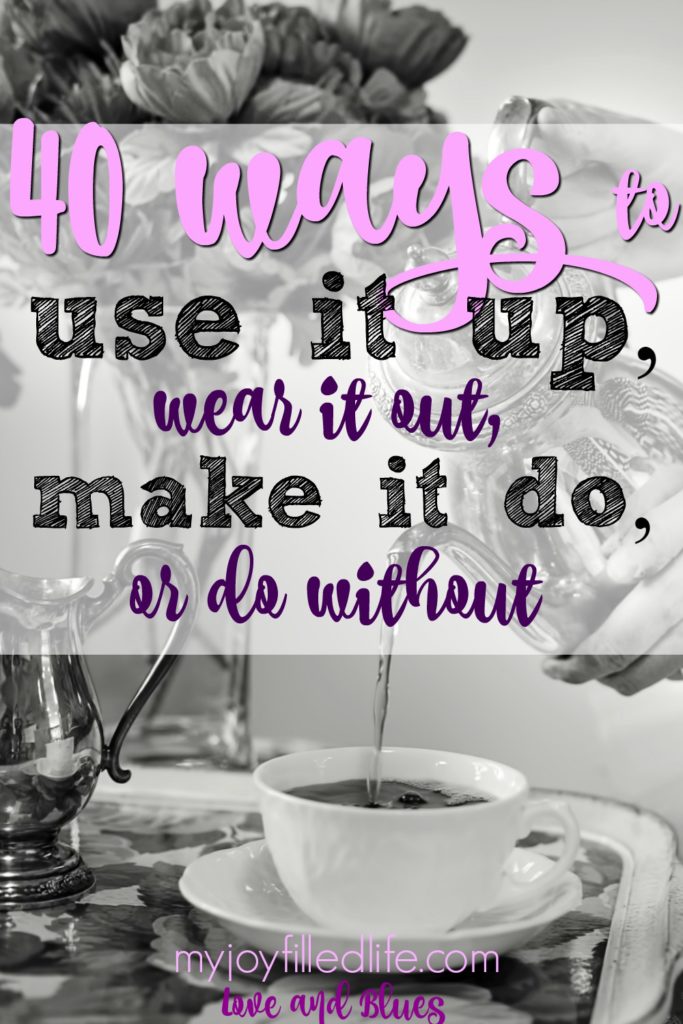 40 Ways to Use It Up, Wear It Out, Make It Do, or Do Without
Use It Up
Creatively reuse veggies. Pinterest is full of great ideas. For instance, I found this list of zucchini recipes to help us use up the plethora of zucchini in our garden.
Don't waste leftover food; either eat it as-is or reinvent it into another meal. This takes some practice, but eventually it'll be second nature.
Use scrap paper to take notes when you're at the computer rather than throwing it right in the trash.
Use a spatula to make sure you get all the peanut butter, mayonnaise, etc in the jar.
Did you know there are veggies you can re-grow from scraps? No joke. It's a great way to stretch your grocery bill (and it's easy!)
Learn what foods you can safely eat past their expiration dates.
Have a child who only eats half an apple then won't touch it? I hear ya. Chop it up, mix it with cinnamon and honey in a bowl, cover it with plastic, and heat it in the microwave for 20-30 seconds. Yum!
Start a compost pile to put fruit and veggie scraps to good use.
Use airtight bins for cereal and chips to keep them from getting stale so quickly (like these ones)
If you're a knitter/crocheter and have a sweater you don't wear anymore, use this tutorial to re-use the yarn from it.
Wear It Out
Learn simple clothing repair techniques, like how to sew on a button and patch kids' clothes.
Get your car's oil changed regularly.
Even better, learn to change the oil yourself. There are lots of car repair tutorials on YouTube: it's how I once replaced my car's spark plugs by myself without losing my mind.
Learn to reupholster your furniture! It'll make it last longer without going out of style and be a lot cheaper than replacing it completely.
Whenever possible, hang clothes to dry. It'll keep them looking nicer longer AND help you save on energy bills.
Reuse food tins for storage in the bathroom, the office, for small toys, etc.
Instead of buying new clothes, learn to accessorize to enjoy the clothes you have longer.
If you really want to stretch your dollar, re-use Ziploc bags when possible. It's easy enough to hand-wash them and stick them on a drying rack until you need them again!
Make It Do
Freeze everything you can to make it last longer (here's a list to help!)
Be careful with your stuff. Don't allow kids to jump on your furniture, and watch them carefully with breakable things (like your phone or their favorite DVDs).
Invest in good cases for electronics. My husband and I both have Lifeproof cases for our phones and they've saved us so many times. Plus, we were able to re-sell them for about 1/3 the price when we upgraded our old ones. On that note…
Don't leap for every new electronic that comes out. Use what you have until it breaks and can't be fixed, or absolutely doesn't suit your needs anymore.
Teach your kids the value of eating what they're served. It's not only a way to save money and stress at dinner time, but it also helps them learn to be polite when they have dinner at a friend's house.
If your grocery budget is tight, make it go a little further by replacing ¼-1/2 of meat in a recipe with beans or lentils.
Learn the art of a remixable wardrobe.
If you have the time and inclination, start a small garden! It'll help your grocery budget go further, plus it's a good stress-reducing hobby.
Limit the purchase of new toys. One rule I like is that if your child gets a new one, they have to choose one to donate.
Get in the habit of checking the fridge for perishables before enjoying a shelf-stable snack or meal – it'll save you from finding old, moldy food a few days down the line because you forgot about it!
If you can't responsibly use a credit card (and by that I mean pay off your balance in full each month), use only cash or debit.
Do Without
Instead of spending money on cable, buy a streaming device (Roku is my favorite) and switch to a lower-cost substitute like Hulu or Netflix.
If you can't afford a second vehicle, try walking, riding a bike, or taking the bus instead.
Downgrade your phone service if possible. Do you really need all the data you're paying for?
Have date night at home rather than spending money to go out. (here are 10 fun ideas to do so!)
Have a no-spend month to get a new perspective on what things you can do without.
Learn a few good vegetarian recipes. (one I love is this recipe for roasted chickpea gyros – easy, inexpensive, and delicious!)
Instead of buying new books, make use of your local library. Even if you end up having to pay late fines, it'll still save you way more money than buying them new!
Do you really need a laptop and a tablet and a smartphone and an iPod, and so on and so forth? Really think about what you need and limit yourself to just those electronics.
Of all these tips, the most important that I have for you is to practice gratitude. Recognize and appreciate what you have. Realize that many of the things you have, someone out there is currently praying for. Developing this attitude will help you treasure what you have and limit your yearnings for more.
The following two tabs change content below.
Leah is a blogger at
Love and Blues
, where she writes about strengthening first responder marriages and their families. When she's not busy writing, she's chasing around her very active one-year-old little boy, who just adores his LEO daddy. In her spare time, she can be found reading, running, knitting, working in the garden, or very occasionally, baking. She lives in beautiful Salt Lake City with her family.