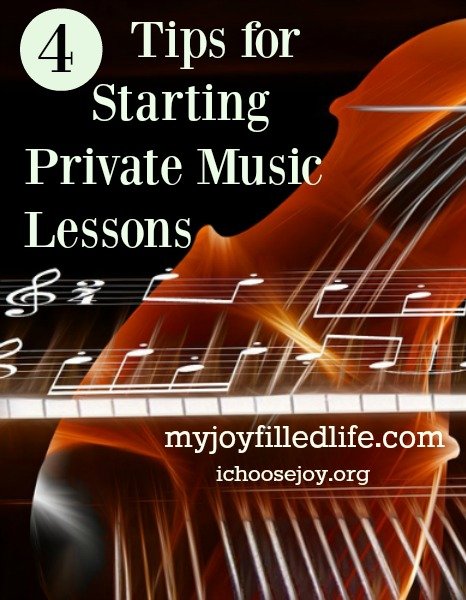 As a homeschool mom and music teacher I always knew that private music lessons would be a large part of our family's lifestyle. We have 8 children and have been involved with private lessons since our oldest was 5 years old. The kids have played a variety of instruments during the last 10 years (violin, clarinet, piano, saxophone, drum set, voice, guitar, bass guitar, and percussion), and we have done the lessons in different ways (at our home, at the teacher's home, at a tutoring center, and at a private school). I hope today's post "4 Tips for Starting Private Music Lessons" will be beneficial for you. And then head over to read "6 MORE Tips for Starting Private Music Lessons" at Music in Our Homeschool.
If your child is younger than 7, consider the violin as a first instrument. The violin is a wonderful first instrument for a child ages 3-6 because they come in small enough sizes to fit their arms and little fingers. As the child grows, you simply trade in for a bigger size. (That's why it's best to rent at this stage of the game.) Younger kids can learn to play by ear if they aren't ready to read notes yet.
Piano is a wonderful instrument to learn to play even if it's not going to be your instrument of choice later on. I love starting my kids on piano when they are age 7. Their hands are big enough to be able to play full-sized keys, and they are usually reading so they can handle learning to read music. When I was young, I really wanted to take voice lessons but was encouraged by my mom's music teacher friend to continue with piano until I was a sophomore in high school. That was one of the best decisions I ever made. The background of piano taught me to read both bass and treble clefs, which helped me become a great sight-reader later on when singing. Since I could play the piano I was able to plunk out my songs and even accompany myself when singing.
Consider joining a homeschool or private school band when your child is in 4th-6th grade. We have a number of band opportunities where we live which is truly a blessing. The closest one to us happened to be a small private Christian school that allowed homeschoolers to join the band. My oldest started clarinet there and then switched to saxophone. My second and third children played percussion. It was a wonderful experience for all of us. They had a private lesson with the band director every week in addition to their band rehearsals. Even though they aren't playing those instruments anymore (they've moved on to others), I'm grateful for the chance they had to learn how to play a band instrument, to be in a band, participate in competitions, and play in concerts.
If you take piano lessons, get a real acoustic piano if possible. I know there are downsides to having a real piano–they're expensive to purchase, you have to get them tuned a couple of times a year, they take up more space, they aren't portable, etc. But the benefits far outweigh the downsides. Part of learning to play the piano is learning how to use full-sized keys, play over the entire 88-key keyboard, and play dynamics (loud/soft) and articulations (smooth/bouncy) with the touch-resistance of real piano keys. Many portable electric keyboards don't allow kids to learn these techniques. If you do decide on a keyboard, get a real electric piano that provides all the above features.
Private music lessons provide so many benefits for kids that will carry into adulthood. Be sure to read "6 MORE Tips for Starting Private Music Lessons" and make some good music decisions this year!
The following two tabs change content below.
Gena Mayo is a Christian homeschool mom of 8, ages 14 down to 3. She has been married to her best friend for 17 years and blogs at
Choose Joy!
about family, homeschool, and homemaking. You'll also find awesome giveaways and reviews there! When not busy with the above, you'll find Gena teaching music classes (voice lessons, music history, choir, musical theater) and writing music curricula. She is excited to have children at all stages in homeschooling now, preschool through high school.