Being able to grab a loaf of bread at the local grocery store is something that many people likely take for granted. Under normal circumstances, we probably don't ever stop to think about what a blessing it is to always have loaves of bread available whenever we need them.
With the current state of the world – many on lock-down or social distancing, shortage of food and supplies – a loaf of bread is hard to come by. And if you're lucky enough to find some, likely the store you are buying it from is going to limit you to only one or two loaves. Well, as a family of 10, a loaf (or even 2) doesn't go very far. And with social-distancing being strongly advised, I'd rather not have to make a bread run on a daily basis.
So, homemade bread is in my near future. I have made bread a few times in the past and thankfully I do have a bread machine, so that will make it even easier to make.
If you are in the same boat as me, and are going to have to start making your own bread, here is a list of easy to make bread recipes that don't require a bunch of crazy ingredients or special equipment.
Oh, and just to note – I didn't include water in the ingredient counts below.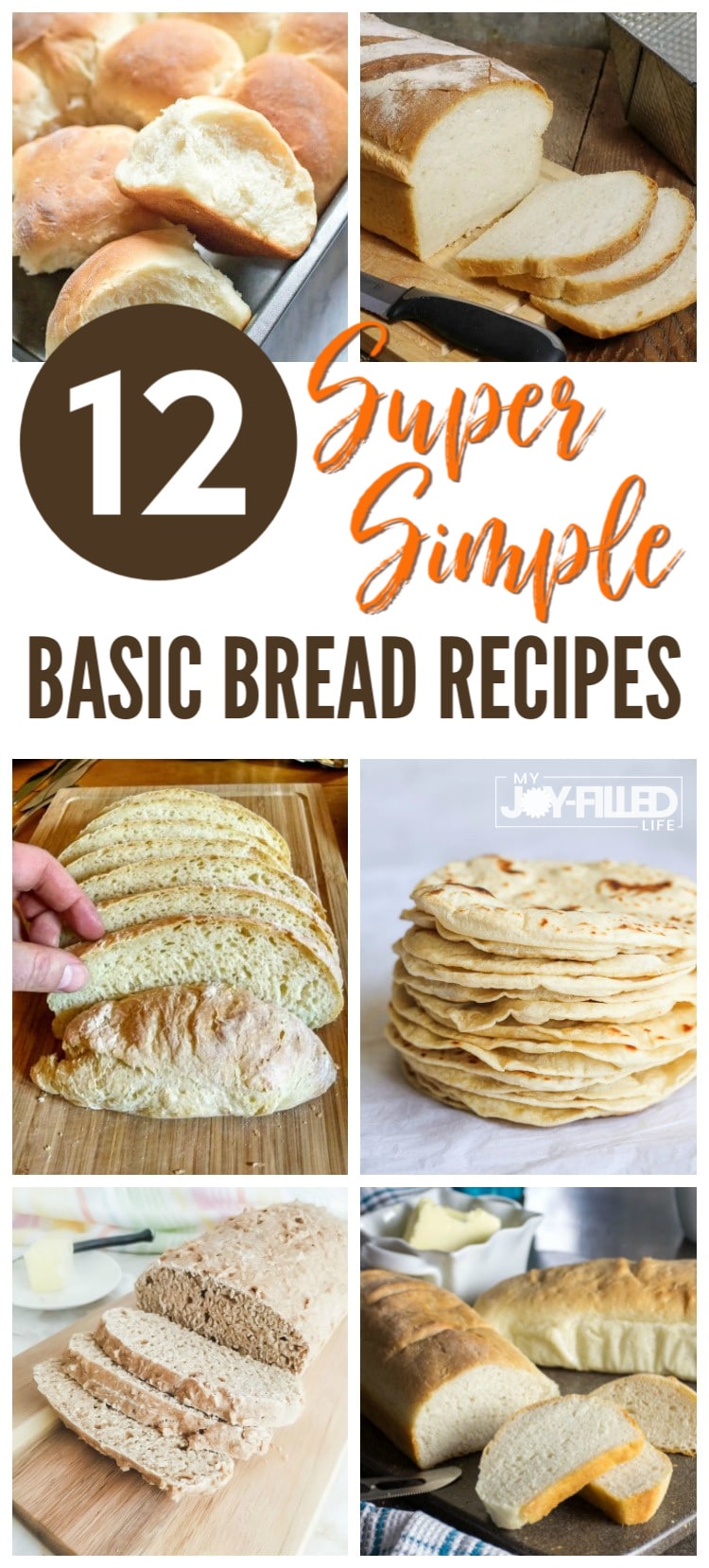 Easy Dinner Rolls Recipe from Scratch from Served from Scratch
6 ingredients – no mixer needed – rise/proof for one hour – bake for 15 minutes
Easy Homemade Sandwich Bread from Earth, Food, and Fire
5 ingredients – no mixer needed – rise/proof for 40 minutes – bake for 45 minutes
Easy Peasy French Bread Recipe from My Mundane & Miraculous Life
4 ingredients – no mixer needed – rise/proof for 20 minutes – bake for 16 minutes
Homemade Soft Flatbeard from Little Sunny Kitchen
4 ingredients – no mixer needed – no rise time – cook time is 20 minutes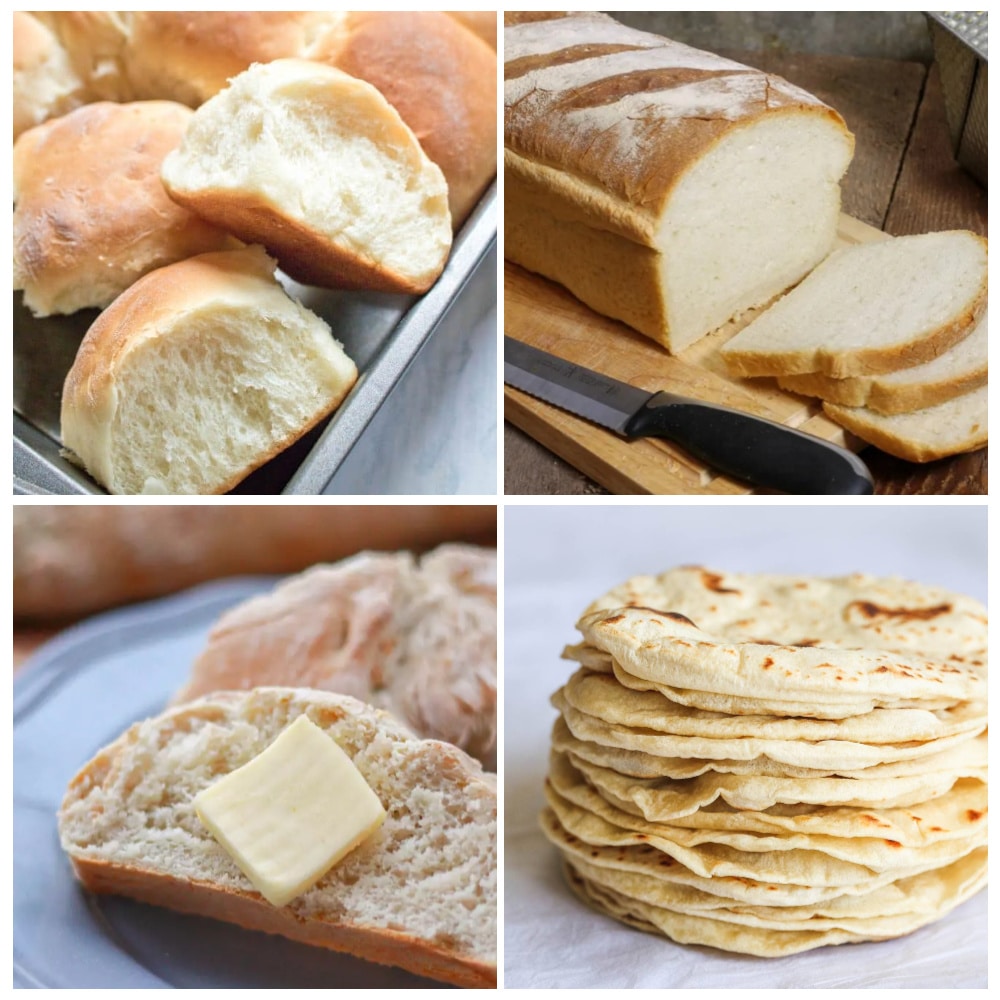 Grandma's Classic Homemade Bread Recipe from Sustain My Cooking Habit
5 ingredients – uses mixer – rise/proof for 30 minutes – bake for 30 minutes
Homemade French Bread from Spend with Pennies
5 ingredients – no mixer needed – rise/proof for 2 hours – bake for 20 minutes
Southern Butter Biscuits from Savory with Soul
5 ingredients – no mixer needed – no rise time – bake for 10 minutes
Homemade Amish White Bread from Gluesticks
6 ingredients – no mixer needed – rise/proof for 90 minutes – bake for 30 minutes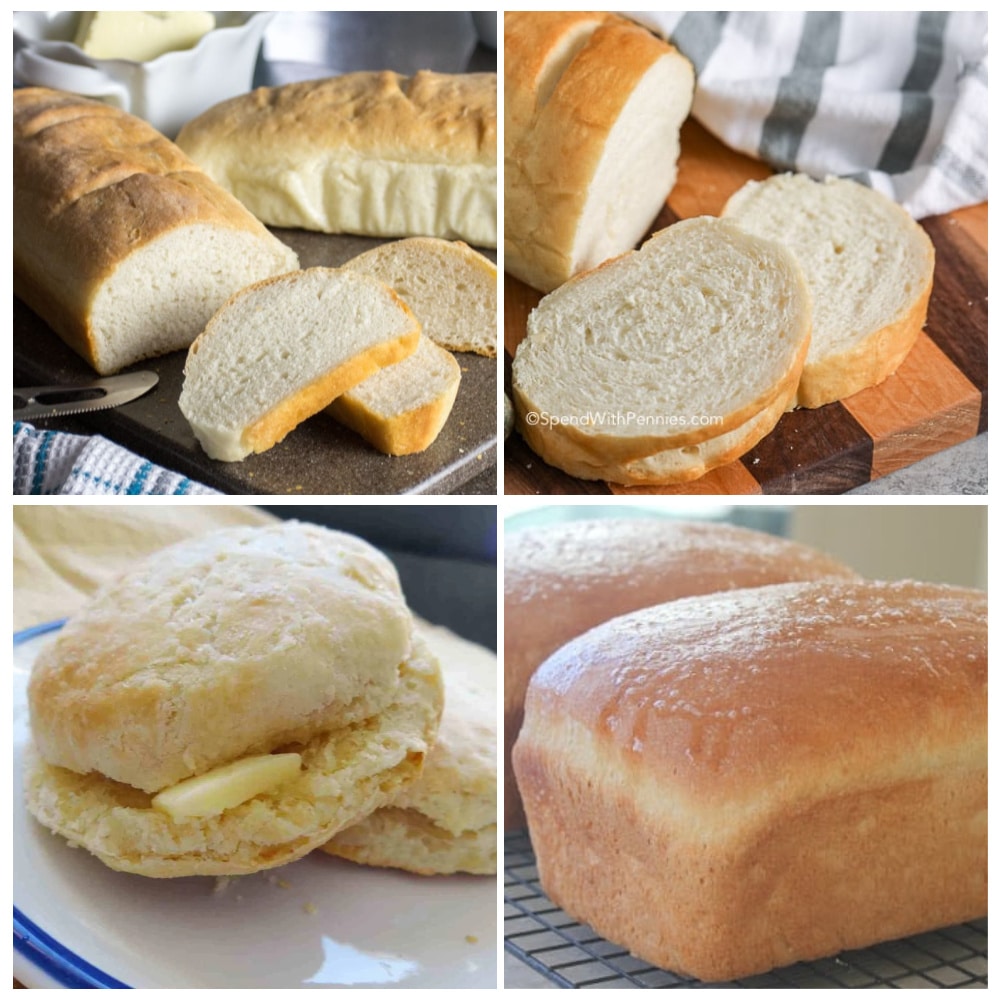 Bread Machine White Bread Recipe from Recipe Pocket
6 ingredients – bread machine needed – overall time is 3 hours
Fast No-Knead Bread from The Curious Frugal Gal
3 ingredients – no mixer needed – rise/proof for 1-2 hours – bake for 30 minutes
Homemade Whole Wheat Bread from Everyday Shortcuts
5 ingredients – no mixer needed – no rise time – bake for 50 minutes
Easy Milk and Honey Bread from Mighty Mrs.
5 ingredients – uses mixer – rise/proof for 60 minutes – bake for 30 minutes