No matter what your family size, many of us today are trying to save money, cut back our spending, and live on a budget. Here are some ways that our family of (almost) 9, saves a penny (or more):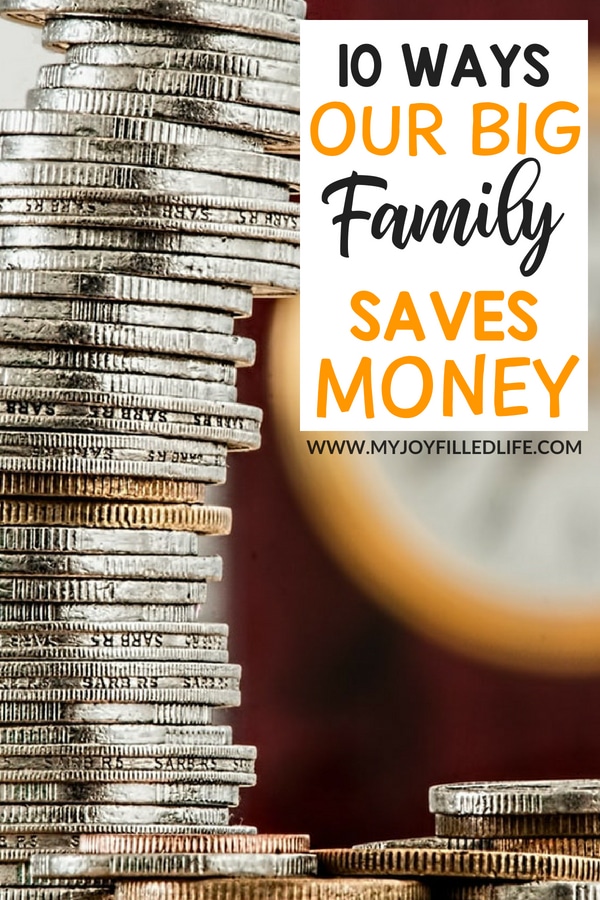 1. Shop at a wholesale club.
I do a majority of my grocery shopping at our local wholesale club. I know that many people warn to watch the prices at these places because it may not be any cheaper than buying the item on sale at a regular grocery store. I haven't found that to be the case in most instances at the club I shop at. If I do find the item is a little more expensive, it's usually not worth my time to run around to multiple stores to get the best price on one or two items.
Also, my club puts out a monthly coupon book, which I take full advantage of.
We also pay for the rewards membership, which does cost more than a regular membership. We get 2% back in rewards to spend at the store in the future. The 2% back pretty much pays for our membership.
2. I cut all the kids' hair.
After I took my oldest son for his 3rd haircut or so, I had a realization – I can do that! I went to Wal-Mart and bought a set of clippers for about $25 and never looked back. I cut all 4 of my boys' hair, and my husband's, and I cut the bangs of my 2 girls. I get a haircut at a salon about once a year and so do my daughter's (I'm not ready to tackle girls' hair yet).
3. We take advantage of garage sales and consignment sales.
When I say we take advantage of these sales, I mainly mean we hold garage sales and participate in consignment sales to sell our unused things. I love going to these sales, but honestly, I don't buy from these places often. Unless the item is in great shape and a great price, I don't buy. I have a good nose for finding awesome deals on new items in the store or online, which most often is less then the prices I see at garage and consignment sales.
4. I buy most of my kids' clothes (and even mine and my husband's) on clearance, and online.
I buy about 85% of our clothes on clearance a year in advance. Double the clearance prices up with a coupon or promotion (additional % off clearance), and the deal is even sweeter. For kid's clothes, I often find items for $2 or less, and I rarely spend over $5 on a clothing item. Some of the stores where I score these deals the most are – Kohl's, Target, Old Navy, and The Children's Place (outlet). I also keep a running list of what we need so that I don't double buy things.
I do most of my shopping (and not just clothes) online. When shopping online, I will not buy without a coupon and/or a free shipping offer. This saves me time, money, and gas. When shopping online and you don't have a coupon code, just do an internet search for whatever coupon you are looking for (ex. free shipping Old Navy; coupon code Children's Place) and you should have no problem finding one.
5. We take our own "professional" pictures.
I put professional in quotations because I'm obviously not a professional. We invested in a good quality camera and a couple of backgrounds and now we take all our kids' "yearly" pictures. After 3 kids, it was getting expensive to go to a photo studio to have the kids' pictures taken. Another realization – I'll do it myself! I'm not the greatest photographer, but I'm learning more and getting better each time. Overall, I've been happy with the outcome.
Another option we have is to "trade" with a photographer friend of mine. I have given her lots of our hand-me-down clothes for her daughter, so she has offered to do our photos for free. We haven't taken her up on the offer yet, but we probably will this fall.
6. Buy memberships to our local museums and zoo.
I'm sure many of you are familiar with this money saving tactic. And if you have a large family, all it takes is 1 or 2 visits and your membership has paid for itself. We are very fortunate that we have quite a few options of places to join around here. Makes it nice to just pick one on a day we need to get out of the house and not have to worry about the cost. We join our local zoo, science museum, play museum, and sometimes the historical country village.
Another nice perk to these memberships is that most of them offer a reciprocal program with other museums and zoos throughout the country. So, if you are away from home on a vacation or visiting family, check your museum/zoo website to see what museums/zoos participate in this program in the area you will be going.
7. We take vacations in the off-season.
One of the nice benefits to homeschooling is the flexibility. When planning vacations, we go in the off-season, when public school is back in session. This saves us money and we also avoid huge crowds. We also don't take a vacation every year; about every other year we will go on a "big" vacation. And now that we have more kids, the vacation must be within driving distance. I don't even want to think about how much airfare would be for our family!
8. Don't buy gifts for extended family and friends.
Instead, make them. It saves money and is a fun activity for the kids to get involved in (if you choose). At Christmas time, bake cookies for your neighbors and friends; make meaningful gifts for your family members. Do this for family birthdays too.
Check out my Pinterest Boards for some gift-giving and craft ideas:
Homemade Gifts
Mommy Crafts
Holiday/Seasonal Treats & Recipes
And when it comes to gifts for our kids, we leave the toy buying to Grandma and other family members.
9. We don't buy soda or chips.
Okay, we do on occasion; these are rare treats for our family. Soda and chips used to be staples on my grocery list. About 5 years ago, that changed when my husband and I decided we needed to eat healthier and lose some weight. An added benefit to being healthier was saving money. We mostly drink water, and instead of chips, we buy pretzels (from Aldi) and goldfish crackers (in bulk).
10. We rarely eat out.
Regardless of family size, eating out is expensive. When I think about how much it costs to feed my family a meal at home compared to eating that meal in a restaurant, it blows my mind!
So, eating out is a rare treat for our family. And when we do, we try to hit the restaurants that offer "kids eat free." To find restaurants where kids eat free in your area, simply do an internet search with your town/city's name and "kids eat free" (ex. Buffalo, NY kids eat free). Also call around to some nearby restaurants and see if they offer this on certain days.
We do order pizza a couple times a month. At one of our local favorite pizza places, we can get a sheet pizza that feeds our whole family for $20 plus tax. That's always a nice treat for everyone, especially mommy because that means no cooking and easy clean up!
Regardless of your family size, what are some of your money saving tips?