Birthdays are a very special event in a child's life. I remember when I was growing up, I always looked forward to my birthday with excitement. It was a joyous occasion to get presents, see my friends, and celebrate the fact that I was alive.
Once, I went to a pond, fished with my friends, and at birthday cake filled with caffeine chew gummy worms.
Another birthday, I had a small party in a park with face-painting and sack racing. I realized early on that I wanted my child's birthday to be a special celebration like the ones I had.
Believe it or not, there are many free places to throw a birthday party, so a party is absolutely an option. But let's take a look below at 10 ways you can make your child's birthday really memorable and unique besides just throwing a birthday bash.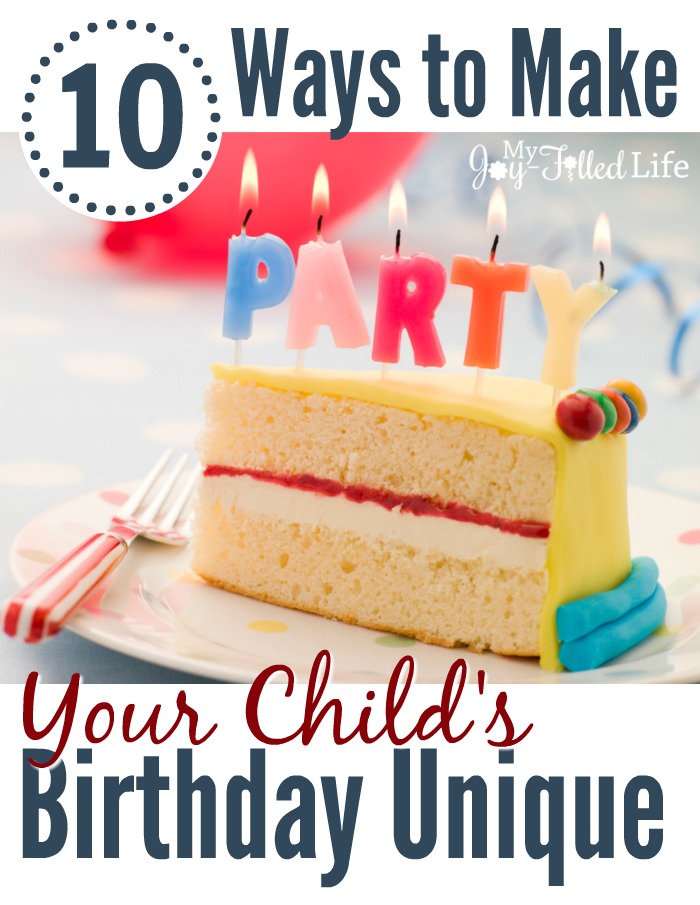 Start a birthday countdown
Countdowns are a great way to get your child excited about their birthday. It's best to start from a week or ten days out as most children tend to lose interest with month long countdowns. To make this even more fun, get your child involved in the countdown. For example, they can change the number of days left on a chalkboard.
Decorate their room while they're asleep
Surprise your child by decorating their room while they're sleeping. Inflate balloons in another room so you don't wake them up. Streamers are another great idea for adding some festive flare. Your child will be surprised and delighted when they wake up.
Make your child a T-shirt with their age on it
Young children love the added respect and responsibility that comes with growing up. They'll be delighted to have a shirt to help them show off their age. To make it even more special, make a custom tag for the shirt using a label weave with Wunderlabel. You can put your child's name on it or even a catch phrase to go along with it.
Measure their height
Children love to be measured. It shows them how much they've grown. Consider dedicating a spot on a wall or in a doorway where their height can be marked each year. If you want to get more serious about the tracking, you can follow the guidelines from the CDC. With this fun ritual, they'll be able to see how much bigger they are than they were last year.
Fill their closet with balloons
Filling your child's closet with balloons is an inexpensive, simple way to show them that this isn't any ordinary day. Your child will be delighted with the surprise of having balloons raining down on them. You can even use the balloons for a game later – like balloon stomp.
Celebrate delayed gratification
In a world of instant gratification, celebrating delayed gratification can be a fun and welcome way to make your child's birthday unique. For example, we didn't let our children drink soda until they turned 12. On their 12th birthday, we bought them a six pack of soda.
Make them their favorite breakfast
Children typically like simple, sweet meals like waffles or pancakes. Make them their favorite breakfast to set a good mood for the day ahead. For bonus points, light a candle and stick it in their breakfast.
Get a window marker
For a fun birthday, write "Honk for (your child's name)'s Birthday!" on your car windows. Your child is sure to be delighted and feel special every time someone honks.
Have a technology-free day
Put away your cell phones and tablets. Don't turn on the TV or logon to the computer during your child's birthday. Make a point to be present with them. They will appreciate the attention.
Break out the fancy dishes
If you have special dishes that you only use for special occasions, use them on your child's birthday. Last year on my son's birthday, we had chicken tenders and fries on our nice dishes. No matter what you decide to put on them, your child will know it's a special occasion.