We like to plan a family vacation every year. Spending the year researching and planning is an added bonus because it builds the excitement for the coming trip.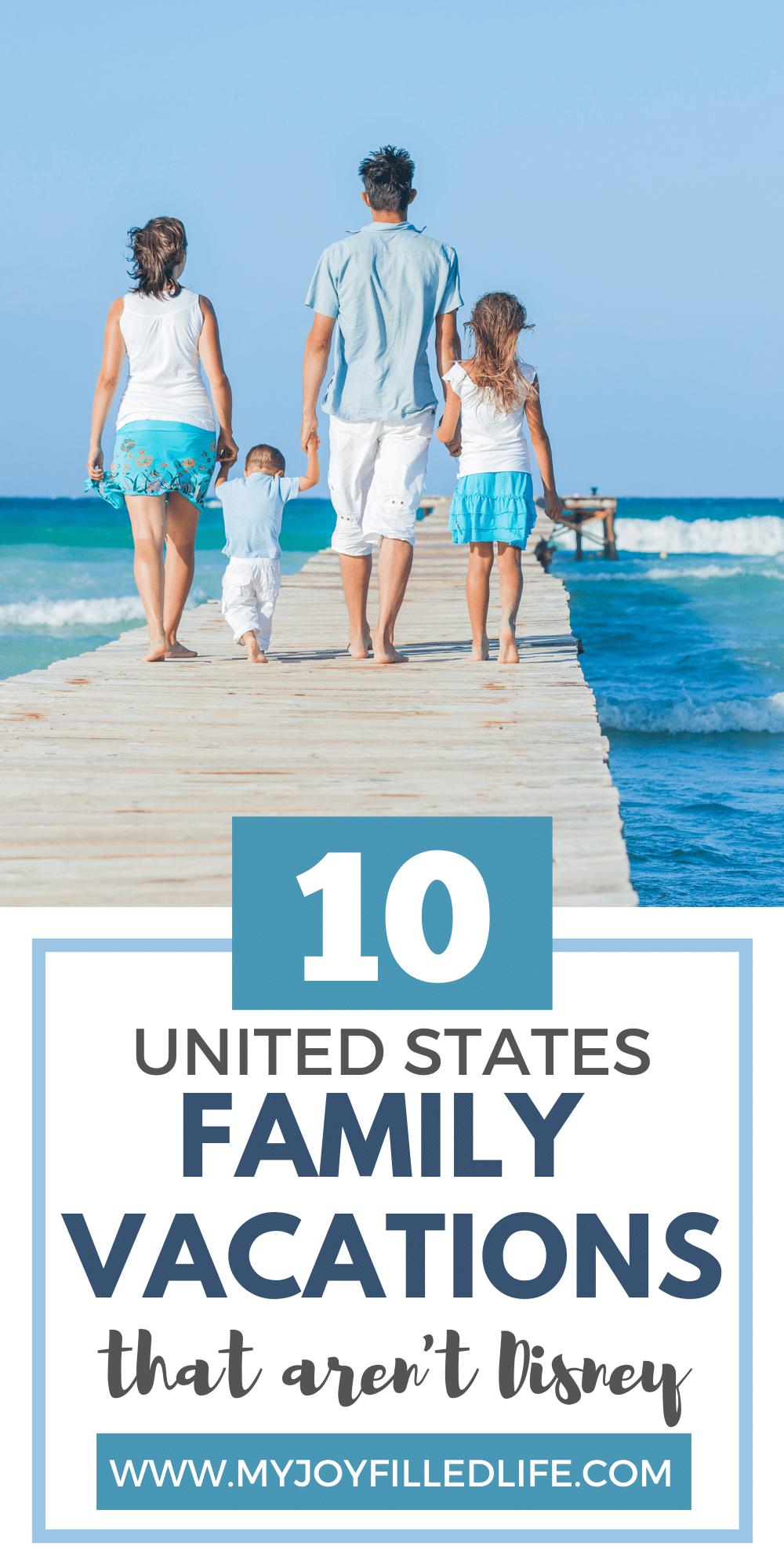 It seems like everyone with children thinks Disney is the only place to go.
However, there are lots of other destinations around the world that our family found to be exciting, fun-filled, and very family-oriented. So check out this list and see if one of these destinations would be your ideal family vacation.
Ten U.S. Family Vacations That Are NOT Disney
Washington D.C.
Washington D.C. is a great city to visit. The city features a wide variety of hotels and Airbnbs. If you don't require tons of amenities, the city has an airport hotel which can be a fun option.
The city features all the Smithsonian Museums which you can spend hours visiting. The best way to visit everything is by riding the Metro, which has an easy phone app to help you navigate the entire city. The Smithsonian National Zoo will at least take a day to navigate through and remember to check the scheduled daily shows and feeding times. Visit the National Mall or shop in all the boutiques in Georgetown.
If you are going to Georgetown check out the Mangia Food Tour for a fun walking tour of at least 4-5 restaurants to taste the local foods. On one of the evenings do a night tour to see all the monuments with the lights on which is a great ride through the city.
During the day stop at all the local farmer's markets to taste some great foods from all around the world. In D.C. great food is a must, so visit Farmers Fishers and Bakers for a farm-to-table meal.
Great Cuban food can be found at Cuba Libre. Busboys and Poets is located in several places in D.C. and has a great variety of dishes. Make a reservation because DC restaurants can be very busy.
Two fun stops for breakfast or a sweet treat are District Donuts and Ted's Bulletin.
Cave Junction, Oregon
Are you an outdoor family? Then visit the Out N About Treehouse Resort and stay in a treehouse for the week. This resort is family-focused and so much fun. Climb the ladder up to your treehouse room with a full bathroom and sleeping area. Some of the rooms have a draw bridge to a connecting suite. It is a bed and breakfast so your morning meal is included.
The resort is located on 60 acres of land for hiking, ziplines, river rafting, and horseback riding. A family can have a campfire at night after a vigorous day of activities. There are ongoing arts and craft classes at the resort so be sure to check the schedule. Several cooking facilities and bbq areas are available as if you were camping.
There are caves nearby to explore off of the property. Great Cats World Park is another fun place to explore. There are several small restaurants in town but we did most of our own cooking. Taylor's Sausage is a unique place to stop for lunch or dinner or to pick up some homemade jerky and sausage.
Smugglers Notch, Vermont
Smugglers Notch is an amazing ski resort with plenty of activities from skiing to horse-drawn rides to snowmobiling. However one of the best-kept secrets is it is a great family vacation spot all year round.
It has hiking, tubing, pools, hot tubs, great suites, on-site restaurants, and entertainment. It also has a day program filled with games, crafts, and an overnight mountain lodge experience for the children.
There is a nearby farm for horseback riding and of course fun family casual rock climbing and photo ops at the notch of the mountain. Go ziplining, or on a llama trek, mountain biking, and canoeing. You will never get bored just a bit tired.
The weather is nice during the day and has cool evenings so plan on some sweatshirts. A family may food shop at the resort or eat local with a pizza from Riga Bello or dinner at the Morse Mountain Grille.
There is also a creamery at the resort and a deli for a quick lunch. Don't forget the organic farm tour and register for the farm-to-table culinary experience.
Delray Beach, Florida
Delray Beach is an intimate little town in South Florida. It is right on the Atlantic ocean and playing on the beach could be your whole vacation.
Schedule a place to stay at least 6 months out or longer. They have a great selection of villa rental and Airbnb. A simple duplex, 2 bedroom, full apartment is $65 a night. There are also many hotels and condos close to the beach. If you are done playing on the beach you can rent a kayak or a canoe and float around in the ocean.
The Wakodahatchee Wetlands are worth a trip to see local birds, plants, and ocean life up close. The Sandoway Discovery Center features stingrays and sharks. If you need to grab a bite a great pizza place is the Mellow Mushroom. It has a great fire-baked pizza and a good family atmosphere.
If you would like a little different diner menu, visit the Batch Gastropub for a delightful dinner. The main road going into Delray Beach has several local pubs and boutiques for shopping. The family will never get bored.
Grand Canyon, Arizona
The Grand Canyon has so much to offer as a family vacation spot. There is so much to see and do together, so research and plan ahead. You can explore the rim of the Grand Canyon by visiting the South Rim Village with buildings from the 1900 century.
Also consider a camping trip down in the Grand Canyon. I didn't realize another great way to see the canyon is a rafting trip which helped beat the heat and save on a lot of walking. The city of Flagstaff has numerous hotels and bed and breakfasts. As usual, there are also available Airbnb's to rent.
A great place to drop by for a bite to eat is Altitude Bar and Grill. The homemade potato skins and the black pepper steak are amazing. The Country Host Restaurant is a local diner with great food.
Some tips while touring the Grand Canyon area is to check the weather often, dress in layers and drink plenty of water while anticipating the change in altitude.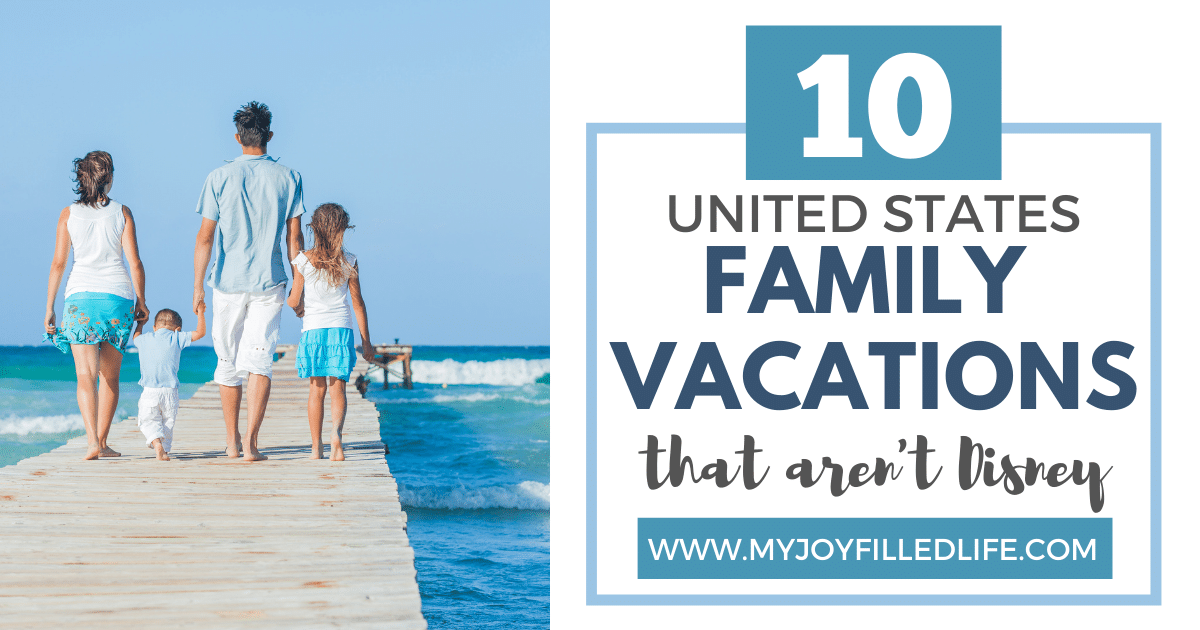 Hershey, Pennsylvania
There is so much to do in Hershey for all ages. They have a variety of options for accommodations from the fancy Hotel Hershey or Hershey Convention Center to a local Airbnb.
There are also several smaller hotels in the area. Then the family fun begins with Hershey Park, which features rides, a waterpark, entertainment, restaurants, and fast food.
The food prices can add up quickly so there are also picnic tables outside the park where you can bring a cooler. The park is attached to Zoo America, which is a nice size zoo and a great family attraction. Chocolate World, is also next door to the park and has a ride to show how chocolate is made. It also has a chocolate shop and a restaurant.
The large Hershey Outlet Stores are nearby for great shopping. Indian Echo Caverns are also nearby and miniature golf. There are some great restaurants in the area like Houlihans, The Mill, or for wings and burgers go to Hummelstown Boro Bar And Grill.
Another fun stop for all is the Soda Jerk. This is an old fashion dinner with great food. If that doesn't keep your family busy Lancaster is about a 30-minute ride and Gettysburg is an hour away. If you plan to visit Lancaster, then you might want to go on an Amish tour as well.
Point Sebago, Maine
The 750-acre resort on the lake offers a daily array of family activities. They offer boating, golfing, swimming, shows, and smores by the fire at night. The resort provides a daily children's activity program for all ages. They also offer themed weekends for fun such as a pirate weekend or a murder mystery. So do your research before you visit.
I would suggest staying at the resort. There is an Island Lodge or local cottages and camping is available. Eat at the Lakeview Restaurant for breakfast and brunch with a great view. Plan to have dinner and entertainment at the Sebago Lounge. The Point Sebago Boutique is a place you don't want to miss for personal shopping.
Storybook Homes, Los Angeles
If your family loves the entertainment of Disney movies, these whimsical homes will be a great adventure. The architecture is fun and creative to imagine you are in a storybook. The Witch house has a moat and tiny windows and doors inside. There are a total of 8 houses to visit.
This style house was built in the 1930s. I recommend a stay at a bed and breakfast like the Dunning Ranch for a somewhat secluded quiet stay. This is located on a vineyard and is an experience in itself. Then contact the LA Tour for a guided tour to the Storybook area.
It provides a unique experience and your guide can pick you up and drive in the LA traffic instead of you. If you want a fun karaoke experience dine at The Venue for great food and a private karaoke room. Be sure to make reservations and consider it a full family night.
Gull Lake Ministries, Michigan
If you are looking for a Christian experience for the family Gull Lake Ministries is all-inclusive and will plan your trip with you. The trip includes 6 nights of family fun.
The children, no matter what age, have up to 5 hours of daily activities they can participate in. They serve 17 chef-prepared meals for the week. They have condos and lodges available which are close to all activities.
Go on a family hike or bike ride while visiting The week is low keyed time with family. Most of your time is spent on the grounds as all is included and provided. So ask staff what to bring along.
Wisconsin Dells, Wisconsin
The waterpark capital of the world will provide days of family fun. The MT. Olympus Water Park or Timber Falls Water Park is a great place to start. Then visit Circus World for another day of fun. If your family loves fun in the sun this is the place to go for a family vacation.
I suggest not staying at the park but looking for an Airbnb close to the parks. We needed a break from the water park. For some quiet time. Expect long lines for rides and think about breaking up the day.
Visit Dells Pizza Lab and make your own pizza or Macs Macaroni and Cheese shop for some fun food.
We enjoyed all our trips as long as we planned ahead and had a great home base to relax in after some very busy days. Always check the weather for the time of year you plan to visit and plan accordingly. I hope you decide to do some of the above family vacations and also find some new spots on your own. Making family memories while having fun on vacation is a great way to spend time together.