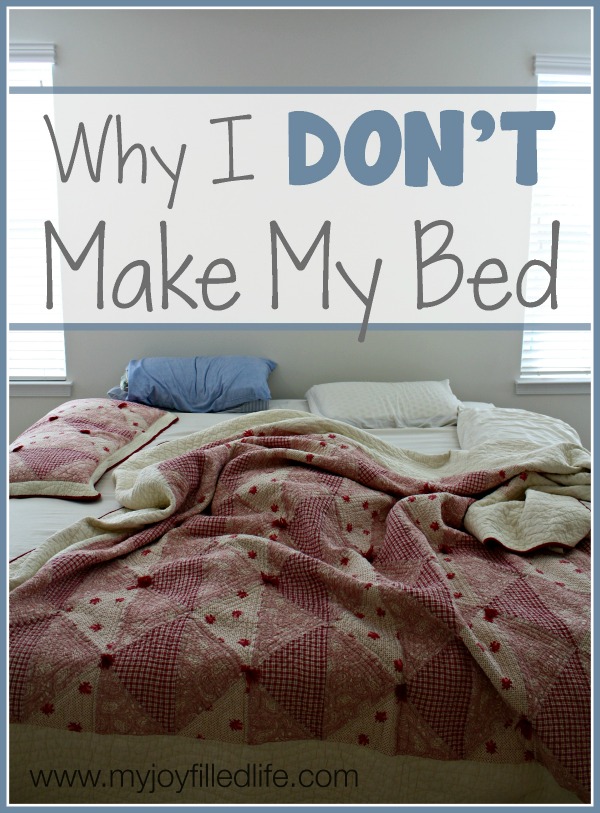 Confession Time!
I don't make my bed everyday. I actually don't make it most days. I could probably count on two hands how many times a year I do make my bed.
I don't make my kids make their beds either.
And you know what? I'm okay with it; I don't stress over it. I used to, but not anymore.
I grew up in a home where my mom made her bed everyday (and she still does), and had her kids do the same.
I used to feel that if I couldn't manage to make my bed each day that that was a check mark in the 'fail' column for my homemaking skills. I don't believe that lie anymore.
I can make a bed with the best of them, but I just choose not to. And here is why…….
1. I don't have time
As a homeschooling mom of 7, I just don't have time. I know, I know, it only takes a few minutes to make a bed, but that's a few minutes I'd rather spend in God's Word or a few minutes I'd rather spend to take a shower (yes, I can take a super quick shower because most of the time that's all I have before a little one comes banging on the bathroom door).
2. My husband gets up after me
My husband works at home and he works late into the night most nights, going to bed after me. Therefore, he gets up after me in the mornings and it's hard to find a moment to sneak away to make the bed after he gets up. At that point it's just not on my radar anymore.
3. I like to fall into bed at night
At the end of the day I like to just fall right into bed. I'm exhausted and can't wait for my head to hit the pillow. I'm one of those crazy people who sleeps with lots of pillows arranged in just the right way and if I made my bed everyday, I'd have to rearrange all the pillows every night. I'd rather jump right into bed and head to dreamland as quickly as possible.
4. When I do make my bed, my kids mess it up
It never fails; whenever I do make the bed, my kids see it as the perfect opportunity to turn it into a trampoline. To them, a freshly made bed is perfect for jumping.
5. My husband doesn't really care
I've asked my husband if he cares whether or not I make the bed everyday because if it was important to him that I make the bed, I would make it a priority and figure out a way to get it done. He actually prefers to be able to get right into bed at night without having to 'unmake' the bed first.
Believe me, I like the look and feel (emotionally) of a nicely made bed, but right now in this season of my life, it's not a priority. Life wouldn't be any different if I did make my bed everyday, and just because I don't make my bed, it doesn't make me any less of a wife, mother, or homemaker.
So tell me, do you make your bed everyday?