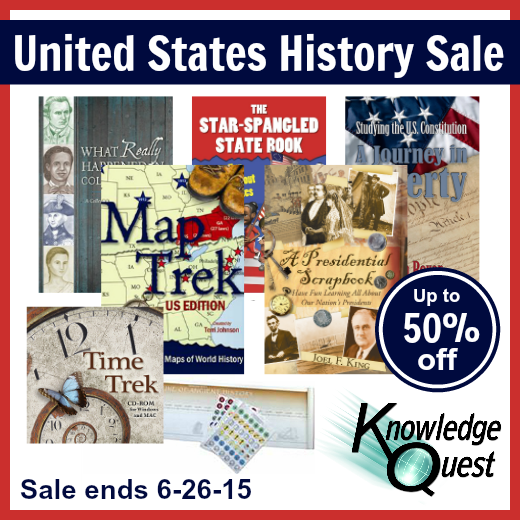 Will you be studying U.S. History in the fall? Get ready for the 2015/2016 school year now! Summer is a great time to get all your ducks in a row. If you are planning to include any of these resources, this is the time to buy. Many of these titles will not be discounted below retail prices again this year. And after Friday, the bundle goes away.
This
sale on all items U.S. History
from Knowledge Quest
will only last through Friday, June 26th
, so if you are hoping to buy any of these great, helpful materials (below), go get them now while they are on sale.
1. Map Trek: US Edition CD-ROM
2. A Presidential Scrapbook softcover
3. Star-Spangled State Book softcover
4. What Really Happened in Colonial Times softcover
5. 10 ft wall timeline New World 1600-1850
6. 10 ft wall timeline Modern World 1850-2020
7. Time Trek: Atlantic Slave Trade (download)
8. A Journey in Liberty (download)
These are all available individually and as a bundle, if you want to save 50%. This is a very popular option.
Sale continues through June 26th at midnight.