It's easy to fall into the trap of thinking that our kids need lots of THINGS. We want to make sure they have all the newest educational toys, or the most popular toys at the time.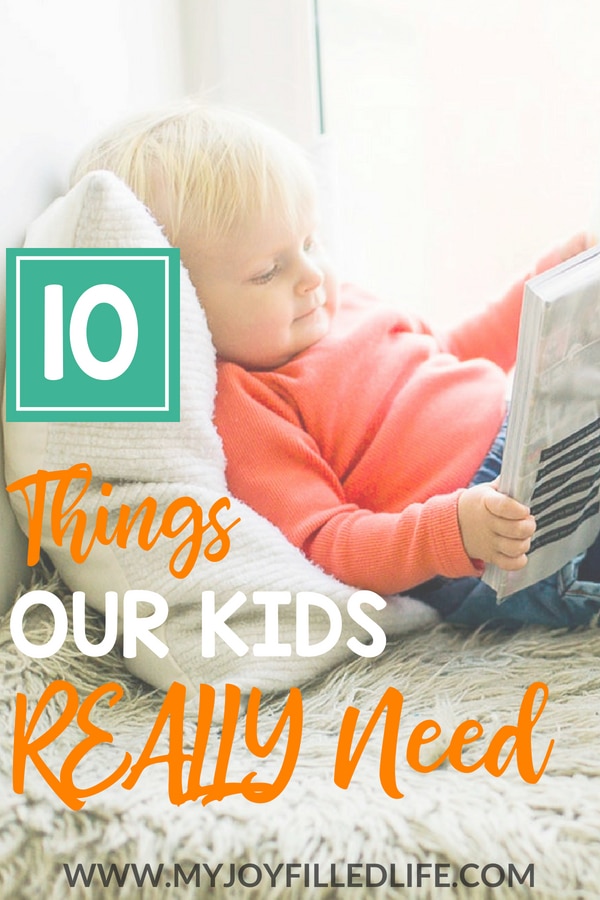 It's important to realize that your kids don't even really need all the THINGS their friends may have, or all the newest game systems or toys that come out. It's so easy to get caught up in materialism, and give our kids lots of STUFF, while failing to give them the things they really need.
The truth is that some of the most important things that our kids REALLY do need, can't be bought.
What DO our kids REALLY need?
1. Our unconditional love
They need to know beyond a doubt that we will always love them, and nothing they can do will ever change that. Think of the security this gives our kids!
2. Our acceptance
Do your kids feel that you accept them for who they are, or do they feel they need to change and measure up for you to accept them? It's important that they feel accepted and loved for who they are.
3. Our affirmation and our praise
The best way to encourage positive behavior in our kids is by giving lots of sincere praise. Our kids need to know that we not only love them, but we also LIKE them. Giving lots of affirmation confirms to them that they are special to us, and loved.
4. Boundaries and rules that are enforced
Even though kids may complain about the rules, if you have a good relationship with them and have their heart, they will trust you and know those rules are for their good. Kids feel more secure and loved, when there are rules and boundaries in their home.
5. Opportunities to fail (that's how they learn!)
Let your kids try new things, and don't protect them from making mistakes. Some of the best lessons learned come from our mistakes.
6. Training and discipline
It is a Scriptural command that we bring our kids up in the nurture and admonition of the Lord. It is our job to train and discipline them with love, while pointing them to God's Word and what He says is right and wrong.
7. A knowledge of God and His Word
As Christian parents, the most important thing we can do is build faith in our kids. This comes as we teach them God's Word regularly, and talk about it through out the day, relating it to all our activities and studies. This should be the foundation that all of our teaching and training rests on.
8. Character training
The best way to prepare a child for life is to teach, model, and promote the development of godly character. If a child is taught nothing else but character alone, he will be better prepared for life than those who are taught pure academics but no character. They really need character training!
9. Lots of time with their parents
The BEST gift you can give your kids, is the gift of your time.
10. A home that is filled with love and laughter
Kids need a safe place where they feel the love, and where they enjoy being with those they love. We should work hard to keep our homes a place where our kids enjoy spending time.
What things would you add to this list?
The following two tabs change content below.
Kathie Morrissey is the mother of 8 children, wife to Alan for 37 years, and a committed homeschooling mom of 31 years. She is the founder of
The Character Corner
, where she loves to blog about parenting, family life, homeschooling, and life in general. Kathie is a popular speaker at home school conventions and support groups, as well as ladies retreats. Her heart's desire is to help and encourage parents to be purposeful in raising Godly children with strong Christian character, who walk in purity, and have a heart for God.