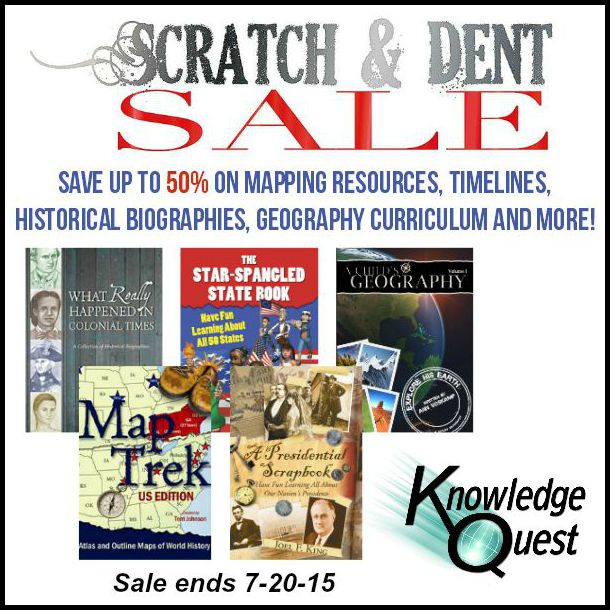 Knowledge Quest's Summer Scratch and Dent Sale is going on NOW!
Save up to 50% on mapping resources, timelines, historical biographies, geography curriculum and more! You are sure to find the resources that will fill your gaps for the upcoming school year.
All items offered in the Scratch and Dent sale have some sort of imperfection – usually a dented corner or a scuffed cover. This is not a used sale, rather a less-than-perfect sale. These blemishes are minor. Because these dented and damaged products are available in very limited quantities, they are available on a first-come, first-served basis.
The Scratch and Dent sale is available for internet orders only!
The slightly scratched and dented items include:
Map Trek Complete Collection
The Star-Spangled State Book
A Presidential Scrapbook
A Child's Geography volume 1
A Child's Geography volume 2
A Child's Geography volume 3
What Really Happened in Ancient Times
What Really Happened During the Middle Ages
What Really Happened in Colonial Times
Wonders of Old Timeline Book
O Canada! Her Story
The Scratch and Dent Sale ends Monday, July 20th at midnight EST.
Please note – Last year Knowledge Quest sold out of their slightly damaged inventory in less than 2 days, so you might want to make your decisions quickly. Our system will let you know if we have sold out of an item.