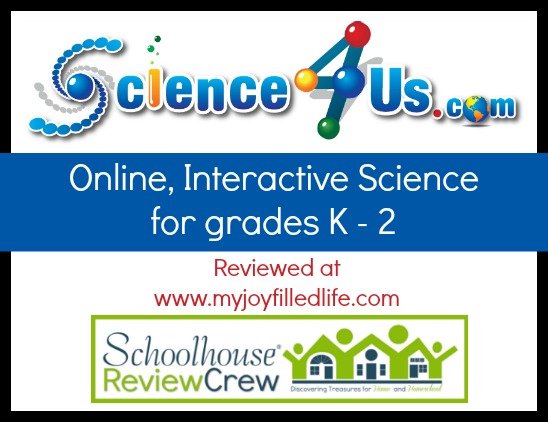 I love science. It was always one of my favorite classes in school. I even went on to college and became a registered nurse. As a homeschool mom, I've found that I enjoy teaching it just as much as I enjoyed learning it. However, now that I have 7 children, I don't have as much time to spend with the little ones in the science department as I had in the past. So when I was given the opportunity to review the online science program Science4Us.com Online Subscription from Science4Us.com, I was intrigued. My hope was that this could be a supplement for our science explorations and fill in some of the holes that we might miss.


Science4Us.com is from the creators of VocabularySpellingCity.com. It's an online science program for grades K – 2 that offers over 350 online lessons, hands-on activities, and worksheets. You can purchase an online subscription for $7.95 per student per month.
The student will work among 4 content areas that include a total of 28 modules, which are:
Physical Science
Materials and Mixtures
Observing Matter
States of Matter
Changes in Matter
Energy Sources
Light Energy
Heat Energy
Sound Energy
Electrical Energy
Energy Transformations
Location and Perspective
Motion
Force
Magnets
Simple Machines
Inquiry
Life Science
Living and Nonliving
Plants
Animals
Food Webs
Habitats
Eco Awareness
Earth/Space Science
History of Earth (old earth theories present)
Materials
Features
Weather
Exploring the Universe
Earth in Space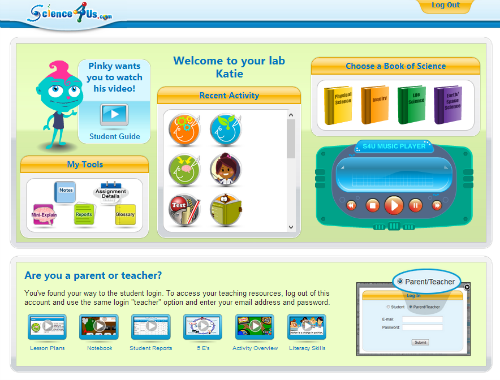 The image above is the student's lab. From here they can watch Pinky's video that tells how to use the lab; use their tools like the notebook, glossary, and mini videos; choose which unit they would like to work in; or listen to some fun songs. It also shows their recent activity.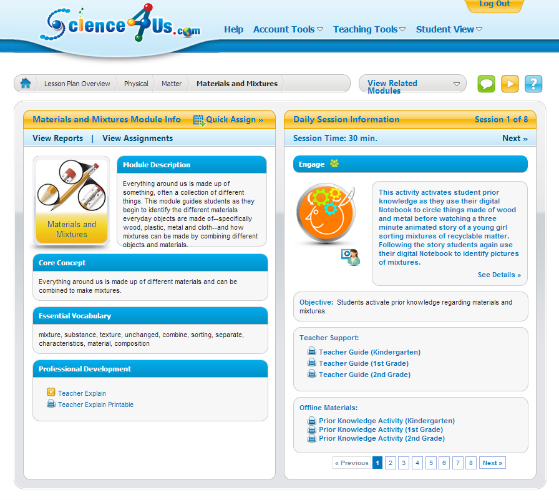 The above image shows the teacher's page upon log-in. Here you can watch an overview video; manage your students and account; view lesson plans, teaching strategies, and student reports; use your digital notebook that can be shared with your students; and assign work for your students.
Upon logging in to my teacher's account, I was immediately turned off by the structure of it and found the amount of information very overwhelming. It was way more involved that I would expect an early elementary science curriculum to be.
Since I wasn't thrilled with the formality of the teacher portion, my first grade daughter and I simply logged into the student account 3 days a week and played around and explored for anywhere from 30-60 minutes each time. Some days I would stay right by her side and explore with her, and some days I would give her a little space but be readily available if she needed any help.
For each module, the student will click on the book (one of four content areas) they want to work in, then they will choose a unit, and then choose the module they would like. They are then given a group of activities to choose from, but they should always do the first 3 activities first and in order. They can then choose from a variety of 6 to 13 additional activities that they can do in the module and then should end with the evaluation activity.
My daughter enjoyed being able to work on the computer and she got a kick out of Pinky and some of the other characters she encountered. There were many days that she would ask to do the program when it wasn't planned into our day.
Overall the program met my expectations – something that we could use to supplement our early elementary science studies. There is definitely a lot of information available to explore. However it was more academic and involved than we needed. At such a young age, early elementary children don't need such a formal science curriculum, they just need to play, explore, and experiment in the world around them. They need to get their hands on things, and in things, and they need to get those hands messy! I guess I was hoping that the program would be more fun and games. However, if you are looking for a structured, formal, thorough, online science curriculum, this might be a good fit for you.