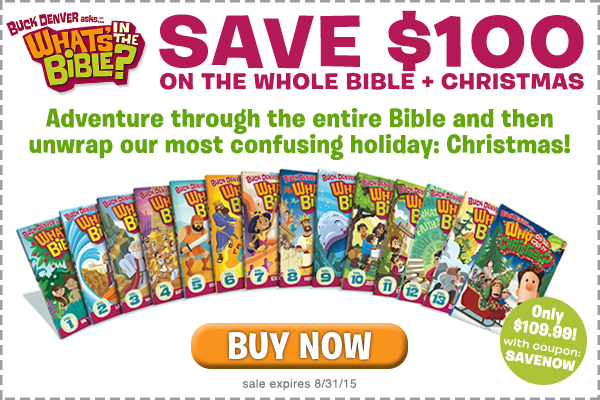 Save $100 on the entire What's in the Bible? DVD collection for the month of August! This is practically half off the regular price.
Use code SAVENOW at check out to get this offer!
Your family will understand the entire Bible in a whole new way through these 13 DVD from VeggieTales® creator Phil Vischer and a bunch of hilarious friends! Then explore how our modern Christmas traditions all point back to Jesus in the DVD Why Do We Call It Christmas?
In the Beginning [Genesis]
Buck Denver and his friends kick off their adventure through the whole Bible – and you're invited to come along!
Let My People Go [Exodus]
Genesis shows us how God is at work in the lives of the Patriarchs, introducing us to Abraham, Isaac, Jacob and Joseph, and setting the scene for the next book – Exodus.
Wanderin' in the Desert [Leviticus, Numbers, Deuteronomy]
Buck Denver and friends explore Leviticus and all its rules, learning what they mean and why we still follow some of them today. We also learn that through the hard times, God is still faithful!
Battle for the Promised Land! [Joshua, Judges, Ruth]
The Israelites have settled in the Promised Land, but God's people keep turning away from the One who gave them this new home. God sends 12 judges to point his people back to Him.
Israel Gets A King! [1 and 2 Samuel]
After years of fighting in the Promised Land, the people of Israel ask God for a king to help them in battle. God answers, giving them three kings in a row – Saul, David, and Solomon.
A Nation Divided [Kings and Chronicles]
A series of good and bad kings in Israel lead the country to split into two. God sends good prophets like Elijah and Isaiah to remind the Israelites that the Lord is always with them.
Exile and Return [Ezra, Nehemiah & Esther]
Explore the last of the Historical Books and learn how, after years in Assyria and Babylon, God's people find their way back home to Jerusalem once again.
Words to Make Us Wise [Psalms, Proverbs & The Writings]
Dive into the books of the Writings and discover how they each have an important story to tell and something to teach us about our lives today.
God Speaks! [Isaiah, Jeremiah & the Prophets]
Take a whirlwind trip through the 17 major and minor prophets, and learn all about their messages (including hopeful prophecies and dire warnings) for God's people.
Jesus Is The Good News! [Matthew, Mark, Luke, & John]
Walk with Jesus and his closest friends as he performs miracles, breaks bread at the Last Supper, and gives His life for our sins before God raises Him from the dead.
Spreading The Good News! [Acts]
After Jesus' resurrection, His followers are left wondering what to do – until the Holy Spirit shows up and gives them the power to share the Good News about Jesus with the whole world.
Letters From Paul! [Romans – Philemon]
Learn about all 13 of Paul's letters and the important messages they contain for Jesus' followers. We learn big concepts like justification, sanctification, grace, faith and the fruit of the Spirit.
God's Kingdom Comes! [General Epistles – Revelation]
Tackle the last books of God's Book. Get a glimpse of the future in Revelation – what it will be like when God's Kingdom finally comes and all things are made new!
Why Do We Call It Christmas?
Cutting down trees? Hanging stockings? Santa Claus? What do any of these have to do with Jesus' birthday? More than you'd think!