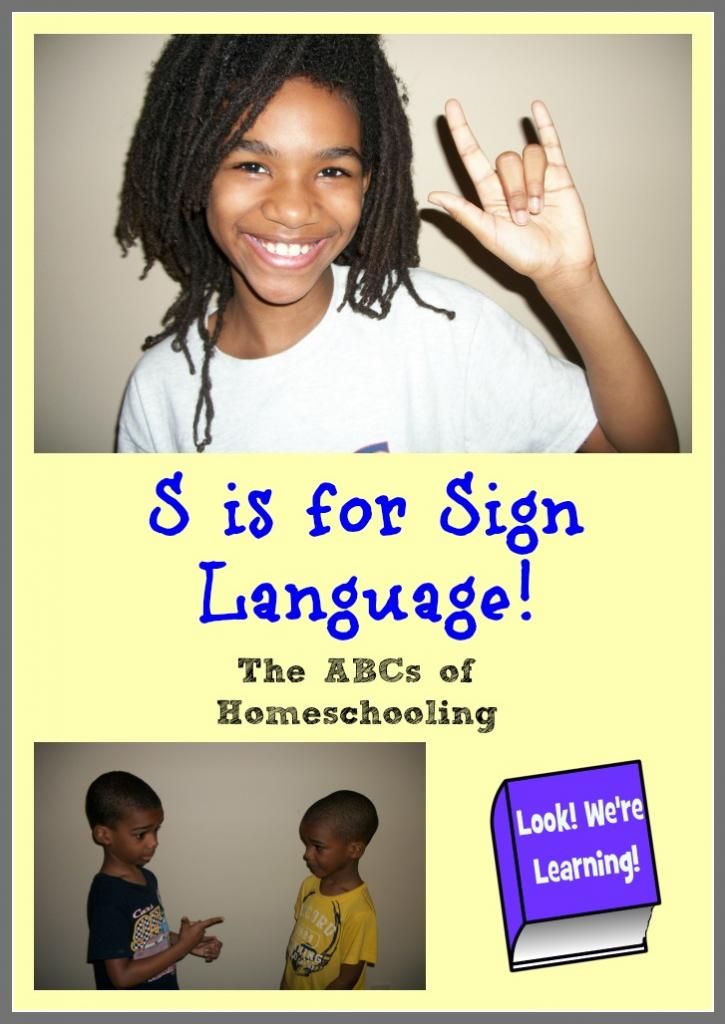 I've been using American Sign Language (ASL) since I was a kid. I became acquainted with deaf and hard-of-hearing people for the first time when I was about 8 and I fell in love with sign language almost instantly. Naturally, we've been teaching it to our children as well.
You might be thinking: "Why would you teach ASL to hearing children?" Well, ASL really belongs to the deaf. It's their language, so we feel we should primarily learn it to communicate with them. We attend an American Sign Language congregation of Jehovah's Witnesses, so we get to use our ASL skills several times a week.
Why Use Sign Language in Homeschool?
"Okay, so if ASL is for the deaf, how is it useful for homeschoolers?", you might ask. Good question! For one thing, when children learn a foreign language (even an unspoken one), they get a chance to understand concepts differently.
For example, we might read a book with our kids and ask them to explain what they read. When they explain it in English, they may express it one way. But when we ask them to explain it using ASL, they have to think about the same concept in an entirely new way. It's a great tool for helping them to analyze texts and present them from a different angle.
Another reason we love using sign language in our homeschool is that it's an excellent way to incorporate movement. We have a couple of kinesthetic learners in our family and they are constantly seeking out ways to move. ASL is a great way to redirect that energy back into our school lessons!
How We Use Sign Language in Our Homeschool
Rather than teaching ASL as a separate subject, we try to include it in just about every subject we teach. True ASL involves miming and gestures, both of which can make a reading session more interesting, particularly if the material is kind of dry. Facial expressions are a huge part of ASL and we have a lot of fun helping the children think about the appropriate looks and movements they should use as they sign.
Fingerspelling, the ASL method for spelling, has proven to be a great tool for teaching spelling and phonics in our homeschool. Our youngest boy often fingerspells words as he writes them so that he can remember which letters come next. We also use fingerspelling drills to help him practice his ASL receptive skills and his memory of letter sounds.
How to Learn Sign Language with Your Kids
So, how can you learn sign language with kids? There are a ton of free ASL resources online, including Lifeprint and Signing Savvy. At Look! We're Learning!, we provide ASL lessons covering vocabulary words for food, family, time, and other topics. If you'd like to follow along with us, you can subscribe to our ASL video lessons on YouTube. We also offer one-on-one virtual ASL lessons at an an hourly rate for those who want to learn a structured ASL curriculum!
As you learn ASL, be sure to give your kids opportunities to use the language with the deaf in your community. Look into volunteering opportunities at a deaf school or workshop near you. These are great ways for your kids to get acquainted with the deaf community and to learn to serve others.

Selena is a homeschooling graduate and a homeschooling mother of four. She and her husband, Jay, use an eclectic homeschooling approach to encourage their children to learn throughout their lives. Selena blogs about her family's homeschooling adventures every week at Look! We're Learning! To keep up with the family's newest learning experiences, subscribe to email updates from Look! We're Learning! or follow Selena on Twitter, Pinterest, or Google+.