I recently posted a review on Apologia's language arts curriculum, Writers in Residence by Debra Bell. We enjoyed trying out this curriculum and found Writers in Residence to be a very solid and comprehensive language arts curriculum.
Today I'm going to share about Apologia's literature curriculum, Readers in Residence, also by Debra Bell, which is for the same age range as Writers in Residence and complements Writers in Residence nicely.
For the sake of this review, I will be referring to Readers in Residence Volume 1: Sleuth, which is currently the only volume in the series that is available.
Readers in Residence is recommended for grades 4 and up. The course consists of a student text/workbook and an answer key, which retails for $89 when purchasing the text and answer key together (each also sold separately). The student texts are high-quality, thick, spiral-bound books that are well-organized, engaging, and written to the student.
Readers in Residence is a reading comprehension, literature, and vocabulary program, and as I mentioned above, can be nicely paired with Writers in Residence for a full year language arts program.
This course is broken down into six units, with each unit being broken down into modules for a total of 14 modules. In each of the six units that comprise Readers in Residence Volume 1, the student reads a different book and focuses on a specific genre and literary elements. For the units with a preselected book, a corresponding unit project is also included. The following books and genres are covered in this course.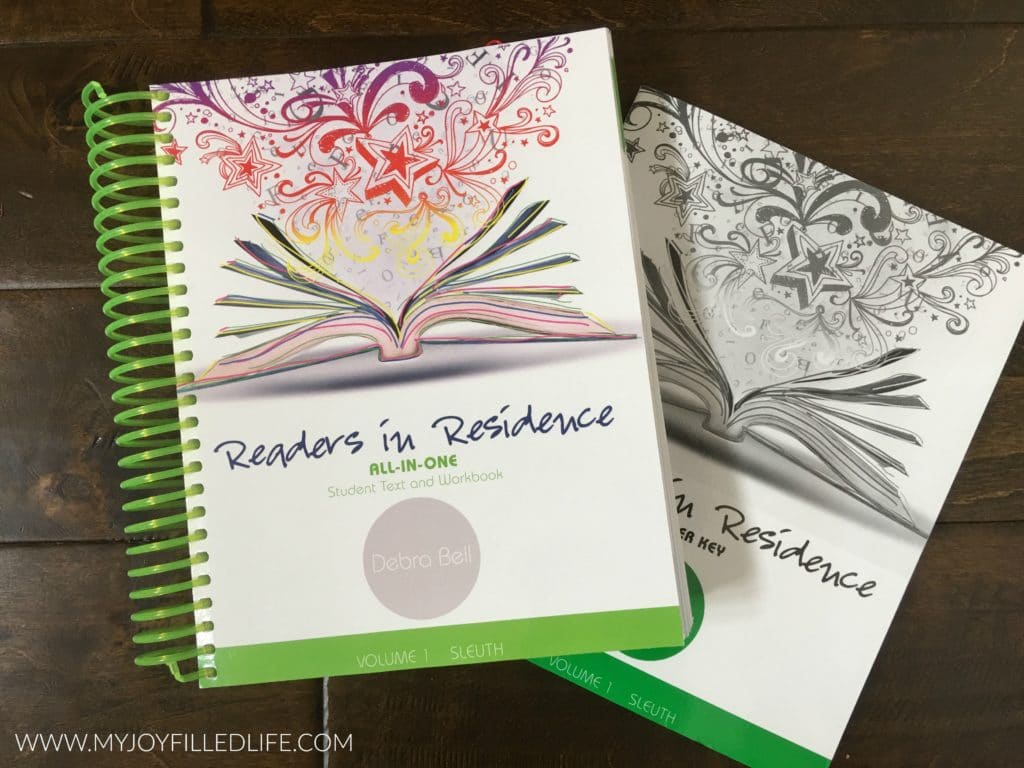 Unit 1
Book – Sarah, Plain and Tall
Genre & elements – historical fiction (character development, inferences, context clues, analysis, theme)
Unit 2
Book – You choose (suggestions provided)
Genre & elements – historical fiction (character development, comparison and contrast)
Unit 3
Book – Charlotte's Web
Genre & elements – animal fantasy (plot development, denotation, connotation, figures of speech)
Unit 4
Book – You choose (suggestions provided)
Genre & elements – animal fantasy (plot, comparison and contrast)
Unit 5
Book – Because of Winn-Dixie
Genre & elements – contemporary realistic fiction (figures of speech, turning point, theme)
Unit 6
Book – You choose (suggestions provided)
Genre & elements – fiction (setting, comparison and contrast)
One of the main things I appreciate about Readers in Residence is that this program is student-centered and student-directed, allowing the student to do a lot of the work and assignments independently. This is very important to me when choosing a curriculum; being a mom of eight, as my kids get older, I need them to be more and more independent with their schoolwork so that I can focus on my younger kids.
The All-In-One Student Text and Workbook begins with a nice welcome letter from Debra Bell about what to expect and why reading is important, followed by a Suggested Daily Schedule which lays out a 4-day week covering 32 weeks, plus an extra five days for Book Club days (I'll tell you more about that later). Each unit has a grading rubric at the beginning and each module has a handy checklist at the end to help you keep track of your progress as well as points earned for each module. I'm the kind of person that likes to check off boxes, so this is a feature I really like.
As you go through each unit and read each book, you will learn about the genre, analyze the book's cover, meet the author, make predictions about the story, do activities related to literary elements, learn new vocabulary, touch on grammar concepts, and answers reading comprehension questions.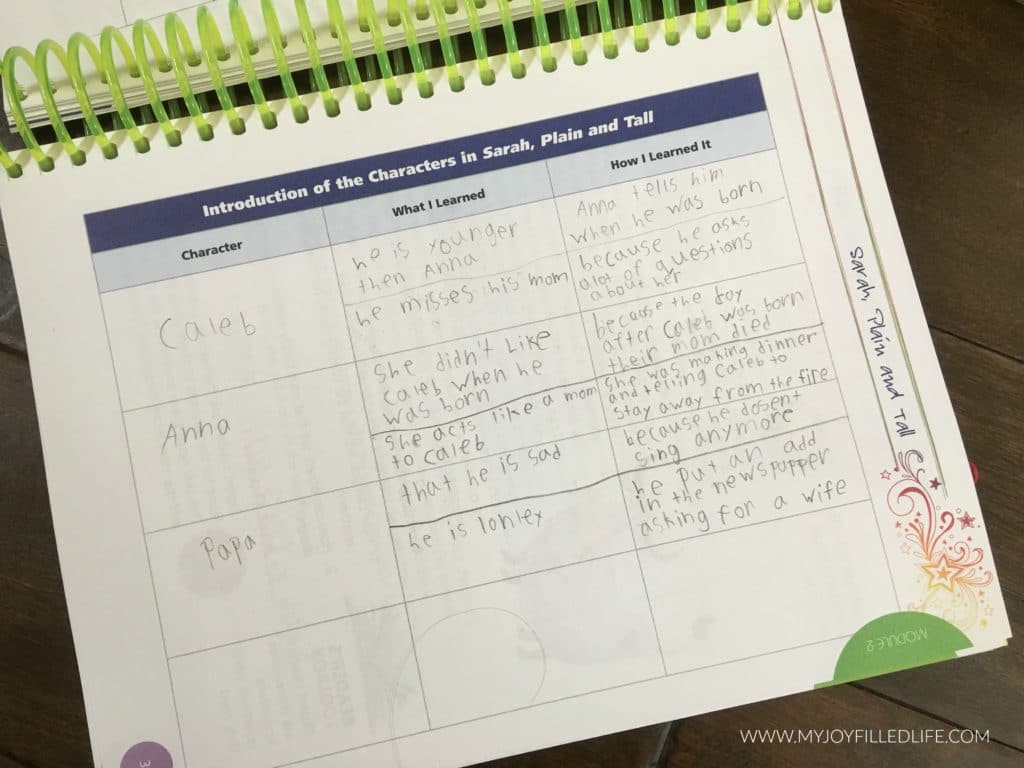 Another section I really like that Readers in Residence provides is the Sowing Seeds section of each module. These sections encourage a student's spiritual growth by helping them think about what they read in light of scripture. These sections will have the student think deeply about the meaningful topics the author writes about and explore those topics through the lens of God's Word.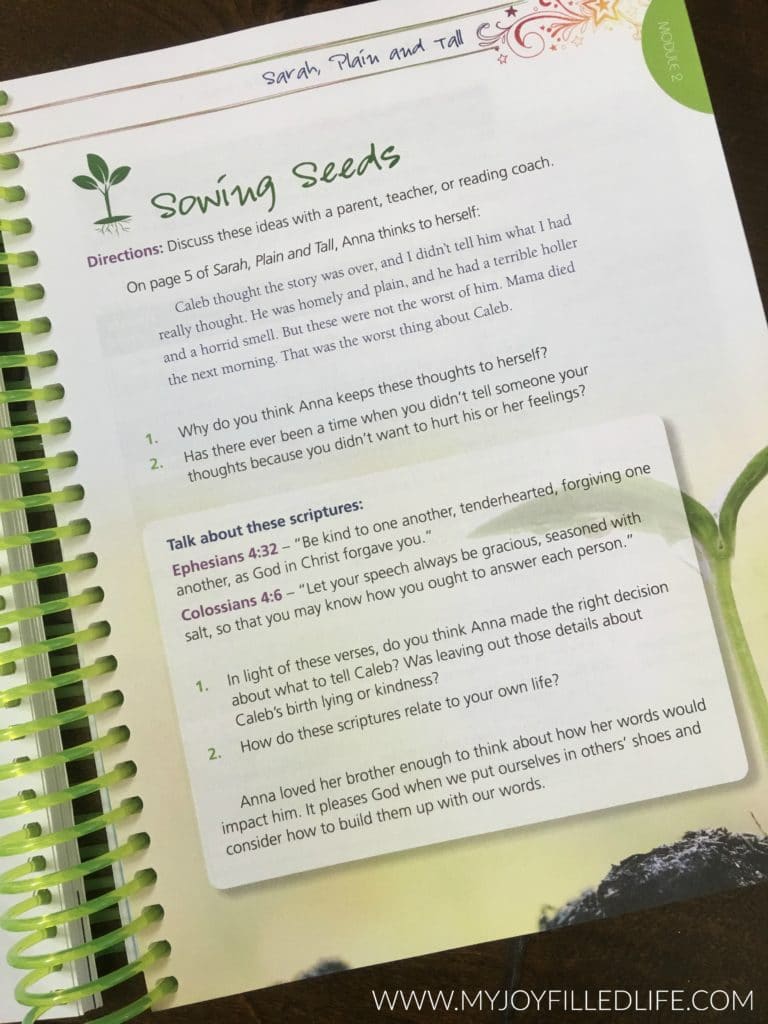 There are five Book Club days throughout the course (one at the beginning, one at the end of each unit with a pre-selected book, and one at the end of the course). One of the joys of reading is sharing about the books your read with others. These groups will be a social event that allow you to do just that. You'll need to recruit some friends and/or family members for your club, perhaps siblings, a co-op group, or even grandparents that share a love of reading. The book provides you with guidance and tips on how to hold a successful book club meeting, including a theme, discussion questions, and even refreshment ideas. We chose not to include the book club portion of the course in our studies as this was not something that appealed to us.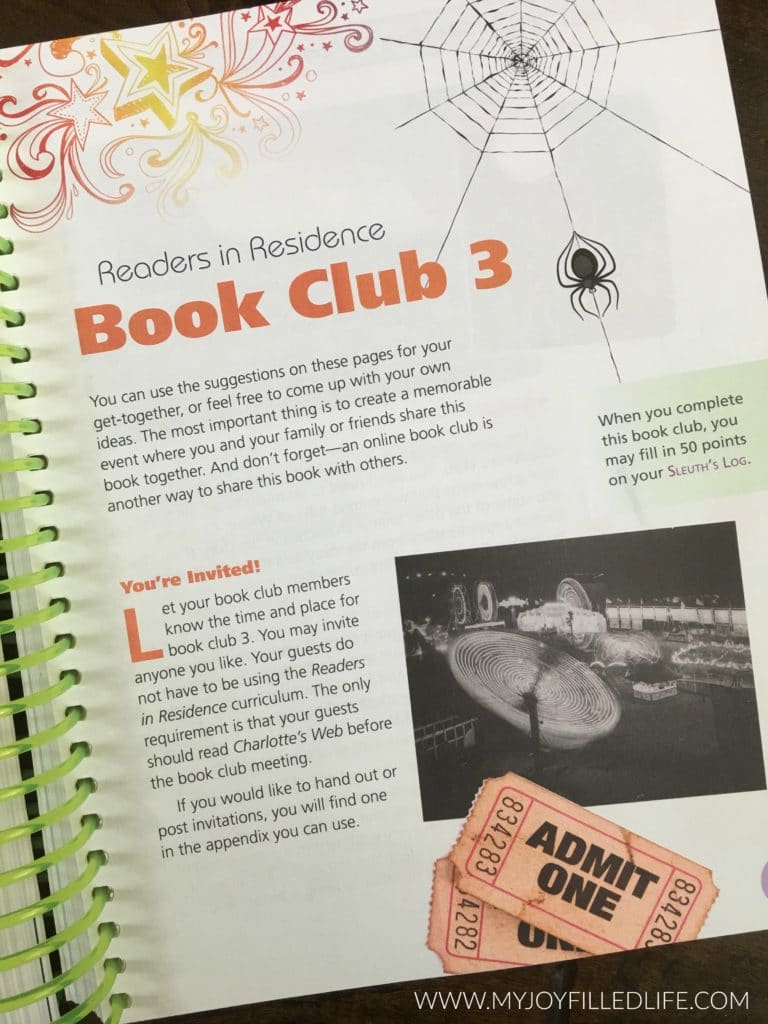 The Readers in Residence Answer Key is a helpful addition to the course. It walks you through how to evaluate your student's work using the provided rubrics. I found this very helpful because when it comes to literature and composition (Writers in Residence has a grading rubric too), I need hand-holding and guidance through the grading portion. It also tells you how to use the student text, including how to use it in a co-op setting. And of course it provides you with all of the necessary answers, wrapping up the answer key with another copy of the suggested schedule, grading rubrics, and module checklists.
Overall I found Readers in Residence to be a very, very thorough, well thought-out literature curriculum. I like that it also includes vocabulary work, as well as touching on grammar concepts. The more subjects included in a course, the better for this busy mama!
As I mentioned above, I really appreciated the rubrics and checklists, as well as the Sowing Seeds sections. I also was a big fan of the books selected for the course and like that there was some flexibility in choosing your own books too. I also like how the information and lessons are broken down in a way that is not overwhelming for the student (or the parent). The activities and exercises throughout the modules are fairly short and focus on one thing at a time; the entire course is very well organized.
I tried Readers in Residence out with my 10-year-old daughter. She was so excited to start this curriculum and begin reading some great books. Her excitement slowly faded, as each day we would get out the curriculum and find that we wouldn't be reading just yet. She just wanted to dive into the actual book, but with all of the activities and exercises in the workbook, it delayed the actual reading, therefore making her less and less excited to read. You don't start reading the first book until the second week of the course and that was very frustrating for my daughter.
While this curriculum is very thorough, I feel that was the down-side for us. It was too thorough. For the pre-selected books, the schedule has you reading each book and doing the exercises and activities as you go, roughly over a month's period. For us, that was just too long and drawn-out. The teacher side of me loved the detail and depth this course provides, but the mom side of me didn't want to squelch my daughter's joy of reading, especially since none of my kids are big readers. We just need to find a happy medium.
I am very thankful that we were given the opportunity to try out this course and I do believe it is a great fit for some kids and families (I've heard from many of my friends and other bloggers that loved it). We will put it on the shelf for later because I have five other kids coming up the ranks, and who knows, this might be a good fit for one (or some) of them. The beauty of homeschooling is the ability to cater to your child's needs and learning style.
GIVEAWAY TIME!
Okay, so who is ready to win their own copy of Readers in Residence?!! Apologia is going to give away a set of Readers in Residence to two of my readers!! How generous!! Just use the Rafflecopter form below to enter –
The giveaway ends April 15, 2018 at 11:59pm ET. Winner will be notified by email and will have 48 hours to respond. Please read all the Rafflecopter terms & conditions upon entering.