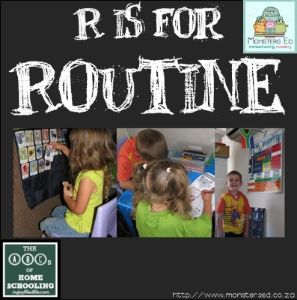 Routine is K.E.Y. in my home. With a large family it's important for everyone to know what is going to happen when and what is expected of them. Adding a baby/toddler to the mix can be hair-raising and does require some flexibility.
Our routine is fixed during the day. My oldest goes to public school and because we live in a metropolis with crazy insane traffic, my hubby and son leave home at 5:45am every morning, requiring us to get up no later than 5am every weekday morning. My younger three wake up any time between then and 6:30am.
The middle kidlets' morning routine goes as follows:
Wake up
Make bed
Hubby, Noo and I shower
Get dressed and put dirty laundry in the basket
Have breakfast (self-service)
Hubby and Noo leave for work and school at 5:45am
Do chores (feed and water the dog, take her basket outside, unpack the dishwasher, bring all laundry to the washing machine)
Free play till 9am if all the chores are done
School starts at 9am
School schedule:
We still use workboxes and I'm in the process of introducing preschool trays and workboxes, as well as totschool trays
Snack from 10 – 10:15am
Lunch from 12 – 1 pm
Finish whatever workboxes/trays have not been completed till 2
Noo gets home between 2 and 4:30pm every afternoon (depending on his extra murals and if it's a match day), eats and then does his homework
The little kidlets' extra murals start at 2pm and last no later than 3pm
On non-extra mural days, the girls nap from 1 – 4pm. Pixie usually naps from around 12 – 2/3pm every day.
I do housework on and off all day and start dinner at 5:30pm so that we can eat by 6:30
All 3 big kidlets pick up the dog doo and tidy the yard before bath time
The kids bath between 5:30 and 6:30pm
Dinner is at 6:30
Noo packs his bags for school the next day and makes sure his homework diary is signed
Family time is till 8pm
Bedtime at 8pm every night (including weekends)
I pack lunches for Hubby and Noo, usually consisting of leftovers from dinner and/or a sandwich with fruit and a yoghurt for each of them
I make sure the dishwasher is packed and on and that the kitchen is clean before spending some quality time with my hubby
It has taken a long time for us to find a routine that works for us, by the time Pixie was born, we had our routine down pat and it works really well for us. Weekends tend to be a bit of a disaster, but we manage it well and the kidlets don't have any issues when Monday returns and they are back into their daily/weekly routines.

Jolene is a homeschooling blogger who hails from Johannesburg, South Africa. She is a wife and mom of 4 children aged 11, 6, 4 and 25 months. Her family are all avid readers and love spending time together reading, watching movies and spending time together. You can read her blog at Monsters Ed Homeschooling Academy and follow along as she Homeschools on Facebook, Twitter and Pinterest.