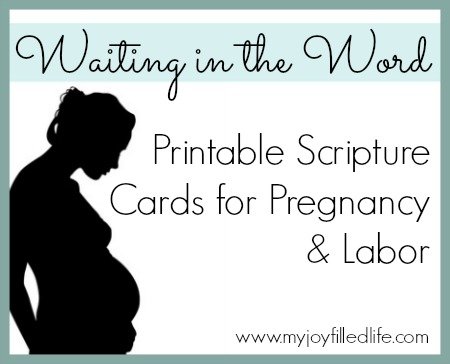 Pregnancy can often be a time of spiritual battles. So many women experience fear, worry, doubt, impatience, and insecurity during what is supposed to be a mostly joyous and happy time.
When we are faced with these spiritual struggles, the first place we should turn to is God's Word – the Truth. In His Word we can find peace and comfort, and have our faith restored.
During my pregnancies, I have found that having relevant scriptures right at my fingertips, by writing them on index cards, was handy and helped me focus on my task at hand and gain strength from the Lord. I would simply keep some of my scripture cards on my nightstand, in my purse, in the car, and by the kitchen sink. I have experienced so much more peace and comfort during my pregnancies when I focus on God's Word and make Him a part of the experience. It's truly amazing the difference a Christ-centered pregnancy and labor can be.
I have put together 3 sets of Printable Scripture Cards that I pray will bless you during your pregnancy and labor, and help you maintain a peaceful pregnancy by gaining your strength from the Lord.
Each set has 20 3×5 cards, with each card containing a verse from the King James Version of the Bible and can be purchased for just $2.99. There is a set for those that are expecting a baby boy, a set for a baby girl, and a set for those of you that are waiting to be surprised or would prefer a set that is gender neutral. Here is a sampling of some of the cards from each set –



Each set has the following verses –
Joshua 1:9
1 Samuel 1:27-28
Psalm 18:2
Psalm 29:11
Psalm 46:1
Psalm 61:2
Psalm 127:3
Psalm 139:14
Proverbs 3:5
Isaiah 26:4
Isaiah 41:10
Isaiah 41:13
Jeremiah 1:5
Jeremiah 29:11
Matthew 11:28
John 14:27
Galatians 6:9
Philippians 4:6
Philippians 4:13
2 Timothy 1:7
Plus, get a BONUS 'Prayer for Labor' printable with each set of cards.
PLEASE NOTE: THIS IS NOT A PHYSICAL PRODUCT! YOU WILL NOT RECEIVE ANYTHING IN THE MAIL! YOU MUST DOWNLOAD THEM AND PRINT THEM!