When you have a teen preparing for a job interview, you may not have any idea on how to advise them. Sure you may have much experience preparing for a job interview as an adult, but how do you guide your teen forward to ensure they have a successful job interview? Today I will share a few tips on how to prepare your teen for a job interview to assist in helping them get that job!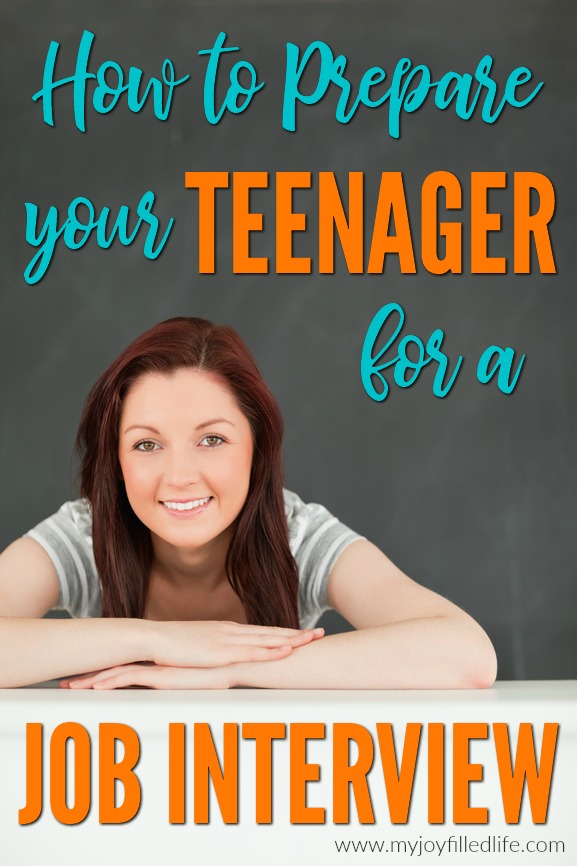 Determine Key Points
Have your teen determine 2-3 key points that they want to get across to the person interviewing them. Obviously the teen knows what job they are applying for. Have them sit and brainstorm key points that they want to portray to the interviewer. Practice with your teen so that they can master stating these key points without stumbling over words.
Research Interview Questions
With the internet at our fingertips teens can get one step ahead by researching interview questions. Have your teen find basic interview questions that are often asked for nearly every job interview. Practice with your teen asking each question until they no longer have awkward pauses and sound confident in being ready for this job interview.
Create Their Resume
While your teen may not have a lengthy resume, consider helping them create a professional looking resume to bring with them to the job interview. Think about extra-curricular activities that will assist in getting this job and other skills your teen has learned as well as used in high school. You may also consider seeking Customized Job Application Resume Writing services to give your child a professionally-written resume. Having a resume on hand to give to the interviewer will give your teen one step above the rest in preparedness.
Act Professionally
Practice firm handshakes, eye contact and stating their name with confidence. A teen will want to go into this job interview acting like a professional. Regardless of what the job interview is for, you will want to ensure your teen has practice with being professional from their first interview on so that they can hone in on their interview skills in preparation for their adult years. Dress appropriately and always hold eye contact.
Arrive Early
It is always better to be fashionable early than fashionable late to a job interview. Be certain your teen knows that the best practice for any job interview is to arrive 10 minutes early. This gives your teen time to check in and think before the interview starts. When you arrive early you look dedicated to this position and it allows your teen some time to prepare mentally for the job interview. Figure out how long it will take your teen to get to said job interview and arrive 10 minutes early to give the best first impression.
Send a Thank You Note
Regardless of whether your teen got this job from the job interview or not, have your teen write a little thank you note to the company. Showing their thanks for the person's time will go a long way to inspire them to hire your teen or at least keep them in mind for any future job openings. Sending a thank you note will show gratitude, appreciation and a good character trait that most companies would love to have on their team.
There you have it, a few ways you can work to prepare your teen for a job interview. Good luck in your future endeavor of being certain your teen is prepared for their next job interview.