When I reflect on why I decided to become a Christian fourteen years ago, I think part of it was because of the food.
There's the spiritual food of course (John 6), but I'm talking about the literal FOOD food. I was a college freshman, and there was this young married couple that was leading the campus ministry I had started visiting. I went over to their apartment after church every Sunday for lunch as well as on Thursday evenings for a Bible study (and dessert). The wife was a great cook, and the whole experience made me feel like I had a home, even though I was hundreds of miles away from my physical family.
A few years later, I was newly married and had assumed the role that had been modeled to me so well. My husband and I were leading a different campus ministry in another city, and we had college students in our little furnished long term apartments constantly. We fed them homemade deep-dish pizza, played a lot of Wii and watched the early seasons of American Idol (we had Bible studies too).
Then we had kids. Fast-forward a few years: life is busy and we're tired. Constant entertaining the way we used to do it is just not realistic given our season in life right now.
But you know what? We still have people into our home pretty regularly. That memory of knowing how it felt to be loved when I was alone has ingrained in me a conviction: our home is the base for our personal ministry. And while our family comes first, we're intentional about making our house a place that is inviting to others. Hospitality is also a command that is modeled in the New Testament (see 1 Peter 4:9 among others).
So how do you make hospitality work when some days you barely have time to think? I've got a few suggestions.

Target Your Efforts
Before we get to the "what," let's first discuss the more important question: the "who". Who does your family you want to serve with your hospitality? Some possible suggestions (which can overlap) include:
Extended family
Neighbors
Kids' friends and their families
Church/Bible study friends
People with common interests: sports teams, clubs, community groups, etc.
Coworkers
Single people
People without kids in the home
Elderly people
College or high school students
I recommend spending some time talking about your goals as a family and prioritizing those you feel called to serve.
Make Realistic Goals
Once you have a clearer idea about the types of people you'd like to have into your home regularly, think about realistic ways to serve them. What kind of hosting do you enjoy? Brainstorm how often you can do it and how many people you can invite. Some ideas include:
Backyard cookouts
Holiday or birthday parties
Baby or bridal showers
Sharing a family meal
Dessert or coffee
Bible studies
Book clubs or other hobby groups
Potlucks
Games or movie nights
TV sporting events: football parties, etc.
Offering a place to stay for overnight guests
Play dates
If you're starting to hyperventilate because the thought of throwing huge parties freaks you out, stop right there. Inviting just one person for an intimate one-on-one conversation is perfectly acceptable and even ideal, depending on the person. Embrace the type of hosting that you can get excited about.
I'll give you an example of what our typical schedule looks like. I'd say that between holiday and birthday gatherings, we have a party of some sort in our home about once every 1-2 months—this involves extended family and close friends, although sometimes people we're trying to get to know better. We have an overnight guest once or twice a year. A couple of times a month we invite friends over to share a meal with our family, but they are usually people without kids due to space constraints. On a weekly basis we have friends or family "pop in" for an hour two just because we love them and like to see their faces. They might get water or coffee, or perhaps some of the extra food we have around. I also occasionally host play dates, although this has been less frequent now that my kids are getting older.
If you're still not sure how to make it work consider this:
Build Hospitality Around the Plans You Already Have
Okay, I get it: we're busy and exhausted and don't have time to make more plans. Nor should we. That's why this piece is vital: invite people into the life you already have, rather than making your life busier than it needs to be.
If you're planning on making lunch after church, why not invite a young couple or an older widow along? Have your single sister join you for dinner on a Tuesday night. Invite the next-door neighbors over for family movie night. If you're watching the Super Bowl in your basement, have some of your church buddies bring some food and join you. In some cases this takes planning, but often it can be a spontaneous invitation. Whether you're a planner by nature or you like flexibility, you can make it work for you.
Letting Go of Your Martha Expectations
So you might be thinking, "But my house is in no condition to have people over 99.9% of the time. I can't cook. We don't have enough space. I can't afford to offer anything."
My advice to you is: let it go. Remember that friend I was telling you about who had me over all the time when I was in college? She had a baby a couple of years later, but the hospitality didn't cease. Sometimes her house was a wreck when I would pop in for an afternoon. No food. I didn't care. In some ways it endeared me to her (and gave me an opportunity to help by doing her dishes!). She was a young mom whose priorities were her family and her ministry.
I concede that having a peaceful, tidy, prosperous home is important to many people (it is to me!). But it's not THE most important thing (see the story of Martha in Luke 10:38–42).
I often tell people who are visiting that my house is "lived in." To date, I haven't had anyone complain that my home was simply too messy for them to be in comfortably for an hour or two. What's more, having people over actually motivates me to pick up more than I would have otherwise. Regarding cooking ability and budget constraints: let that go too. I think many guests are happy with a glass of water. If that's all you have to offer, it is enough.
Your turn: do you open up your home to others regularly? What are some suggestions you'd add to these lists?
You might also like: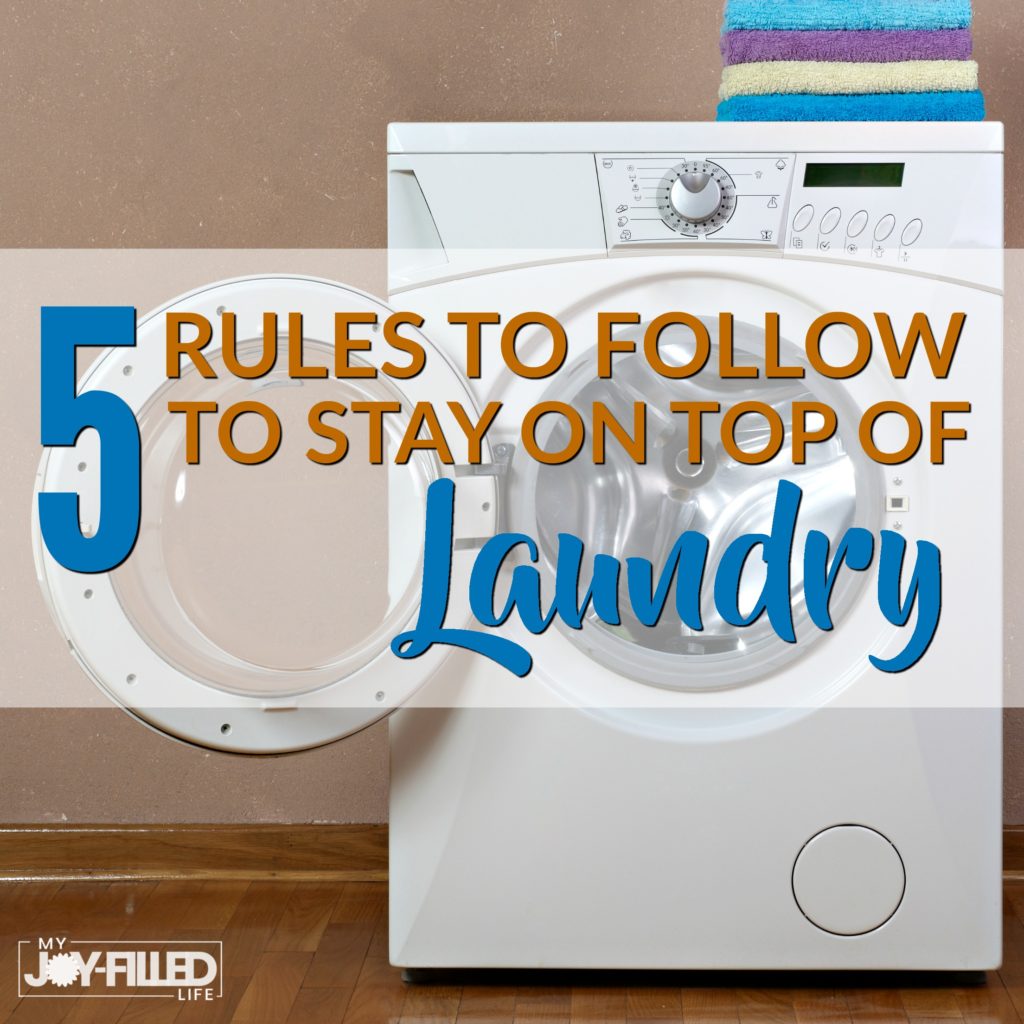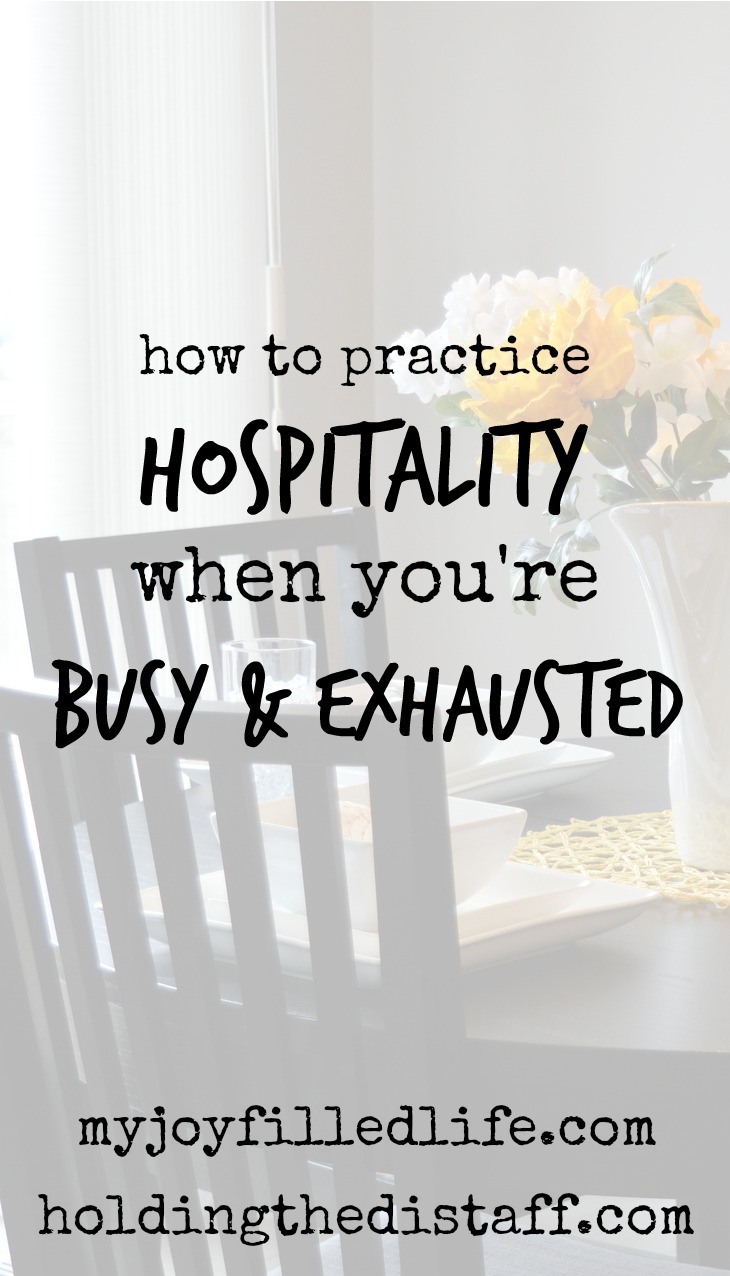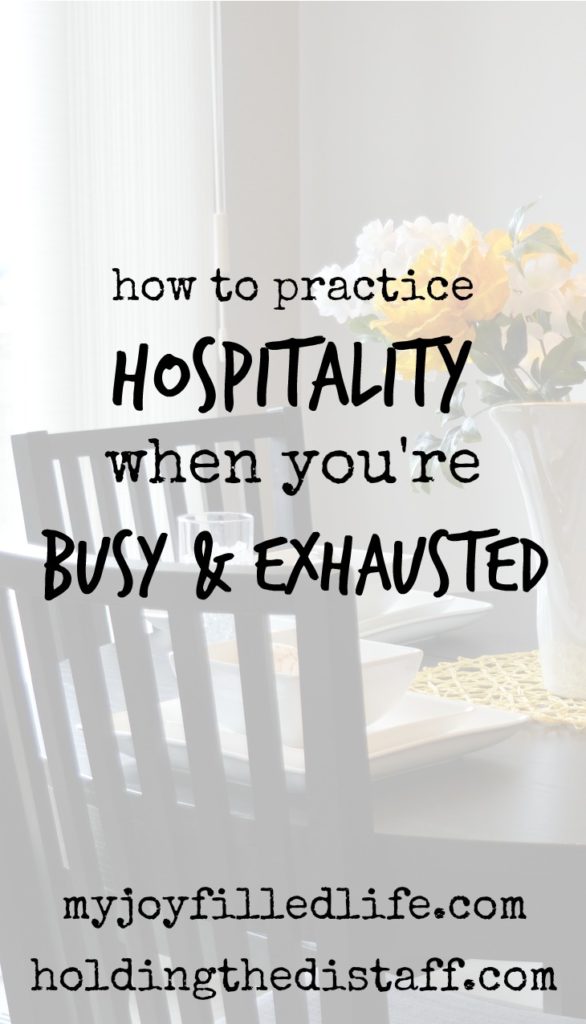 The following two tabs change content below.
Happily married, mom of three (plus one in the adoption process), writer/editor, disciple of Jesus, homeschooler, messy non-gourmet chef, recovering perfectionist, coffee connoisseur, lazy fitness enthusiast, arts and crafts impaired. Join me at on my journey of finding inspiration in the messy life we all encounter every day...because wiping noses for Jesus is legit!