When it was finally time to leave the hospital with our first son after a long and difficult labor, I couldn't believe the nursing staff was just going to let us leave so easily. This was our first child after all; wasn't there some kind of class we had to take or test to pass before they would allow us to walk out those doors? Nope.
It was such a strange feeling for me to leave that hospital as a little family of 3; I was so unprepared for what to expect from life after baby, both mentally and physically. I laugh at myself now, but I was all ready to jump into my pre-pregnancy jeans only a few days after giving birth and on our way home from the hospital we had to stop at the store to buy maxi pads because I hadn't even bought any. I was so clueless (and I had even read the what to expect books and had finished my maternity rotation in nursing school only 5 months prior).
Now, after seven babies, I pretty much have my pre-baby routine and prep down pat. And one of the things I prepare before baby arrives is a post partum basket. Well, I actually make two – one for the master bathroom upstairs and one for the bathroom downstairs.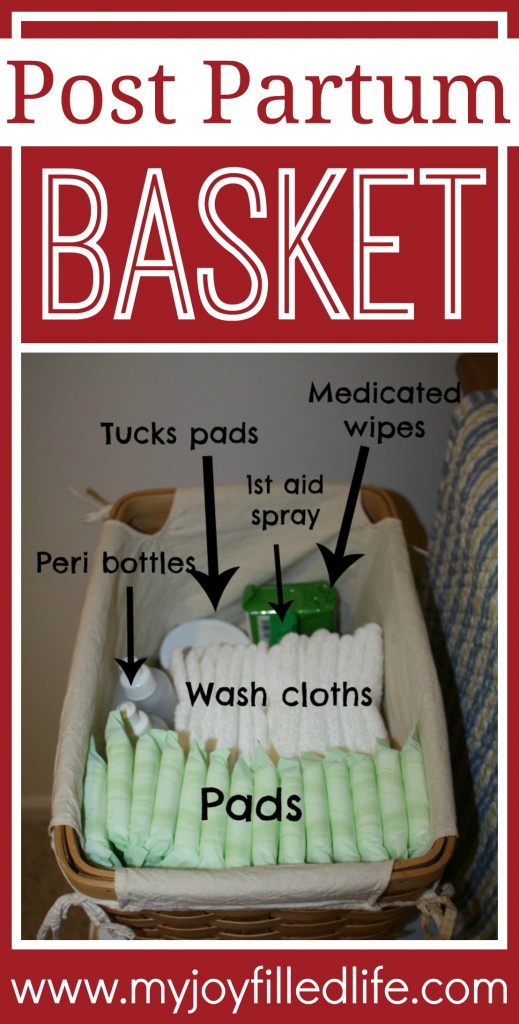 So, what's a post partum basket?
It's a basket full of everything you will need to tend to all of vour needs 'down there' whenever you use the bathroom after you've had a baby. It doesn't even need to be a basket really – a plastic bin, dishpan, or box will do. And the contents of your post partum basket may be a bit different from mine, but if you are a first-time mom, hopefully this will give you an idea of things to have on hand for after baby's arrival.
Here are the things I include in my basket –
Maxi pads (overnight protection, with wings)
Peril Bottle – you will get one of these at the hospital (ask for one or two extra); fill with warm water and spray on your lady parts as you pee and/or after you pee
Wash cloths – I buy a couple big packs of wash cloths from Target or WalMart; after having a baby, I prefer wiping (or rather dabbing) with a wash cloth instead of toilet paper after I use the bathroom.
Plastic grocery bag – to hang on the bathroom door and put the used wash cloths in for easy transport to the washing machine
First Aid Spray – I have had stitches with each of my births and I use the first aid spray on the area after I use the bathroom
Tucks pads/Witch hazel pads – I put a layer of these on a clean maxi pad to help soothe the area and help with swelling
Medicated Wipes – use these interchangeably with the first aid spray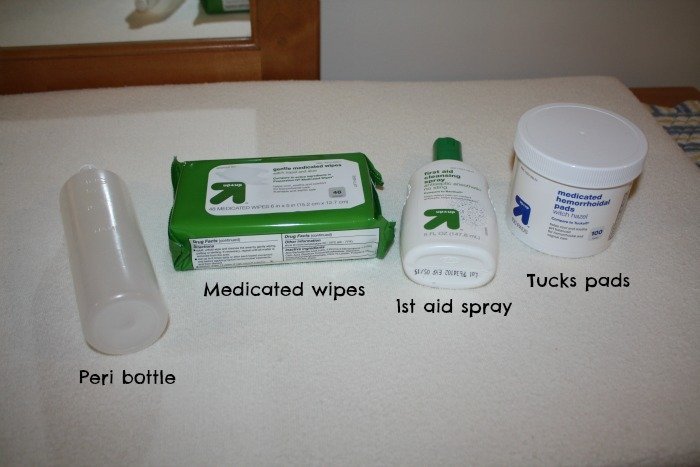 Well, I hope this was a bit helpful to the expecting mamas out there. I love the convenience of having all my womanly post partum necessities handy in a bathroom on each floor of our house. And everything is conveniently kept in a basket that I can keep in the bathroom cupboard or on the back of the toilet.
What would be something you would add to your post partum basket that I haven't listed?
For more Preparing for Baby posts, click on the image below.