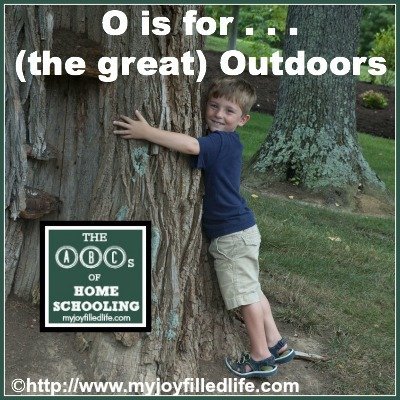 When I think of the Great Outdoors, I start getting excited. God's creation is pretty amazing isn't it? Sharing everything amazing about God's creation with my children is one of the ultimate goals of my homeschool. I have to say that sitting in chairs around the kitchen table reading about birds, bugs, and the planets is not going to accomplish that goal very well. Getting outside and exploring together is a wonderful way to teach your children about God's amazing creation in a hands-on, exciting way.
If you are ready to quit reading because you hate going outside, let me tell you I understand where you are! I used to hate bugs. Really. I couldn't stand to be outside if the gnats were in my face or the spiders were crawling around underfoot. My Dad used to make me dig up potatoes in the garden and I hated touching the dirt! Over the past fourteen years of my life, God has brought me to the point of truly loving His creation slowly. When I started out as a parent, I had to force myself to get outside with my kids. So let me encourage you, You Can Do it! Don't let these moments when your children are at home pass you by without sharing this important truth: God has created an amazing world out there.
It's kinda hard to teach your children something if you don't believe it. As I look back on my childhood, I can see more clearly now that my Daddy was teaching me to love Creation all along the way. We had a garden full of food to be harvested. We had walks in the woods behind our home. We had a treehouse so that I could read outside in the trees where the birds were singing. We had birdhouses and squirrel feeders in plain view of a prominent window. These are all fantastic ways to plant the seeds of awe in your child's heart.
Planting a Garden.
It doesn't have to be anything big! My children and I have a container garden which we plant together each Mother's Day. Because we are transient and often live in city houses without yards, and because I have never figured out how to keep bugs off of plants in the ground without pesticides– we keep our garden portable. A huge benefit to this is that we can move our plants in and out of the sunlight as we see the need. We dig in the dirt, we fertilize with organic material, we water, and we watch our plants grow, we harvest tomatoes and eat them right off the vine. It is beautiful to experience God's provision for us in this simple way. And trust me, those tomatoes you buy in the supermarket don't taste anything like the ones you can grow out back!
Walking in the Woods.
In our family we call these hikes. No matter how simple, a walk in the woods with children is a hike. My husband and I started hiking together before my oldest was born. We took Clara on her first hike at six months old, when she could finally hold her head up enough to ride in the "belly packer". When my son was born, we bought a Kelty backpack carrier which has been a Godsend on many hikes since then as we hiked our way through the infancy of six children. Hiking in the woods can reveal footprints, animal homes, birds, bee trees, creeks and rivers, waterfalls and beautiful views. Every hike has a built-in, God-given reward, usually at the peak of the trail. When we find this reward I like to sit down and enjoy it with my children.
Living Life Outside
Remember the treehouse I mentioned. It came about because my Daddy could never get me to leave my books and go outside. "Go outside." he would say, "Go play with your sisters." and I did, but not because I wanted to. Once I had a treehouse, I would escape to the treehouse for some peace and quiet reading. I can remember sitting in that brand new tree house just listening. Listening to the birds, the bugs, the trees and leaves, the rustling of animals. If I sit here quietly, I can hear it all again. Eventually, I discovered the joys of climbing trees and swinging, but it started because I was living my indoor life outside. What can you take outside with your kids? School? Lunch? a good book?
Feeding the Animals
My oldest son was about four when he first realized that my daughter got to go on Valentine's Day dates with Daddy. I want to go on a date with Mommy he proclaimed. Of course, that date had to come with some instruction. "When you take a girl out on Valentine's Day you should give her a gift" Daddy informed him. So they want off to the store together to find the perfect gift. They came home with a bird feeder and some bird food. My children were so enthralled with that bird feeder! And I could remember the times my Mom would say "Oh, look the a male Cardinal." or "Wow, look at that such-and-such." While I will never be the bird enthusiast my mother became, I do enjoy watching the birds eat at our feeder. Especially the hummingbirds. Aren't they amazing? Hummingbirds are an example of God's brilliance. Truly.
In each of these outdoor situations, I just take the opportunity to talk to my kids. I tell them something I have learned about the humming birds or the bee tree. I show them the whole in the brush where an animal enters every day to sleep because God gave him that instinct. I make them get quiet and listen to the birdsong or the wind blowing. Whenever we find a really cool spider, we put it in the Discovery Scope and watch it crawl around up close. Day by day, and moment by moment I am passing on a love for God's creation to my kids. You can too.
Amy is a w
ife to a military man, and a homeschooling mom with six beautiful children ages 14, 12, 9, 7, 4 and 4. They currently live in southern California, where the family enjoys playing on the beach and at Legoland, CA. Amy loves to write, sing, hike and read great books. She also loves to teach— which turns out to be a very good thing! Amy grew up in Southern Indiana, the daughter of a preacher and a teacher. She has four siblings and lived on 2.5 acres next to a woods, where they helped with their Daddy's garden and roamed to their hearts content. She attended Kentucky Christian College where she met her husband. God eventually blessed them with children, but for five long years they weren't able to have children and during that time Amy started hearing about homeschooling through the Focus on the Family radio program. She would listen during my lunch hour at work and come home to tell her husband all about it. It wasn't until their first child was two years old that Daniel heard Focus on the Family during his drive home from work and decided they should homeschool their precious daughter. You can find Amy blogging at Bow of Bronze and connect with her through Facebook, Twitter, and Pinterest.