We have started using a new history curriculum this year, Mystery of History. I have struggled for the last several years on a history program that we like and that is a good fit for our family. Plus, I kept going back and forth on whether I wanted my kids to study American History first or study history chronologically.

Mystery of History has always made my list each year for possible history curriculums, and this year it made the cut. So far we are really enjoying it. We are moving through it slowly with my 4 oldest children (ages 3 – 10); there is so much to read and do with each lesson, I don't want to miss out on anything. But… I do know that I need to pick and choose, or else we will never get through Volume One.
There are so many great products and projects to go along with Mystery of History. Mapwork, Memory Cards, project ideas and Timeline (although you will need to make your own; I will show ours when we are a little further along) are all included in the book. We are also using the Coloring Pages and the Notebooking pages that you can purchase to go along with the curriculum.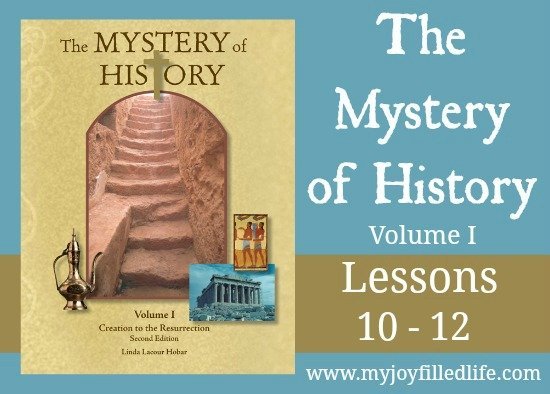 Here are some of the things we did and read for Lessons 10-12.
Lesson 10: Stonehenge
Lesson 11: Early Egypt
Lesson 12: The Minoan Civilization
Here is a sampling of their coloring pages. I have the boys color while I'm reading aloud and they are really getting into it, taking their time, and getting creative.
We made a miniature version of Stonehenge. We took the easy route and ordered a kit on Amazon.
For our Early Egypt studies, we made Mummy Dogs for lunch one day. These are very easy to make – just wrap a hot dog in a crescent roll or bread stick dough and pop in the oven until golden brown. Then add eyes with peppercorns, cloves, or ketchup. We also made ourselves into mummies with a little TP. Then we make 4D pyramids out of poster board, some tape, and sand-colored, textured spray paint.
We played "Leap Bull" to simulate the Minoan sport of bull leaping. The kids had a blast with this one. Mommy even gave it a try, but I'll spare you the pictures.
After learning about the story of the Minotaur and the labyrinth that the Minoan King Minos built, the boys played a game of Minotaurus from Lego.
And here is a picture of our timeline being used as a fort, just for fun!
For more lessons from Mystery of History Volume 1, click below:
Lessons 1-3
Lessons 4-6
Lessons 7-9
Lessons 10-12
Lessons 13-15