Let's face it, after a weekend of running errands, cleaning, birthday parties and trying to fit in some time to relax and rest; Monday can be a drag. It can be really hard to be motivated to get back into the normal routine; well at least for me and my students. To ease our way back into the school week I have been trying to come up with some ways to help me and my children to actually look forward to Mondays and make Monday a fun day!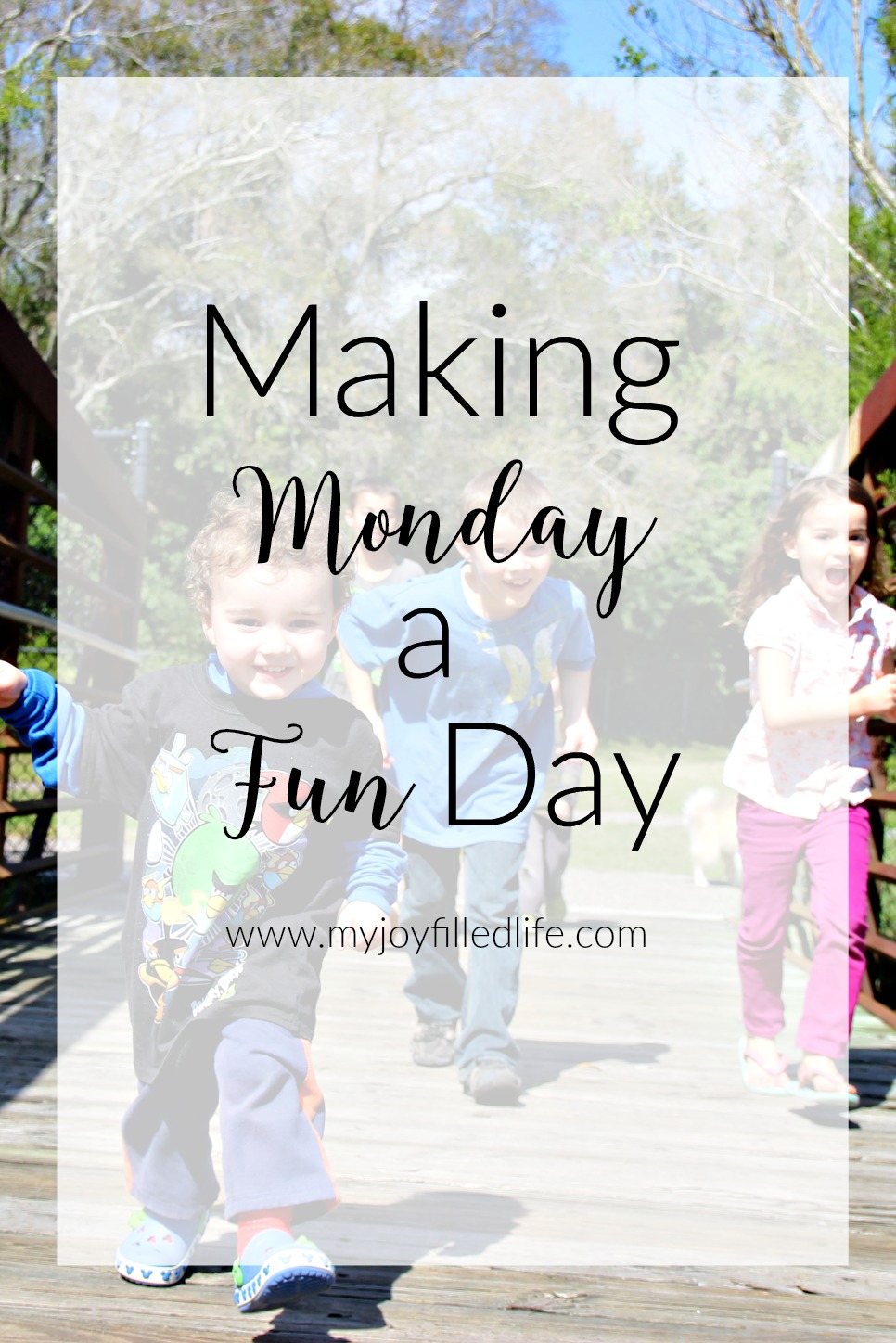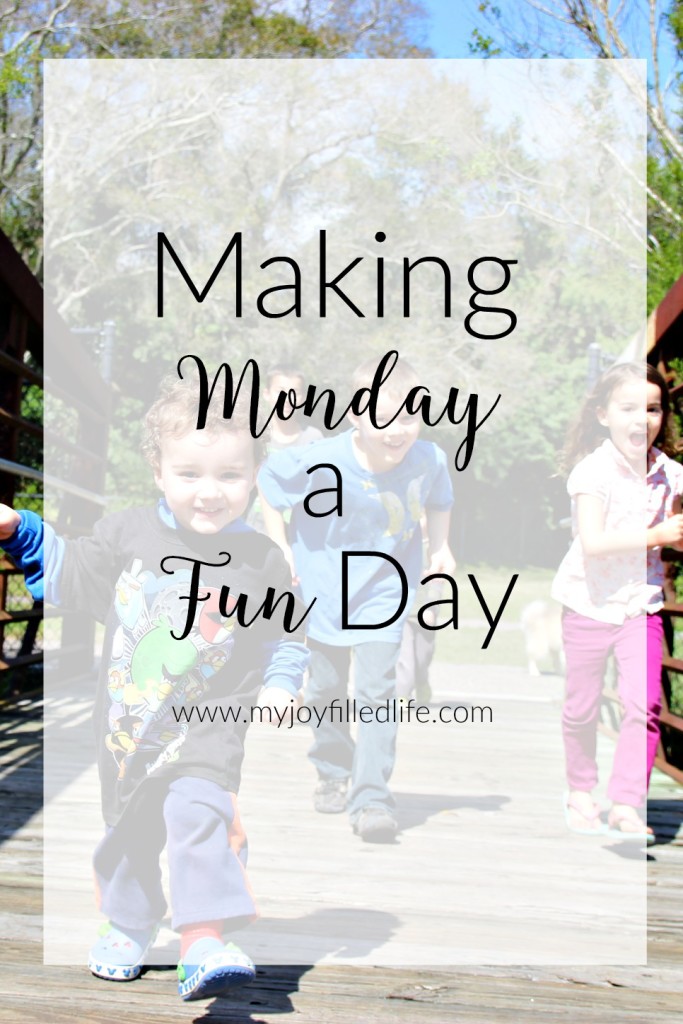 I started trying to incorporate more hands on activities and games into our day. As I did so, I found that not only were my kids excited about starting the school week, but I was also.
Here are some ways that I have gone about incorporating fun into our subjects and day.
Bible
I try to start our days gathered together on the couch reading through our Bible portion, memorizing scripture and praying. Some days this goes well, some days it's chaotic. But I know that it is so important and one of the main reasons we homeschool.
On Mondays I have tried to make it fun by doing Bible Trivia. I ask questions pertaining to the chapters that we have gone through that week and every time someone gets it right they get a point under their name on the chalkboard. I have never seen my kids so excited about the Bible before! They absolutely love it and ask to do it every day! They also get a point for memorizing their memory verse. I haven't started giving them rewards as they seem content just to know they won or got the answer right but if your children need some motivation I am sure that would help. When I was younger and still today, I love Bible trivia. There is something about gaining recognition that you know the Bible well; that feels so rewarding.
Math
Though some of my children really like math they still get frustrated by it. I freely admit that I am not a math buff. As with the Bible trivia, competition really seems to bring out an excitement in my children. I have all the kids line up at a spot and I ask them math questions appropriate to their age. Seeing them jump up and down with enthusiasm to answer their math questions is night and day to how they usually respond. I love that they are not only learning important math facts but having fun doing it!
Other Ideas:
Speed Drills
Adding with dice or dominoes
Multiplication with a deck of cards
Playing Store or Restaurant with Money
Making Charts of daily schedule to practice telling and understanding time
Oral Story Problems
Spelling
Making my children's spelling list into a spelling bee has been a big hit. Again; there is something about competitiveness that stirs up their enthusiasm.( I am super competitive so I can see how this has been transferred to them)
I simply ask them their respective spelling list words in turn. If one gets it wrong it goes to the other child until somebody gets it right or I say the right spelling. My boys are close in age so they can usually spell some of the same words.
Other ideas:
Scrabble
Hangman (with spelling words)but we use a House instead;) You can really use anything.
Spelling Sentences- fit as many spelling list words as possible into one sentence.
Spelling list Crossword Puzzles
Make an acrostic from spelling words
Writing
Writing has always been a struggle for my boys but when they find something they are interested in writing about I can't get them to stop. Most times this means a story filled with gross and unusual words, but I am just happy most times that they are writing;)
Other Ideas:
Illustrated Story book- staple blank paper into book form and have kids write their own story with illustrations.
Silly Sentences– Writing a sentence with each word beginning with the same letter.
Silly Story– Have you or the children pick a list of 10 words that have to be incorporated into a story. Each taking turns to write the story or individually.
Write a rhyming poem
Reading Comprehension/Dictation and Narration
This might not exactly be fun but it's my favorite part of our day. We read through a book together ( a chapter a day) and then I ask them to narrate back to me what the story was about in a few sentences. Then I dictate a paragraph to them and go over their punctuation and spelling afterwards. I sometimes have them draw or paint a picture to go with the story.
Science/History/Geography
I am blessed to have children that love anything to do with art so I try to incorporate in our subjects. One way we make these subjects fun is by drawing pictures/ maps/ diagrams/ charts of what we are studying.
Nature Walk/ Study
We love going on nature walks and studying nature. It's amazing how getting out and letting the kids release their wiggles and me clear my mind, can change our whole day for the better! Some days I will ask the kids what animal or subject they want to learn about and we will do a study about it; reading books and drawing pictures in our nature journals. Or we just take all our books to the park. Somedays this works others not so much but getting outside and learning is always great no matter what!
Of course you can make any day a fun day but I feel it helps to start out the week on a fun note. We usually don't do all these subjects in one day, in fact you might want to pick one subject and focus on that for the day or make it an Art/ Science/Nature study/ History/Math/Reading/Library day etc…
Do you find it hard to get excited about Mondays?
How do you make school fun?
Here are some great Resources and posts for making school fun!
Books
Posts
Finding the Fun in Homeschooling
Making Learning Fun in Your Homeschool
The following two tabs change content below.
Rebekah is living out her dreams as wife to her best friend and homeschooling mama to 5 crazy, beautiful little ones. She loves to encourage and empathize with other women and moms as she shares her heart, faith, joy and struggles on her blog
faithful with the little
. In the midst of meeting all the needs for her ever needy family you can find her running, thrifting, crafting, taking pictures, baking, writing and finding ways to be efficient and organized in her 2 bedroom home. Most of all she loves snuggling with her children and watching them play, create and learn. She lives in sunny Florida on a little farm in the city consisting of children, chickens, bees, gardens and lizards.