Ah, English class. English was actually one of my favorite classes in school; I was in honors English and the material just came easy for me. Teaching it to and explaining it to my kids – that's another story. We've tried a couple different language arts curricula in our home over the past 7 years, but I've never felt like either of them were a good fit. So I was thrilled to be able to review Essentials: Logic of English Complete Set from Logic of English – maybe this would be the fit we have been looking for.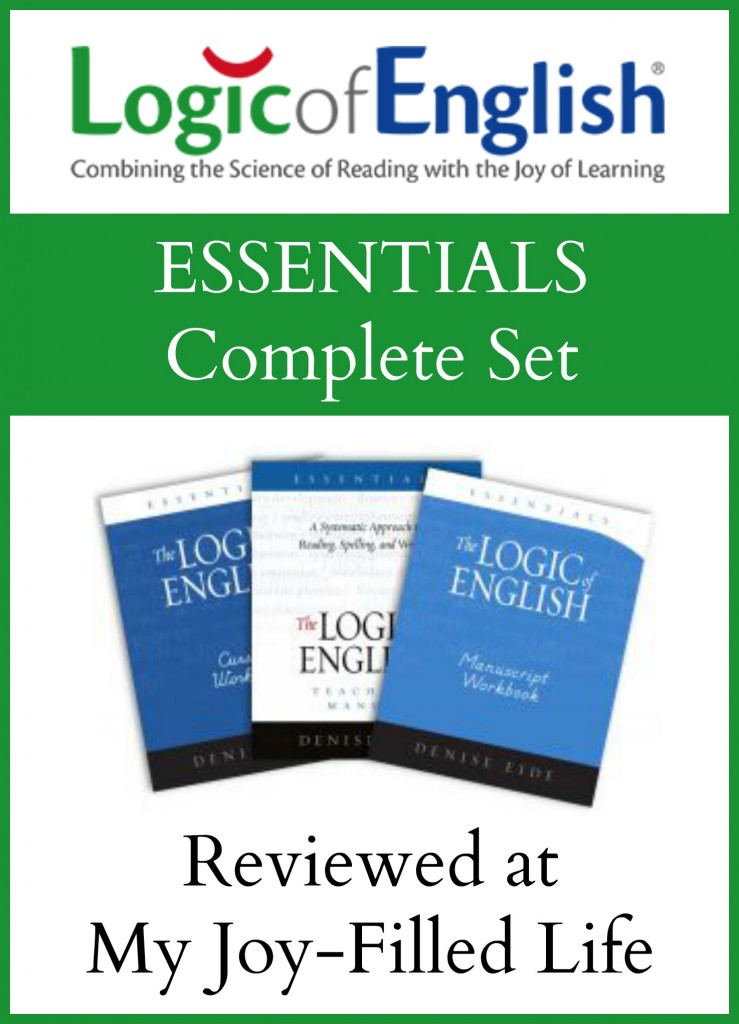 For the review, I received the complete Essentials set which includes:
Essentials Teacher's Manual – $95
Essentials Student Workbook in Manuscript (also available in Cursive) – $25
Spelling Journal – $8
Basic Phonogram Flash Cards – $18
Spelling Rule Flash Cards – $15
Grammar Rule Flash Cards – $22
Advanced Phonogram Flash Cards – $15
Game Book – $15
Game Card decks – $10 each (2 decks are included in set)
Phonogram & Spelling Rule Quick Reference Chart – $10
The entire set costs $243. The teacher's manual, student workbook, spelling journal, and game book are also available in a PDF version for the same price as the physical books.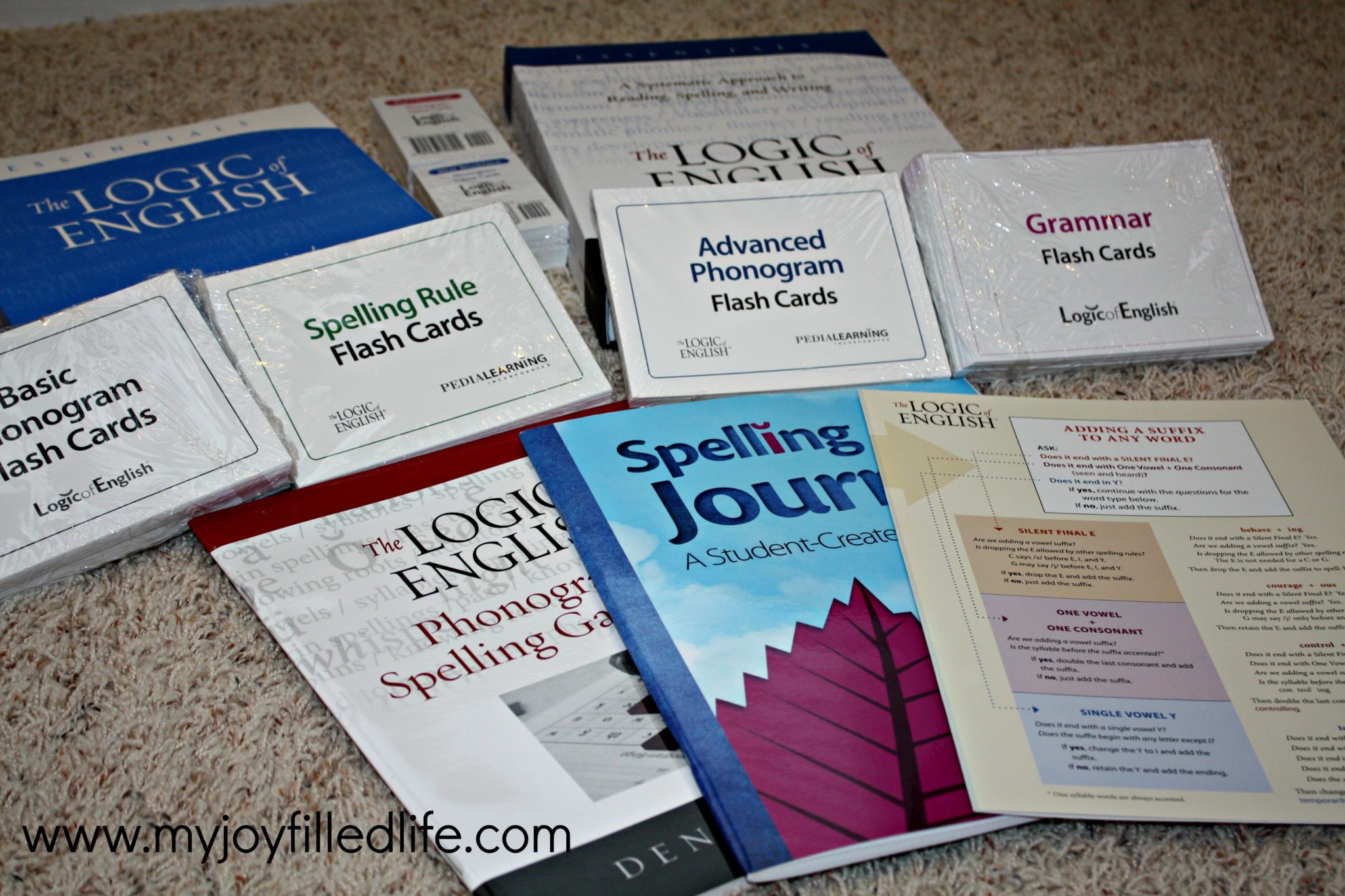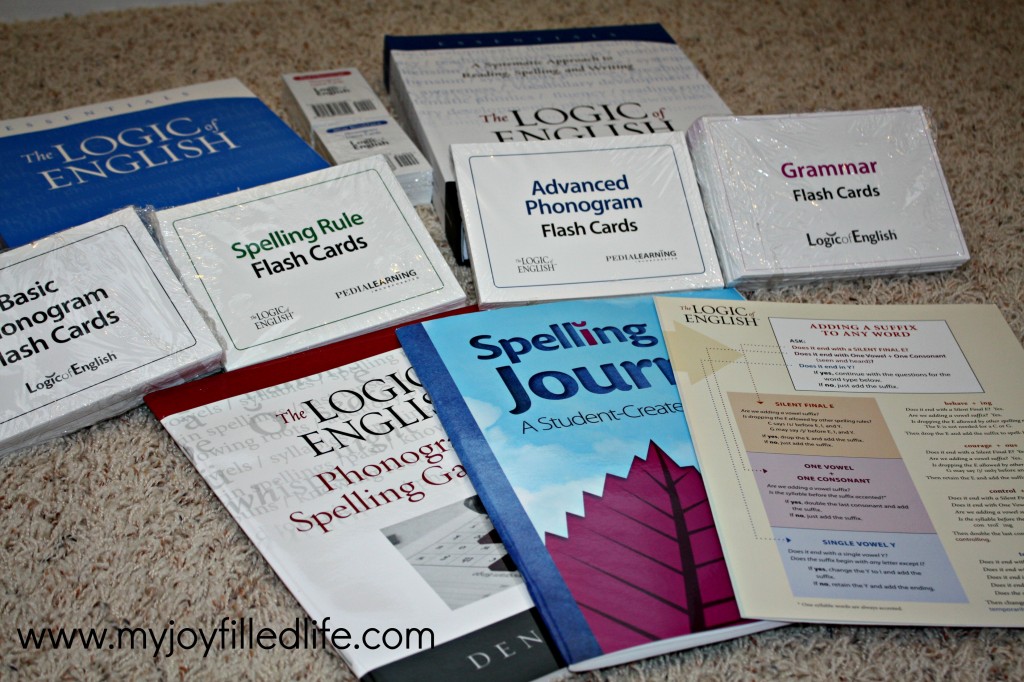 Essentials can be used by a wide age-range of students; it is recommended for ages 7 up to adult. It can be used by struggling readers and spellers, emerging readers and spellings, ESL students, and anyone that needs to brush up on their English language skills.
Essentials is an all-in-one language arts course. It covers reading, grammar, spelling, vocabulary, and writing. The course provides multi-sensory exercises that allow you to customize the curriculum for your student's needs, and the course is designed to move at your student's pace.
The teacher's manual gives clear, scripted lesson plans to guide you as you teach. If you struggle with the 'logic of English' yourself, don't worry; the teacher's manual will hold your hand by offering sample dialogue, written examples, teacher tips, and detailed charts to support you in teaching the 74 phonograms, 30 spelling rules, and 80 grammar concepts.
I was a little overwhelmed when I opened up the teacher's manual and saw that the Introduction had its own table of contents. I wasn't sure what I was in for, but once I dove into the Introduction, I soon became thankful that it was broken down in such a thorough and organized manner. The Introduction of the teacher's manual includes a scope and sequence chart, sample schedules, things to know before you begin, a break down of the lesson structure and how to teach each section, tips, and a teacher resource section that includes spelling lists, a basic phonograms chart, spelling rules, and grammar helps.
There are 40 lessons, with every fifth lesson being an assessment and review lesson. Each regular lesson is broken into three parts. Part one focuses on phonograms, exploring sounds, and spelling rules. Part two focuses on spelling dictation and analysis, and part three focuses on grammar, dictation, composition, and vocabulary. Each lesson begins with a nice overview of what will be covered in that lesson, and each part of the lesson begins with a list of the materials you will need for that part of the lesson.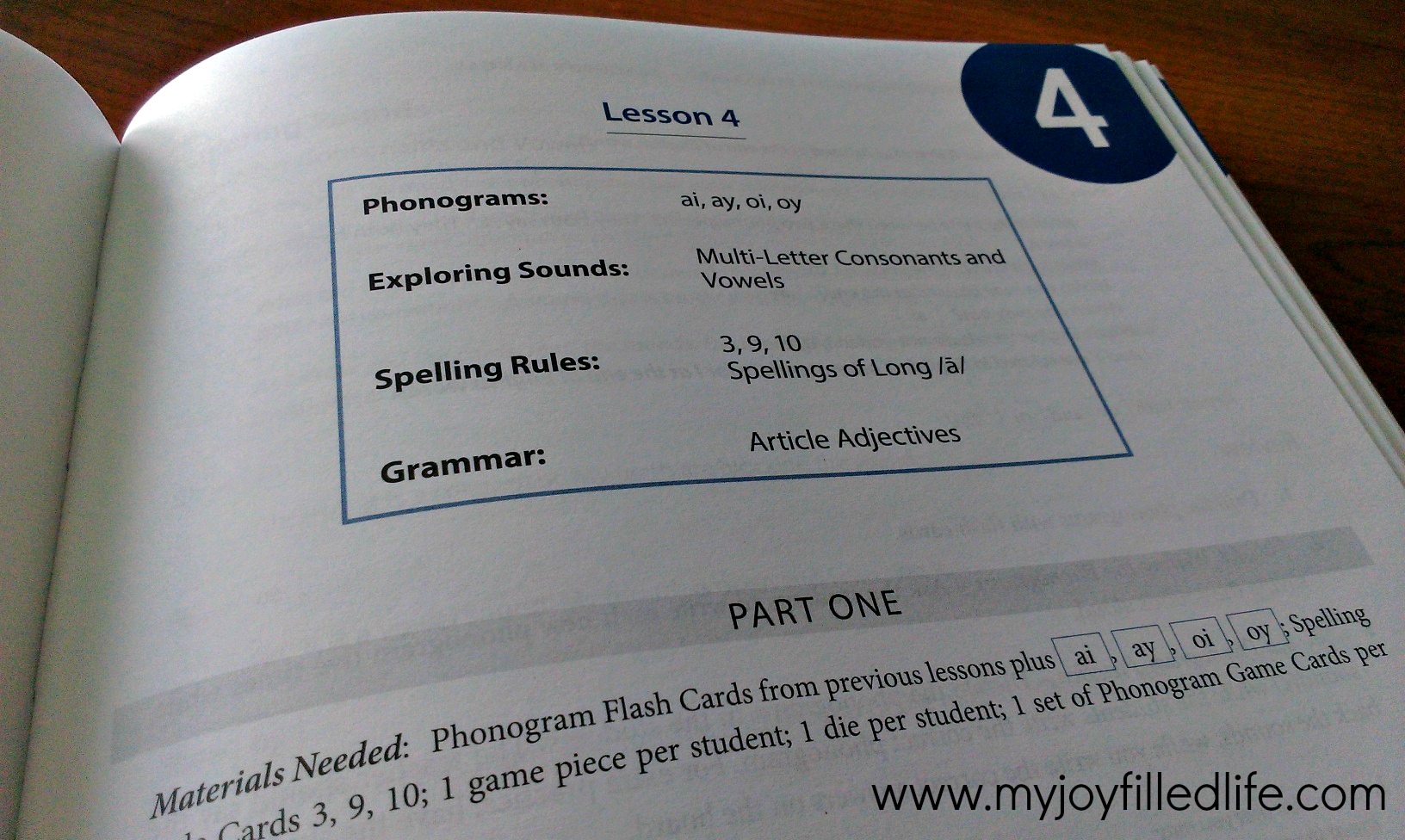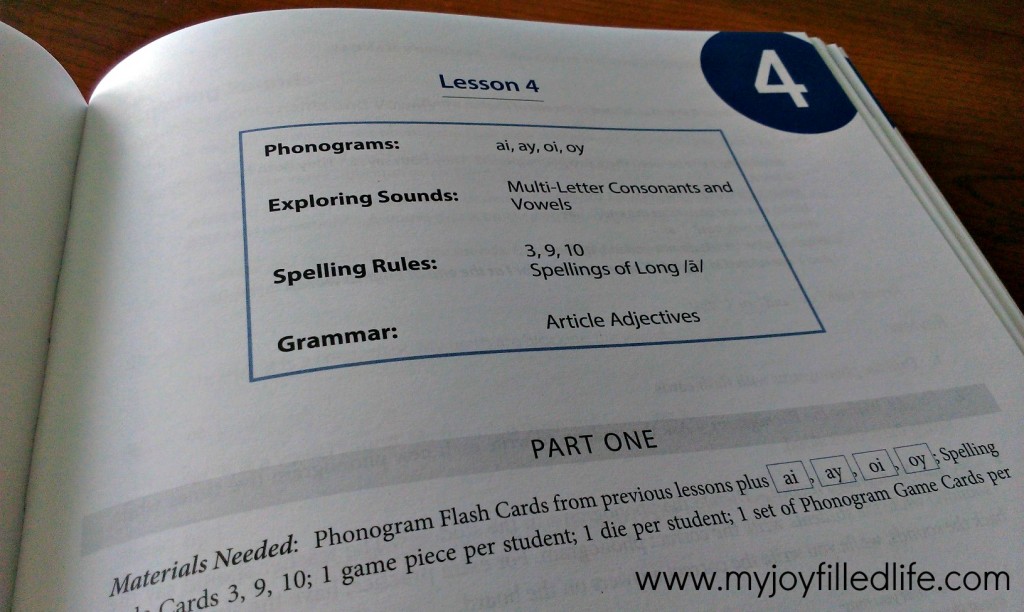 Part One
Part one has three components – phonograms, exploring sounds, and spelling rules.
In the phonograms component, students will be introduced to new phonograms (only 22 lessons include introduction to new phonograms) as well as review previous ones. Review is done through dictation, flash card drills, and games.
In the exploring sounds component, students will do phonemic awareness activities that explore concepts like accents, syllables, and vowel sounds.
In 23 of the lessons, students will learn new spelling rules. Spelling rules are introduced so they correspond to the phonogram(s) being taught.
Part Two
Part two is the spelling component of the lesson. There is a section in the Introduction of the teacher's manual that gives a very helpful and thorough explanation on how to teach this part of the lesson.
For this part of the lesson, you will dictate the spelling words to your student. With each one you will say the word and use it in a sentence. The student then repeats the word, says how many syllables the word has, and writes the word in their workbook. You will then analyze the word with your student using appropriate markings and discuss why it is spelled the way it is based on the spelling rules you have covered.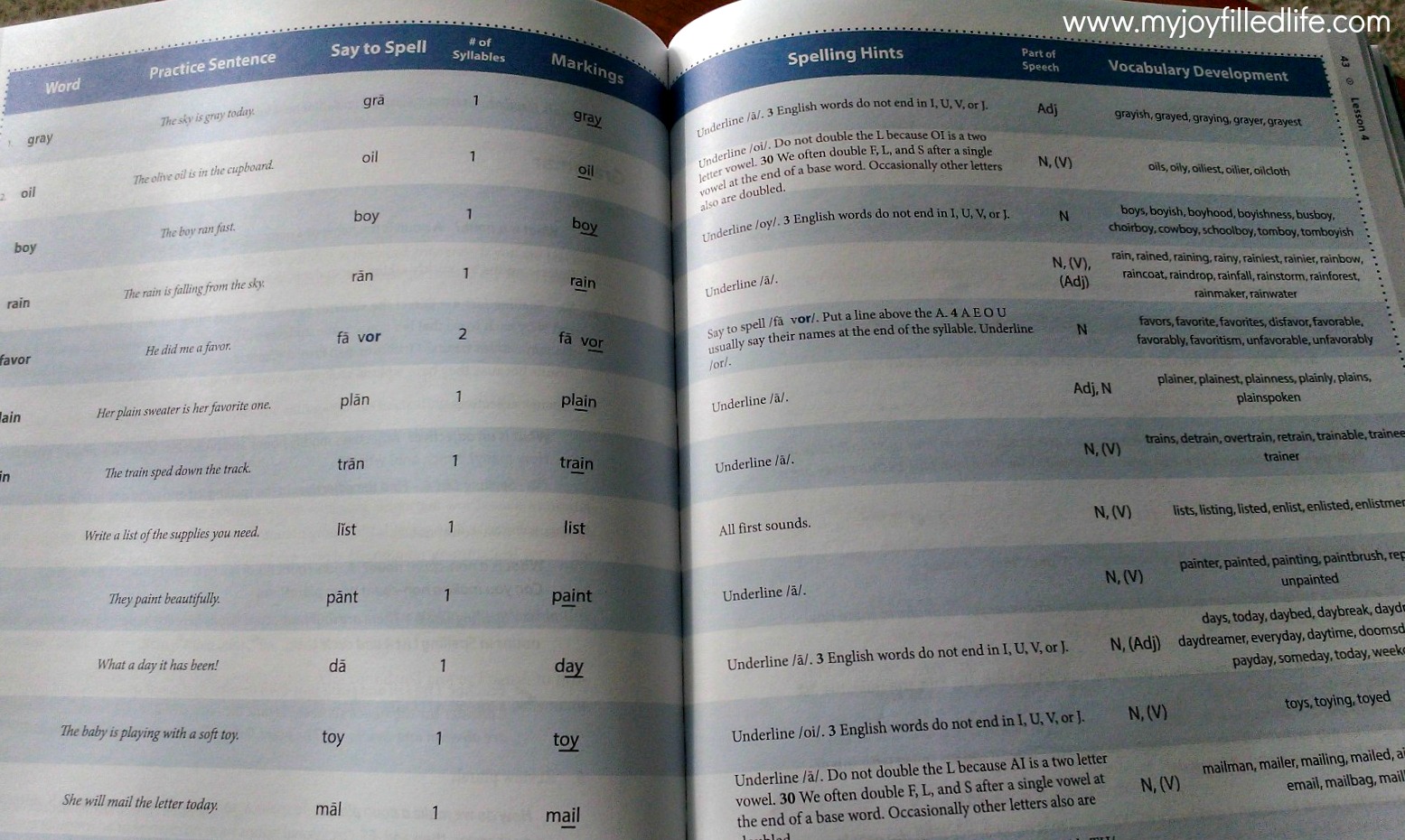 Part Three
Part three of each lessons consists of grammar, dictation, composition, and vocabulary development.
The grammar section starts out with review and then moves onto the new concept. This part is done with a lot of Q & A and written work in the student's workbook.
The dictation portion starts out with short, simple phrases and progresses into sentences as you move through the course.
The composition activities encourage the students to build sentences with the words they are learning, utilizing the new spelling rules and grammar concepts. The initial focus is on the process of writing a sentence and as the student's skills develop through the course, they will be allowed more creative license in their writing.
The vocabulary development teaches students to make compound words, add prefixes and suffixes, and form contractions. Students are taught the meaning of common roots and affixes, as well as how to analyze new words.
If your student needs more practice in any area, you will find a variety of optional practice activities and suggestions throughout each lesson.
You can view samples of the teacher's manual and student workbook pages on the Logic of English website. The video below also gives a nice overview of the course.
I used the Essentials course with my 9 and 11 year old sons. They both struggle a bit with grammar so I thought this might be a good option for filling in any holes and just getting back to the basics and kind of start fresh. I also was happy to be able to do their language arts studies together – a big time-saver for this mom.
At first I wasn't sure how the lessons would flow; the lessons are really long, so I wasn't sure how much we would be able to cover each day. I decided to just dive in and see how it went. We ended up doing, on average, one lesson per week (using the course 3-4 days/week). We usually ended up completing one part of each lesson per day. It really will depend on your student as to how much you can cover each day. The course is very flexible and is very adaptive to the student's needs.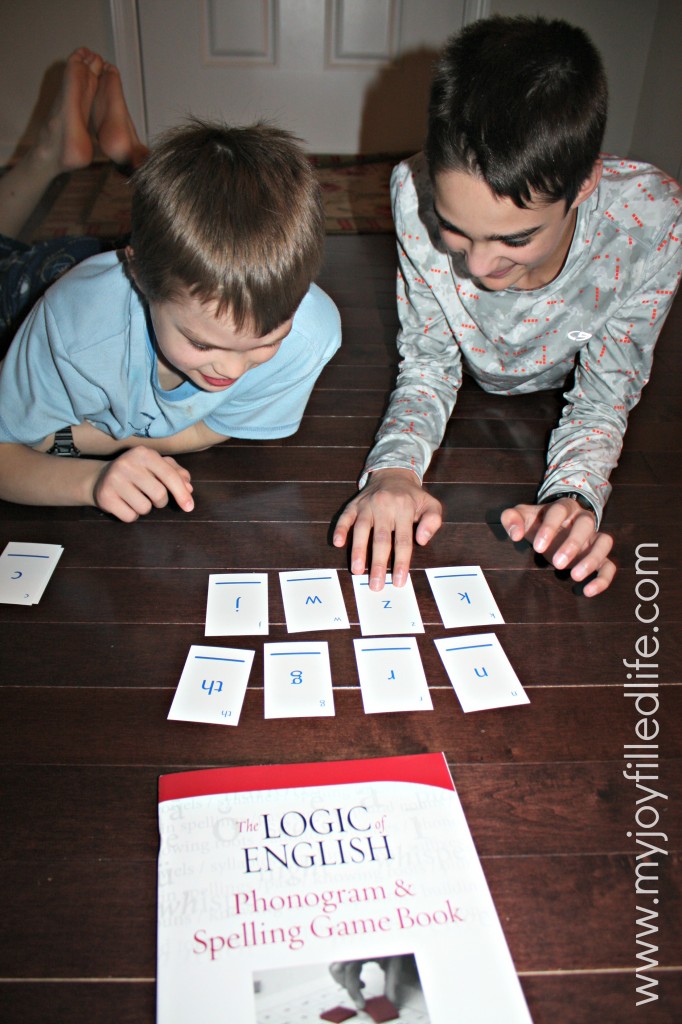 One of the big negatives for me concerning this curriculum is that it is VERY expensive. The physical quality of the product is high – the books are well-made and durable and the flash cards are very sturdy and thick. It's definitely a high-quality product, but I still feel the price of $243 is high. There is no way I would have been able to purchase this curriculum on our one-income budget. To make this course more affordable, I think the PDF versions of the book should at least be offered at a lower price than the physical books and maybe offer a way to print out the flash cards or make your own.
Another concern I have about the course is what to do when we are finished. I see us finishing this course in one year, but after that I don't know what to use for language arts. I wish there was a continuation of this course or suggestions on curriculum to use after completing Essentials. Hopefully after finishing the course my kids will have a stronger English language foundation and will be able to understand our previous language arts curriculum better.
**UPDATE: Please note – Logic of English DOES have suggestions and ideas on what to do after completing Essentials on their blog. Check out What Next After Essentials?
Overall I think this is a very solid language arts program. I really like that everything is taught together and builds on and relates to the other components. The course is very thorough and teacher-friendly. And my boys actually enjoyed doing grammar for once and commented that it was fun.
Check out the Logic of English community on Facebook, Pinterest, Twitter, and YouTube.