Happy New Year! I hope everyone had a nice holiday season, I know we did! So now here we are, in January. Trying to get back into the swing of life/school/work etc. I don't know about you but I am personally needing some simple, go-to options for those weeknights that I feel like I just cannot imagine putting a meal together (so pretty much every weeknight right now!). Luckily, I have this simple recipe for Loaded Smashed Potatoes that is super easy and always a favorite with my family.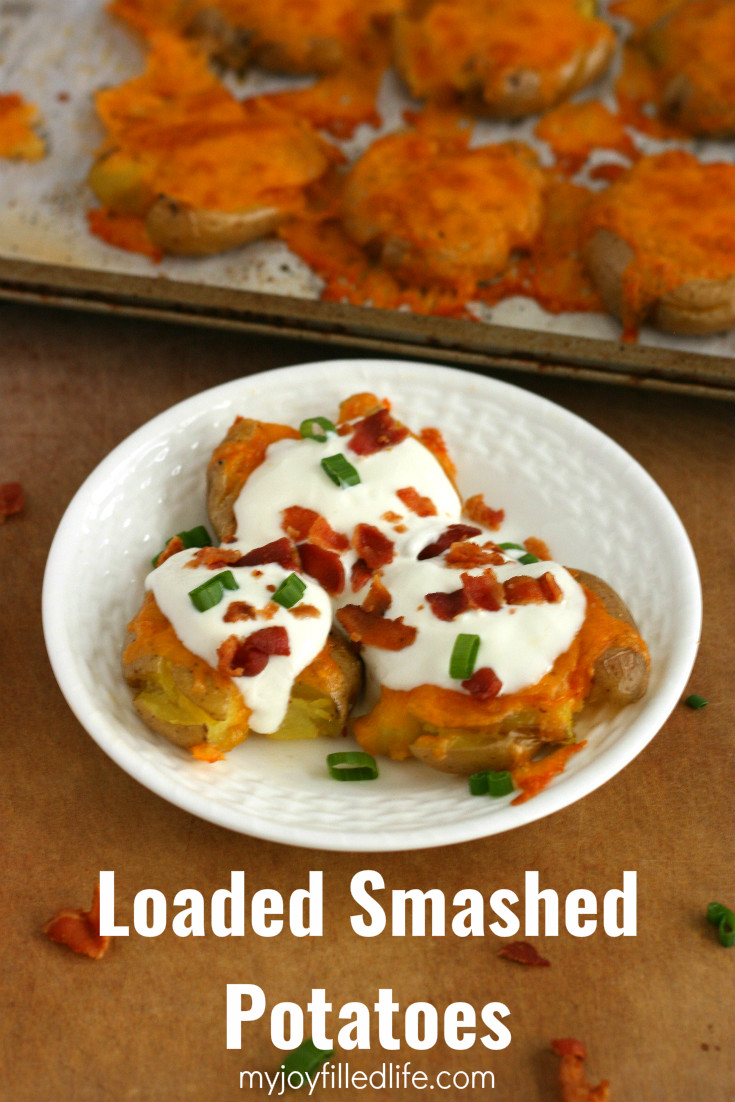 Sometimes I get bored with the same boiled potatoes and the same roasted potatoes. So one night, I got to thinking. Why not combine them with some simple flavors that everyone loves? Because who doesn't love a loaded baked potato? I mean cheese, bacon, sour cream and green onions. What's not to like? The great thing is, you can always leave things out for the pickier eaters in the family (I'm looking at my dear husband who's much pickier than our 18 month old!).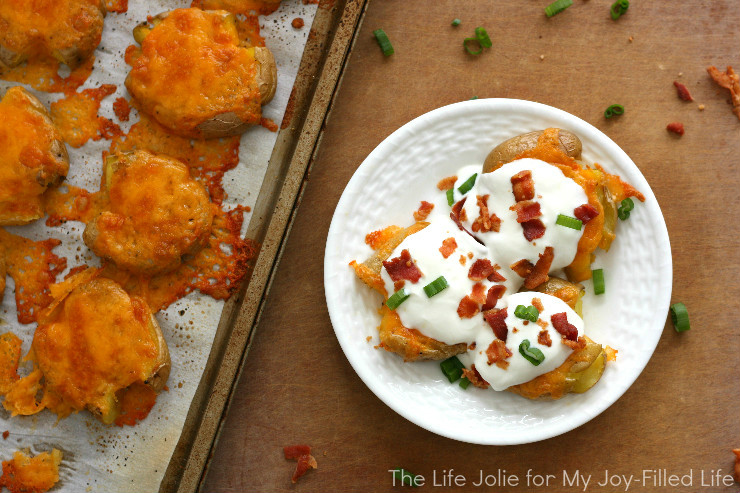 This is also a really great way to give leftover boiled potatoes new life. I cannot stand wasting food, so these type of recipes are always at the top of my list. The fact that it's such an easy recipe only makes it more of a win. I'm all about having the majority of the ingredients prepared ahead so all I need to do is pop those potatoes into the oven and garnish them with all the fixings. I hope your family enjoys them as much as mine does!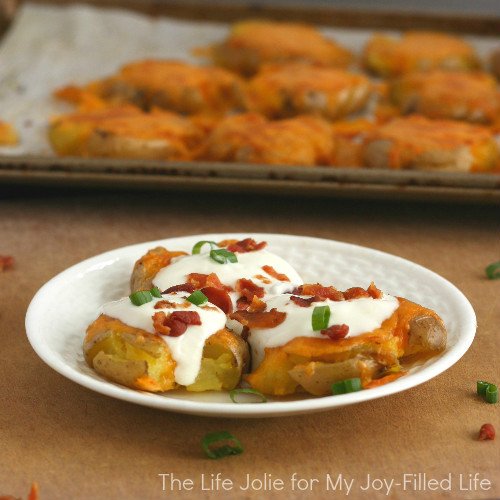 Loaded Smashed Potatoes
2016-01-04 22:04:00
These loaded Smashed Potatoes are a fun and delicious twist on boring boiled potatoes. They are a huge family favorite and so easy to make!
Ingredients
Whole potatoes (I prefer small ones, but you can use larger if that's what you have on hand)
Cooking spray
Salt
Pepper
Garlic powder
Cheddar cheese
Crumbled bacon
Sour cream
Chopped scallions or chives
Instructions
Boil your potatoes until they're cooked, about 10 minutes (depending on how many you have).
Preheat your broiler.
Drain the potatoes and place them on a parchment lined pan. Use something heavy to smash down each potato (I used a meat tenderizer but anything you have will do).
Spray the potatoes lightly with cooking spray and sprinkle with salt, pepper and garlic powder to taste.
Broil for 5-10 minutes or until they get a tiny bit crispy on top.
Sprinkle with cheese and return them under the broiler for a couple minutes, until the cheese is fully melted.
Top with sour cream, bacon and scallions and serve.
Enjoy!
My Joy-Filled Life https://www.myjoyfilledlife.com/
Here's where you can find all of my
recipes
.
The following two tabs change content below.
Jessy is the founder of
The Life Jolie, which celebrates all of the pretty things in life and also contributes recipes at Organized Home Organized School. She has the privilege of being a wife to her husband Justin, and a mother to her daughter Alice and dog Macie. Jessy is a financial professional by day. She has a passion for cooking (eating!), home design, crafts, theater, singing, travel, laughing, and learning. She aims to spread positivity and build a community through The Life Jolie and to continue growing, learning and evolving as a person.