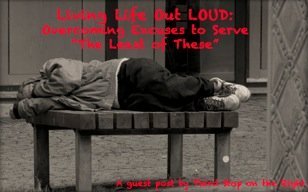 "Jesus in disguise, Jehovah passing by, You were looking for a king, You would never recognize." — Brandon Heath, Jesus in Disguise
In the town where we live there is a homeless man that will walk around always reading a book. He never causes any trouble, never begs for money, always has a smile for everyone, and is always reading a book. We will often see him just walking around or just sitting on a park bench.
One day, when we were in the car on the way to the store my husband and I saw this man. My husband made the comment that this homeless guy was probably actually Jesus and He was testing us to see who would help him.
This really got me thinking. What if this homeless man really was Jesus? What if this man, who was dirty and had wild hair, was in fact the King of Kings? He just wasn't the King that we were expecting him to be.
Even if this homeless man was exactly that, just a man who was down on this luck, Jesus still cares how we treat him. In fact, in Matthew 25: 35-40 Jesus Himself says:
For I was hungry and you gave me something to eat, I was thirsty and you gave me something to drink, I was a stranger and you invited me in, I needed clothes and you clothed me, I was sick and you looked after me, I was in prison and you came to visit me.'

"Then the righteous will answer him, 'Lord, when did we see you hungry and feed you, or thirsty and give you something to drink? When did we see you a stranger and invite you in, or needing clothes and clothe you? When did we see you sick or in prison and go to visit you?'

"The King will reply, 'Truly I tell you, whatever you did for one of the least of these brothers and sisters of mine, you did for me.'
As Christians, we are often guilty of not doing enough. We don't let our hearts be broken for Christ. We have learned to be politically correct. We have learned to follow the majority. We have learned to be silent.
"The greatest single cause of atheism in the world today is Christians: who acknowledge Jesus with their lips, walk out the door, and deny Him by their lifestyle. That is what an unbelieving world simply finds unbelievable." — Brennan Manning
Faith isn't a Sunday morning sport. Jesus wasn't afraid to get His hands dirty, so why should we? Jesus had a heart for those who society rejected, or those who were less fortunate. He touched the lepers. He ate with the tax collectors. He visited the prisoners. He healed the sick. Even as He was dying on the cross, Jesus was setting an example for us. He wasn't lashing out at his tormenters, but he was trying to teach them.
This is the example that Christ has set for us, so why are we not following HIS lead? Why are we not out at homeless shelters serving meals? Or helping a young woman considering abortion to see there are other options? Or even just taking the time to sit and talk with someone who may be lonely?
We have plenty of excuses. It's a bad neighborhood to go to. You don't know what to say. Someone with more money or more influence can do more than you could. Or probably the most common one, we just don't have time.
While many of these may be real excuses, they are still simply that — excuses. Just imagine if Jesus had made excuses. "You know what guys? This whole dying for your sins thing sounds like a lot of work, not to mention being painful. I just don't think it's for me."
Thinking of it this way sounds kind of ridiculous, doesn't it? However, this is exactly how we act when we are called to help "the least of these."
This week, let us remember what Christ has called us to do. We need to be His servants, bringing light to the dark, helping those in need, and spreading His word. So whatever it may be, volunteering at a crisis pregnancy center or a soup kitchen, taking dinner to someone who is sick, or visiting with the widow down the street, do it for Him. These people matter.
After all, if these people are important enough for Christ to die for, then they should be important enough to us.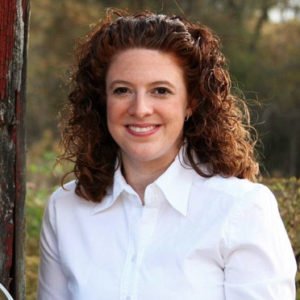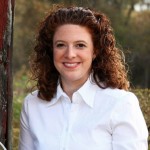 Rachel Cunningham is a busy stay at home mom of two boys, ages 2 and 2 months! When she isn't busy changing diapers and kissing boo-boos, she blogs at Third Stop on the Right, a blog dedicated to family, faith, and fun. To learn more about Rachel and Third Stop on the Right, you can check out Facebook, Twitter, and Pinterest.