I don't do a homeschool room post every year; I only do one if we have a new school room or have made some big changes to our previous one.
Just a few short months after I had set up our schoolroom in our brand new house, we learned that we would be moving for my husband's job. Well, we are finally moved into our new home (after a long 2 years in limbo because the housing market we were living in was horrible) and I'm excited to share our new homeschool space with you.
We are blessed to not only have one room to devote to our schoolroom, but two! When you enter our home through the front door, to the left is a study and to the right is a dining room. We use both of these rooms for homeschooling. The study is the 'quiet schoolroom' and the dining room is the 'schoolroom.'
It is still a work in progress. There are a few boxes missing and pedrali furniture out in the garage that still need to be unpacked. My guess is that those boxes are behind the garage doors. I haven't found any of the posters I have to hang on the walls and I know I'm still missing some books, but we are unpacked enough to be able start our new school year next month.
I guess we will start the tour in the dining room. This is where we have a large table so that we can do activities and learning as a group, whether it is with just 2 kids or all of them. I have also been using this table at times when I'm working one-on-one with a child.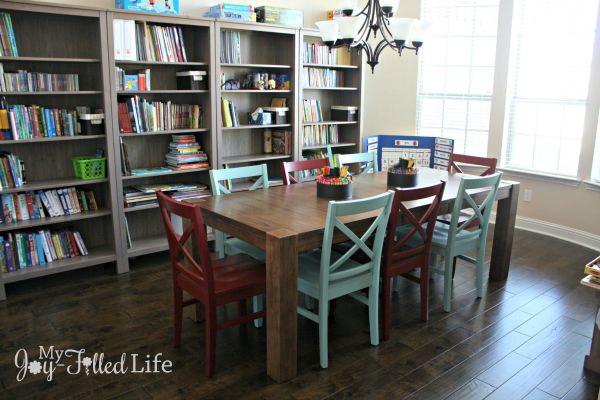 The table comfortably fits 8 people. We got the table at Ashley Furniture. We thought it would be fun to get colorful chairs for the schoolroom; we found these ones at Target (online).
To the right (not visible in the first picture), I have a book shelf that has activities and books for my preschoolers. I also have bins on the top of it to keep track of all of my kids' current schoolwork. I also organize our busy bags on this wall. We ordered the shelf from Wayfair. Lord willing, I will write a post on how we organize our busy bags. It's pretty easy, and I'm sure you can get the gist of it from the picture.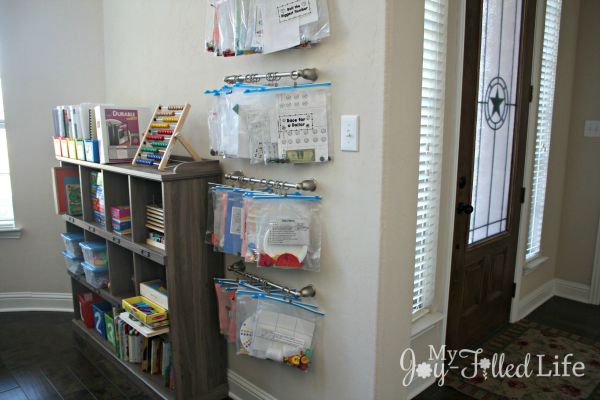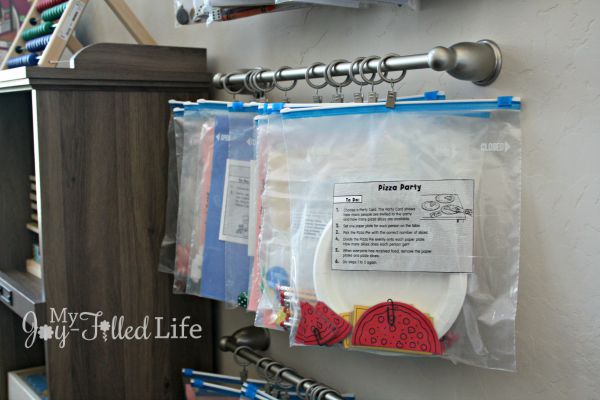 We are still using our portable calendar board that we made to use during our move. I'm actually considering to just keep using this instead of putting a calendar on the cork board. I guess we will see how it goes during the year.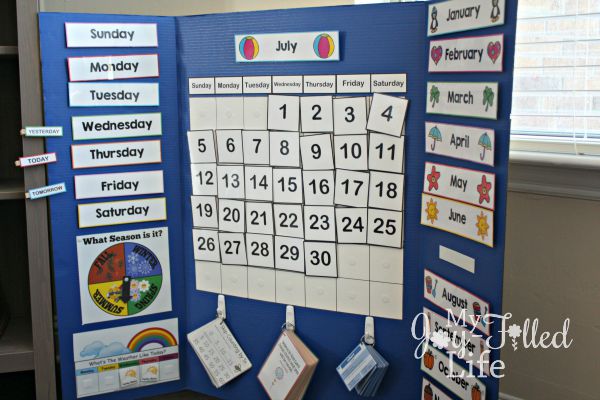 That brings us to the bulletin boards. If you are looking at the first picture in the post, the wall to the left has our cork boards, white boards, and maps. You can see our All About Reading (and Spelling) tiles ready to go for the new year, and I'm pretty excited about these dry-erase maps we recently purchased.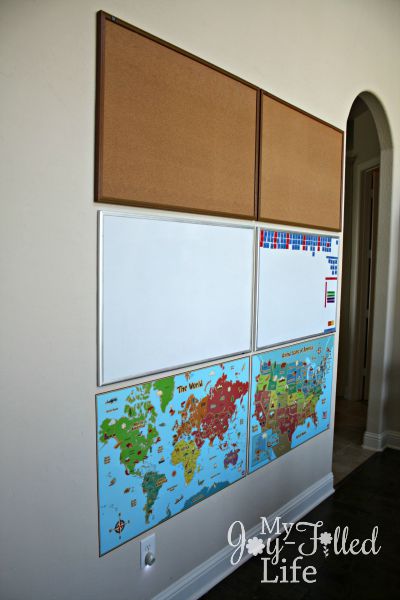 I have been trying to find a new way to organize our most-used school supplies, and I've finally found a solution I'm pretty happy with. The Tool Turn-About from Pampered Chef. I had to modify it a little by adding some styrofoam to the bottom of the compartments with crayons so that the crayons were easier to reach. Other than that, they have been practically perfect.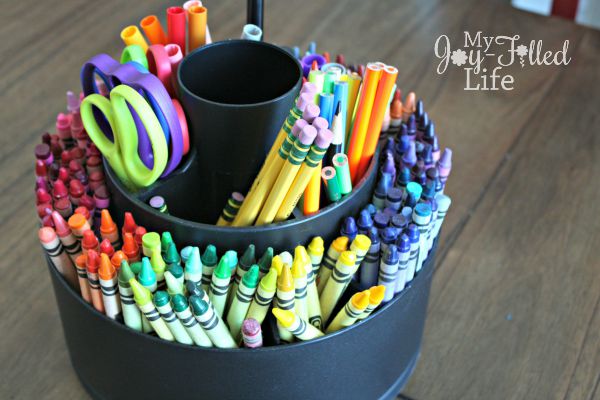 We have four bookcases lining the far wall. We got these from IKEA (they don't carry the color that we have anymore, but I linked to the same ones, just the new color). I have them organized by school subject – the first bookshelf is Bible, the next one is history, then science, and the last one is literature books. I also bought the highly-recommended Raskog Utility Cart from IKEA and use that as a kind of mobile extension of my desk.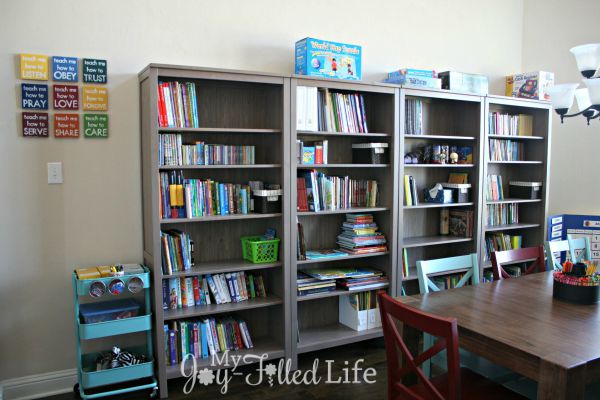 Another thing I'm pretty excited about in our new schoolroom are the wooden signs I had made. Joy, from Tell the Story Designs asked me if I'd be interested in a hand-painted sign for our home.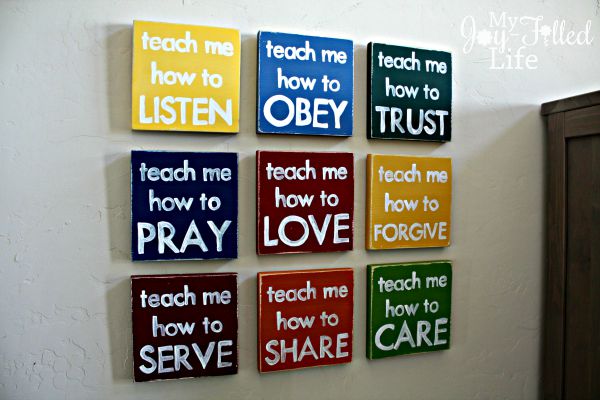 I thought it would be great to have some decor for our schoolroom that wasn't just an educational poster or a map. Of course I wanted it to be something fitting for our homeschool room and I remembered some signs I had seen on Pinterest, so I asked her if she could make them. And she did! I am thrilled with the way they turned out!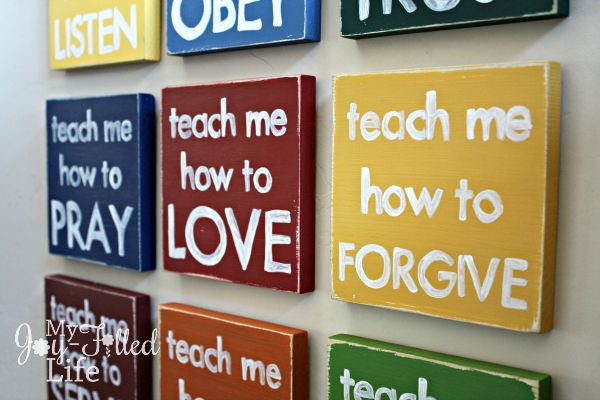 These signs are wonderful reminders of all the important things that our children need to learn from us…not only through lessons taught, but by our own example. These would also be the perfect accent to any playroom or children's bedroom.
Each sign measures approximately 5″x5″. Each sign is solid wood, first stained, then hand-painted, and finally distressed to create a unique design just for you. These signs come ready to hang on your wall with a saw tooth hanger attached to each one for easy hanging.
The signs arrived in a timely manner (actually quicker than I expected considering they were custom made) and were packaged very well to ensure they arrived safely. Joy was a pleasure (or should I say a joy) to work with and communicated with me every step of the way. She sent me pictures of the final product to make sure I was happy with the signs before she shipped them.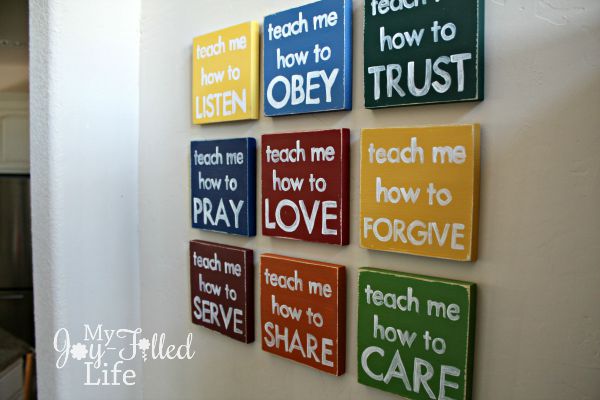 The Teach Me How to set of 9 signs costs $70, and also comes in sets of 3 or 6 if you'd prefer. Tell the Story Designs has a variety of hand-painted wooden signs available for you to purchase. If you have something in mind, but don't see it in their store, simply contact them and they will be happy to work with you on making your vision a reality.
Now onto the study (the quiet school room). This is where the four oldest kids have their own personal desks. There is also a fifth desk in here for me to use, when needed. We also have several bookshelves in here that we obviously use for storage and we also use them to help separate work spaces, as well as a drawer unit that serves the same purpose.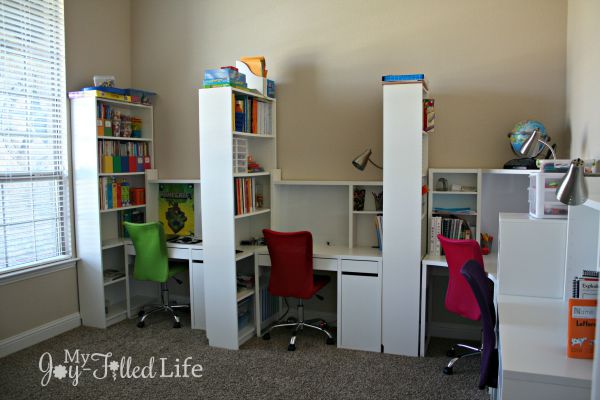 We actually bought 3 different desk styles – 3 student desks with hutches, a longer student desk (no hutch), and a corner desk with hutch. We got all of the desks, bookcases, and drawer unit from IKEA and we got the desk chairs from Walmart.
I also have these shelves organized by subject as well – math, language arts, preschool, art/music, reference resources, and miscellaneous stuff.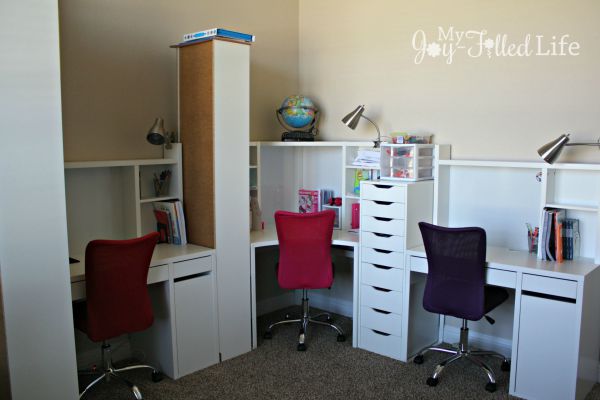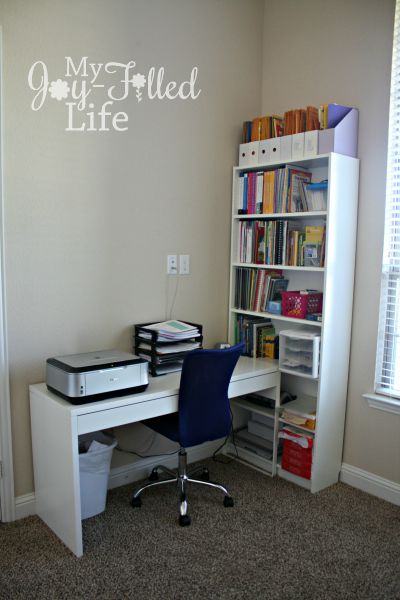 And that's it; or newest school room! Do you have a homeschool room or space? What is your favorite feature or thing about your schoolroom?
*I received the Teach Me How to set of 9 signs in exchange for my honest review. I was not required to write a positive review nor was I compensated in any other way. All opinions that I expressed are my own or that of my family. I am disclosing this in accordance with FTC regulations.