I am thrilled to be participating in the
ABC's of Homeschooling
series hosted by
My Joy Filled Life
! Each of the 26 contributors has chosen a letter of the alphabet to write a topic about homeschooling! I pounced on the letter L so that I could share with you our love of including
LAPBOOKS
into our homeschooling!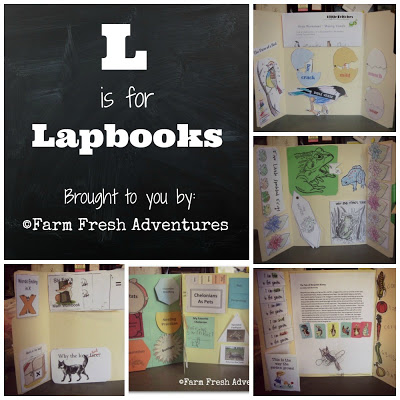 We love lapbooks because they are:
simple
easy to put together
easy to store
great for yearly theme reviews
great study guides
good for all ages
We were first introduced to them by a friend who directed me to one of THE best lapbooking sites available
Homeschool Share.com
. We were in the middle of our
My Father's World Kindergarten
curriculum which happened to be set up as weekly unit studies on a single theme. Ripe picking for lapbooking!
So what exactly IS lapbooking?
Lapbooks are a great hands-on tool to reinforce and review lessons. Basically, you take an average file folder, re-fold it, add a multitude of information in various folded books (called minit books), and you've got a lapbook. This is a case of "a picture is worth a thousand words" (homeschoolshare.com FAQ)
My oldest "Little Britches" loves them because it helps him to remember facts about the unit with simple cut-outs. He also loves to color, cut and color—something that's a big part of the lapbooking program for the elementary age kids. He also loves them because when we are finished with our unit, he can easily grab his completed lapbook and show ANYONE what we learned. The pieces inside are great for helping him remember and recite important things from the unit.
Now his little brother "Baby Britches" likes to hold the lapbooks and flip up the various pieces. At age 3 he's too little to read them yet, but Little Britches is able to read them for him.
Haven't used lapbooks yet? Still a bit unclear as to what they are? Let me share with you some of the lapbooks that we've made over the last 2 years to help you get an idea. The ones that I am sharing today are UNIT studies. I am starting with our more basic lapbooks that we did and work up to our more detailed ones…
Here is an example of the one we did when studying Nn-Nest…it's a bird focused lapbook.
As you can see it has a few moving pieces inside, a worksheet, and a bird diagram. The front just has a flipbook. It's nothing complicated AND it was 100% put together from the units on Birds provided by
Homeschoolshare.com
(
you can find them here
). I just picked what would be best for our study and the skill level required. Note that this one doesn't involve much writing…perfect for a 5 year old!
Here is our lapbook we put together for Vv-Vegetables…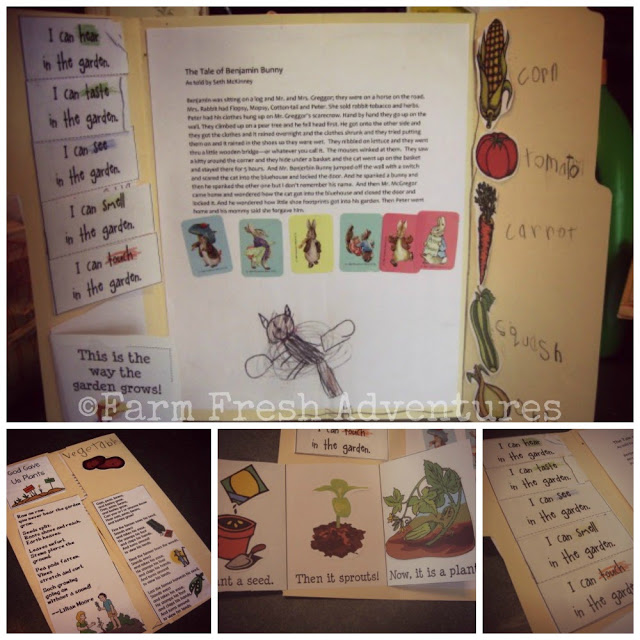 This one has a bit more writing, but we did it towards the end of Kindergarten. I included a narration of a book we read during the unit as well as a few flip books and poems. I chose pieces from various lapbooks under the Vegetable/Garden topic from
Homeschoolshare.com
(
Click Here
)
Here is a simple lapbook for our study on Xx-FoX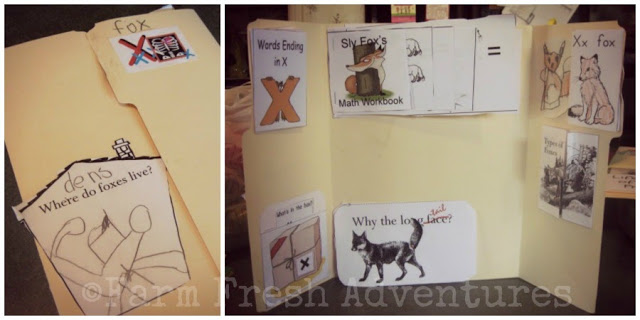 This one has a math flip book, a few other writing flip books and some folding books. This one came from the Fox Lapbook from
Homeschoolshare.com
(
Click Here
)
Now I want to share two of our most in depth lapbooks…we chose to make these pretty extensive. We didn't have to, but we were enjoying both units and took it to greater detail.
Here is our lapbook for Ff-Frog…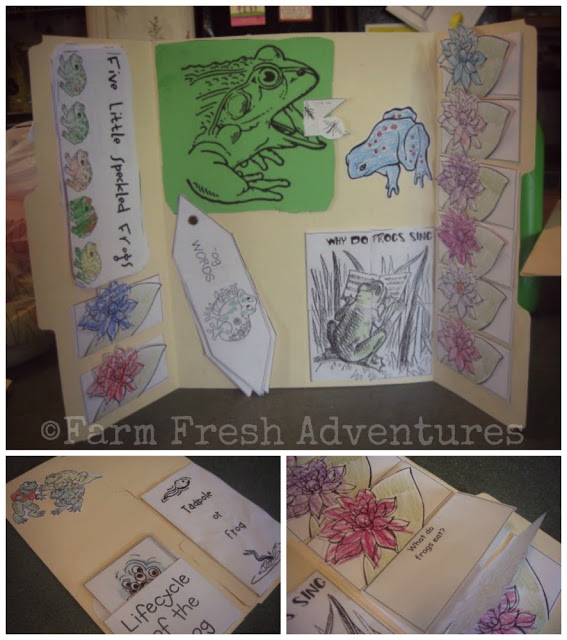 You can see that the front has a flap book, but also a pouch with laminated life cycle cards. The inside is full of moveable pieces that open and close, pull out or swivel. The green frog at the top has a tongue that pulls out! The flower flaps on the side have fact questions about frogs. And these were only a FEW of the pieces of the Frog lapbook by
Homeschoolshare.com
(
Click Here
)
The last lapbook we worked on was by FAR the largest and most labor intensive…but we were in an online class and over the course of several weeks we worked to put it together as our instructor taught about the subject. The class was on "Turtles, Terrapins and Tortoises". Because this is a LARGE lapbook, I broke it down a bit so you can get a better view at each section…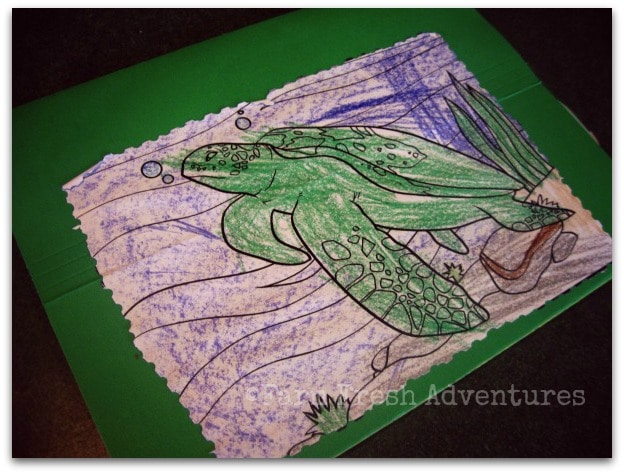 On the front my son added a coloring page he completed as an extra for the class.
Here is what the entire middle looks like…for this lapbook we had to use TWO file folders put together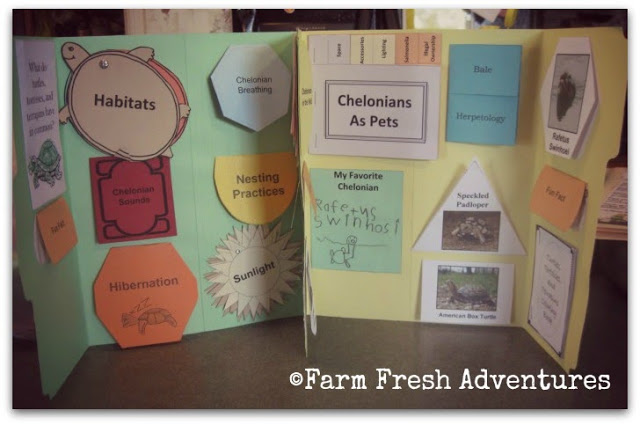 You can see that it was a lot more detailed and required a lot more labor to get everything cut out…there was also a lot more writing involved. We completed this during our 1st grade year so Little Britches was able to do the writing on his own.
Here is a closeup of the green portion of the lapbook.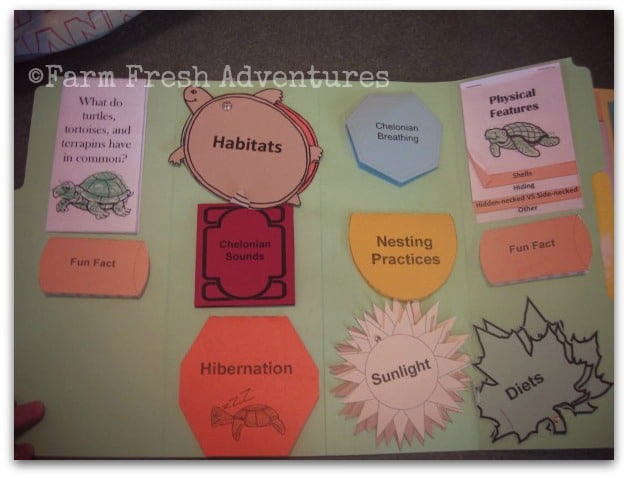 I printed all of these pieces out onto my own paper of choice–I like to make it colorful so I always keep a lot of multi-colored paper on hand.
Here is the yellow side of the lapbook…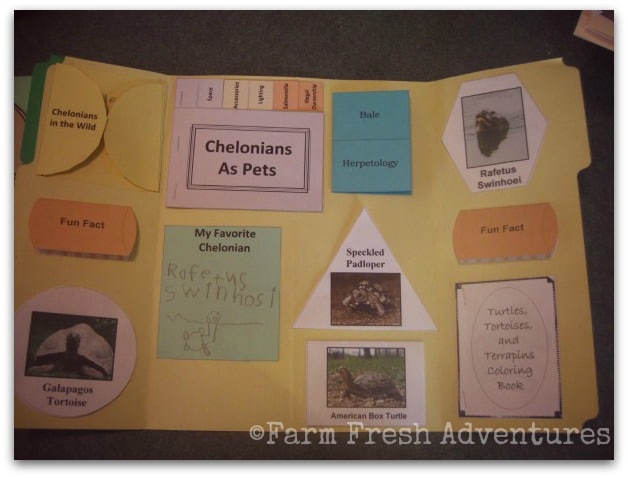 Our class was given by
Knowledge Box Central
one of the many fabulous publishers on
Currclick.com
. Our "materials" for the class were all the pieces for this lapbook–the publisher emailed us the download and then every week we were told which pieces we needed to put together for the class. I was very thankful we had already experienced a lapbook, so it was very easy to do…AND my son loves to pull this out to show it off and he remembers MUCH more of the class because he has this resource at his fingertips.
As you can see, lapbooks can be as easy or as complex as you choose to make them! They can be used as a primary curriculum tool for those who love unit studies or can be a very useful supplement to your primary resources. I like to throw lapbooks in whenever I can!
***
Here are some of my favorite resources for lapbooks:
HomeschoolShare.com has not only unit studies, but they also have LITERATURE lapbooks to go with many of the classic books, as well as ALL the books that are part of the Five-In-A-Row curriculum. I've learned that before I start reading a chapter book to the boys, I check to see if there is a lapbook to go with it.
A Journey Through Learning
Here you can find lapbooks for kids from grades prek – 7th on a ton of different topics and subjects. They also have lapbooks that coordinate with many curriculum favorites like Apologia and Truth Quest. Prices start at just $2.99 and you can purchase digital or printed versions.
Home School in the Woods
These are the lapbooks of all lapbooks! These are very well done, top quality lapbooks that produce an end product that you'll want to keep for years to come. These are a little more advanced and are for grades 3-8. Most of their lapbooks focus on a specific period of time in history.
These are VERY detailed lapbooks that cover a plethora of subjects. Most of them are for sale, but they do have some "$1 or less" pages. If you take a KBC online class you will always get a lapbook to use as your resource. Another thing that is awesome about KBC is that they have created lapbooks to go with the Apologia/Fulbright Science books. We are planning on using them starting next year, so I went ahead and puchased the lapbooks for them.
Yes, Confessions of a Homeschooler has lapbooks to go with her Literature studies, her Music curriculum, her Geography curriculum AND her World's Greatest Artist's curriculum! I have purchased several of her literature ones and plan on using her music and artist ones in the future.
There are many more lapbooking resources out there–simply type LAPBOOKS on Pinterest and they pull up by the dozen. A search on google/bing will pull up hundreds!
Try one and I have a feeling you will see why we (and so many other homeschooling families) love them!
---
Lisa's been married to the love of her life for 11 years after being transplanted from the city life in Washington to the farm life in Kentucky. They have two amazing boys and are embracing the country life. She enjoys bringing some of her family's farm adventures to life on her blog including posts about homeschooling, cooking, the farm and just life in general. She has a love for cooking, is a glitter junkie and a book hoarder who dances around the kitchen to old movie musical soundtracks. The glass is absolutely half-full in her life and she thanks God for all the little things that He shares with her every day