Do you sometimes feel like a failure when it comes to homemaking? Do you ever beat yourself up for not keeping your house spic and span? Do you thumb through magazines and ever wonder why your house can't look like that, or when you visit your favorite bloggers' websites you wonder how they can keep a tidy home but you can't?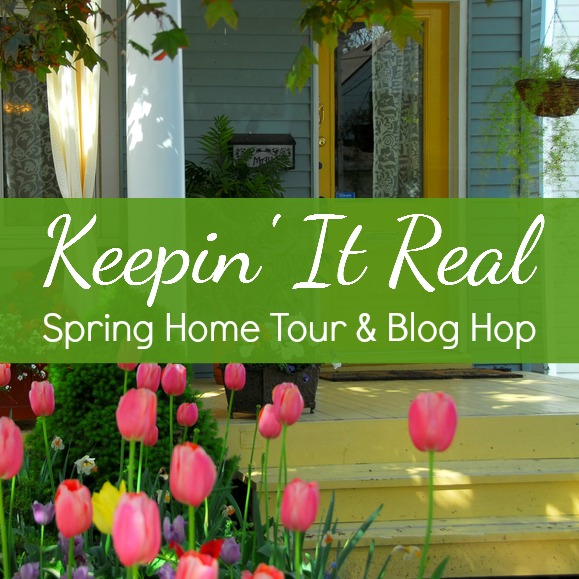 Well, let's get REAL!! You are NOT a failure; your house does NOT have to be spic and span 24/7; those magazine photos are NOT real life; and I can guarantee you that the neat and tidy pictures you see of bloggers' homes are hardly ever like that on a regular basis.
So I thought it would be encouraging and fun to do a little home tour of my own (along with several other bloggers – make sure you check out the other home tours at the end of this post). You know, kind of like those lovely house tours that DIY/Home bloggers do that show pictures of their immaculate, magazine-worthy homes? Like that, but a little different. For this home tour we won't pretty up our houses or make them picture perfect, but rather show them as they are in their usual state – lived in!
We hope that through these home tours that you are encouraged to know that nobody has it all together, and that's okay; that you have fun peeking into the life of another family and seeing how other moms do things; and also to dispel the myth that bloggers have a flawless life.
BUT WAIT! We want to see your homes too!!! Even if you aren't a blogger, you can join us and share pictures of your home on Instagram. For the next six days we will have a little Instagram challenge; each day will have a different topic for you to post a picture on. Check out the graphic below to see what is assigned on each day. Be sure to use the hashtag #KeepinItRealHomeTour on all your Instagram posts so we can find each other easily. (And hey, if you are a blogger, it's not too late to make a post of your own; just comment on this post and I will send you the info).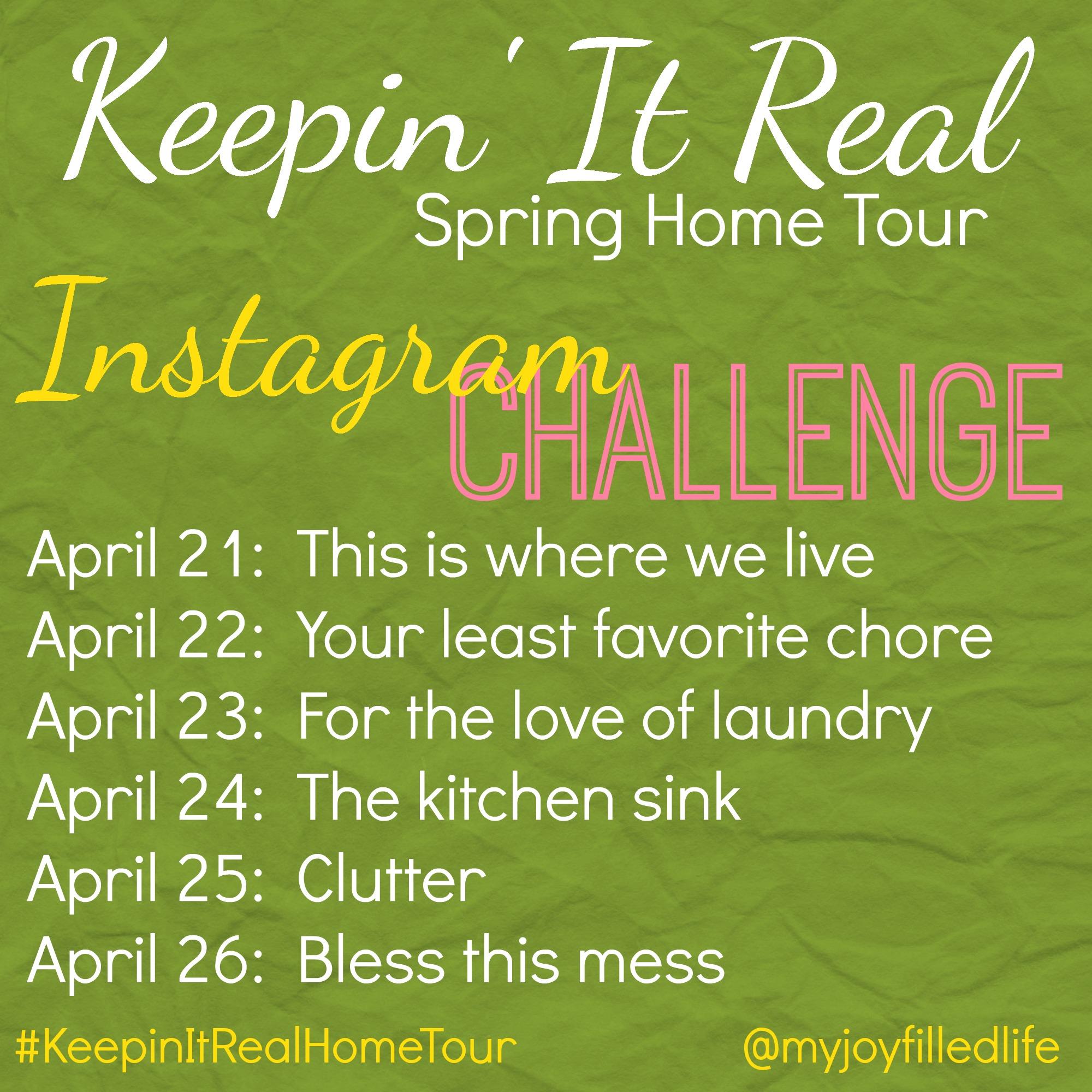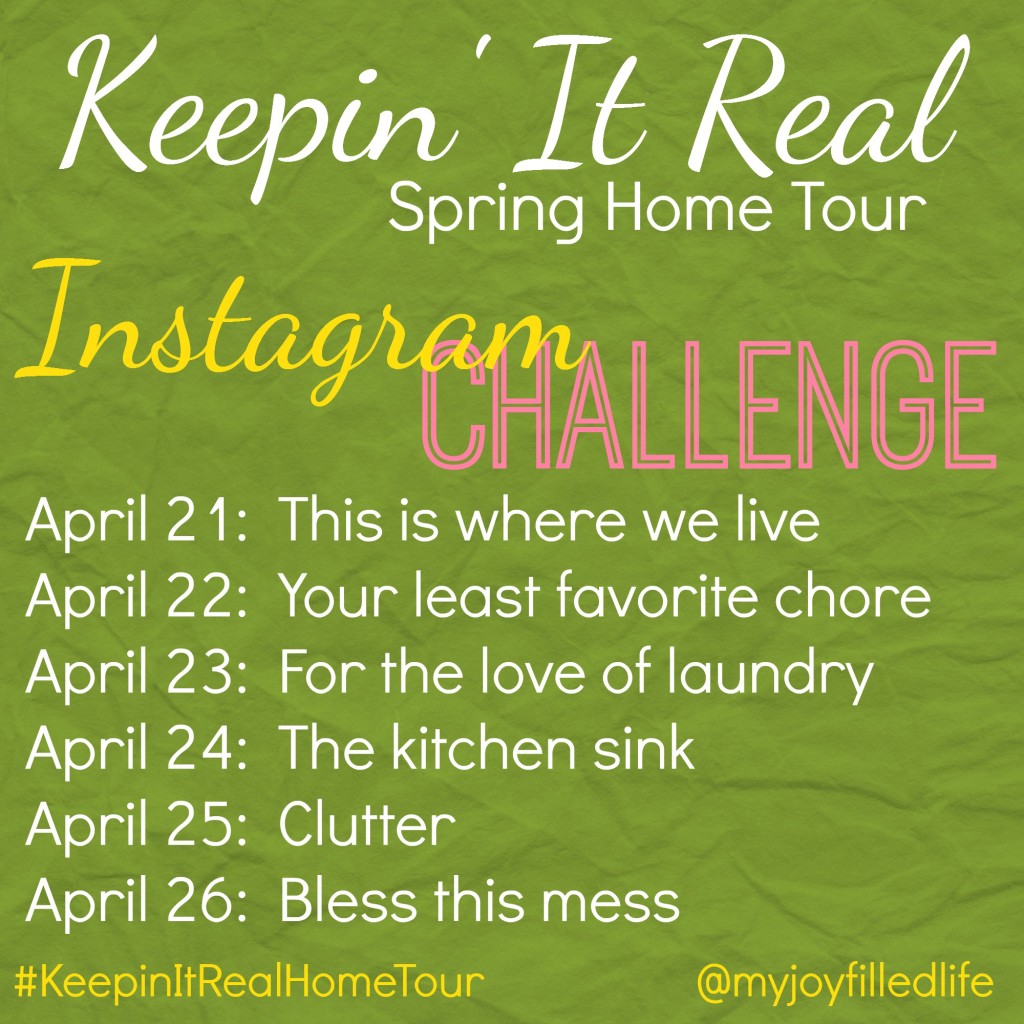 Okay, are you ready to see my home?! Just a little background info in case you are a new reader – we are a homeschooling family with 7 children, ages 12, 10, 8, 6, 4, 4, and 2; last fall we moved to TX from NY and lived in temporary housing until almost 2 months ago when we moved into our current home.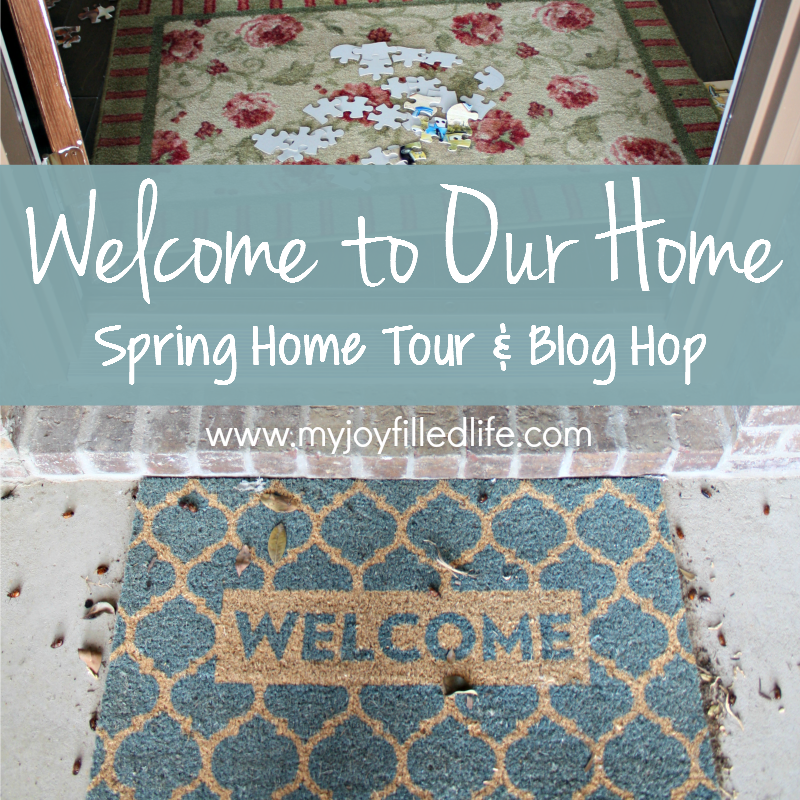 Here we go……..
WELCOME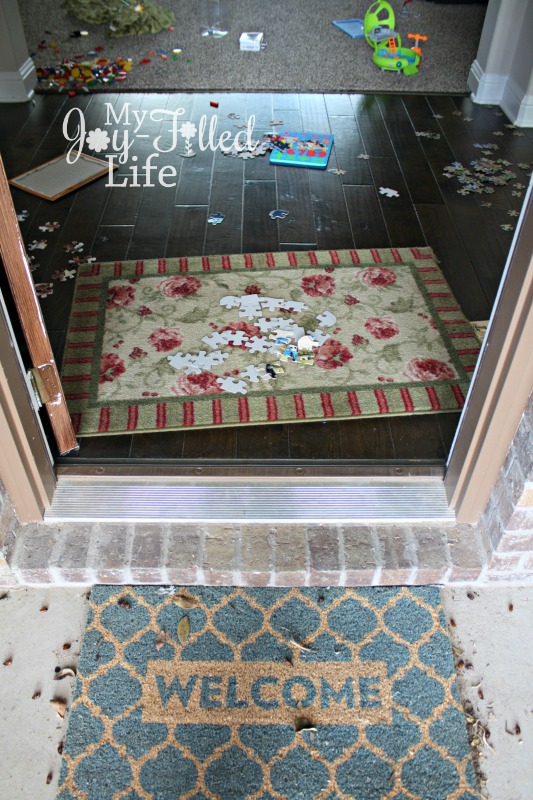 If you had come to my house last Saturday, you would have been greeted with puzzles pieces strewn all over the floor. For some reason, my kids have decided that the foyer, right in front of the front door, is the perfect place to put puzzles together – and then take them apart and not put them away! I think we need to do a little training in cleaning up after ourselves.
Family Room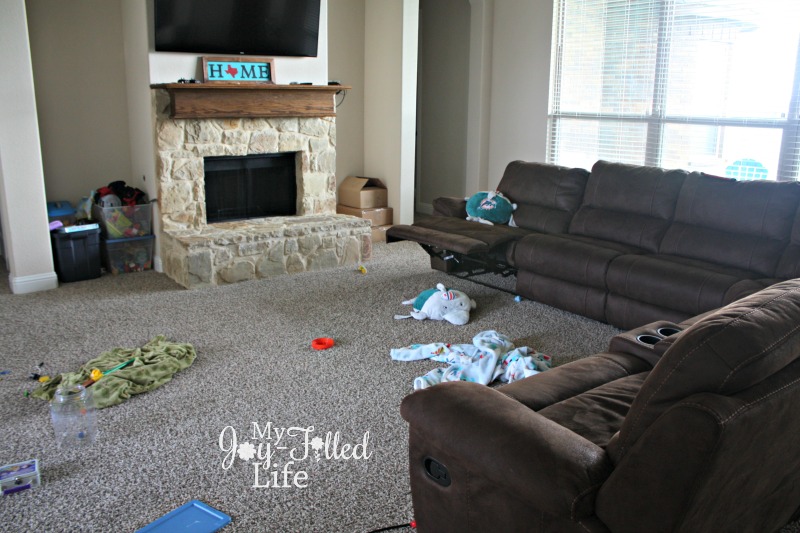 This is pretty typical of our family room – blankets, pillows (or pillow pets), and toys on the floor. We are still working on unpacking as you can tell from the boxes and bins next to the fireplace (we have boxes and bins in pretty much every room). This is our first time ever having a fireplace and I'm pretty excited to have a mantel to decorate. This is the extent of it so far – a Texas HOME sign, a couple of remotes, some remote control car remotes, random Lego pieces and instruction booklets, and some scissors.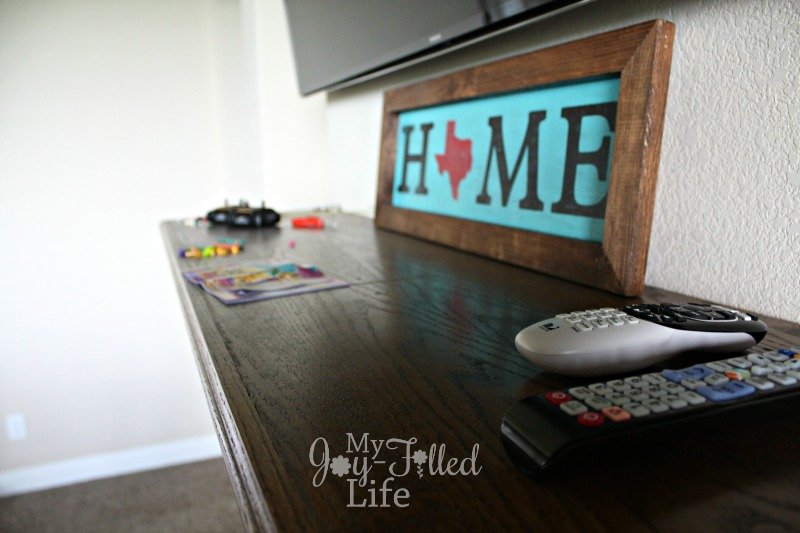 Kitchen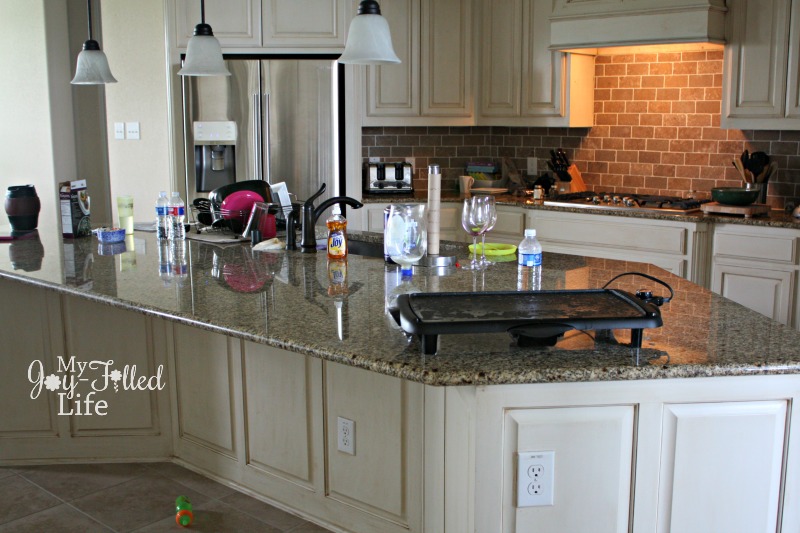 The kitchen is directly behind and completely open to the family room. It's nice to have such a wide open space so I can see what the kids are up to when I'm prepping meals. With 7 kids, the dishes constantly need to be done. Washing the dishes is probably my least favorite chore and I have happily passed that chore onto my 10-year-old son. He does a pretty good job at keeping my sink empty after meals! For any urgent plumbing or electrician works, contact the electrician perth who are readily available 24/7 and will rectify the issues as soon as possible along with perfection.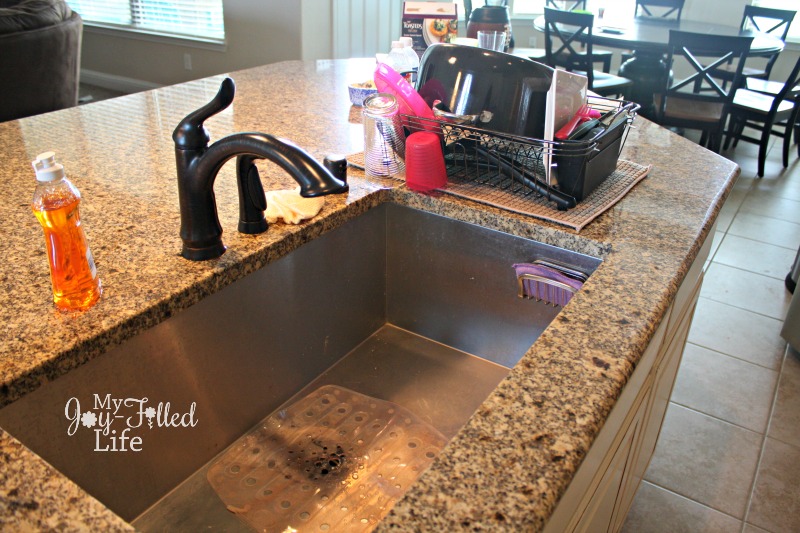 This is our only dinning area, as we use our dining room for our homeschool room. We had to get a round table to fit this space and let me tell you, it wasn't easy finding a round dining room table that would fit our family. Clearing and cleaning the kitchen table is a chore that was recently passed down to my 6-year-old daughter. I'm pretty sure these dishes have been sitting there for awhile – I think we have some work to do.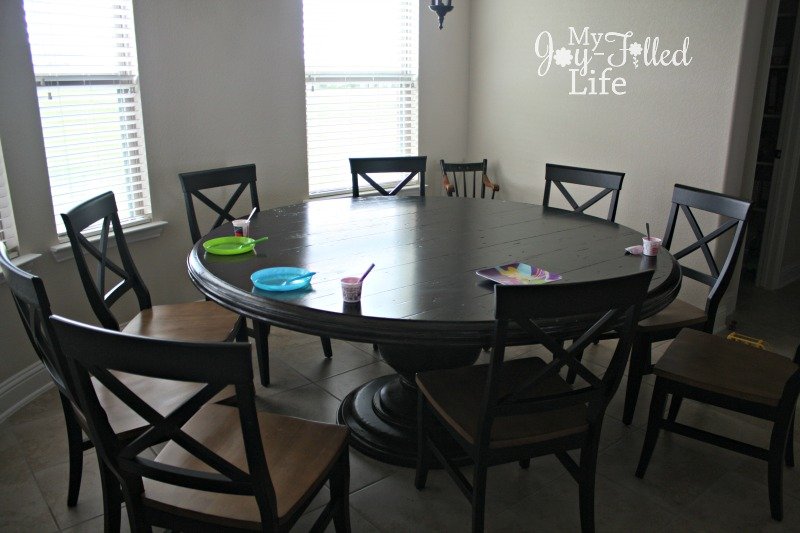 Homeschool Room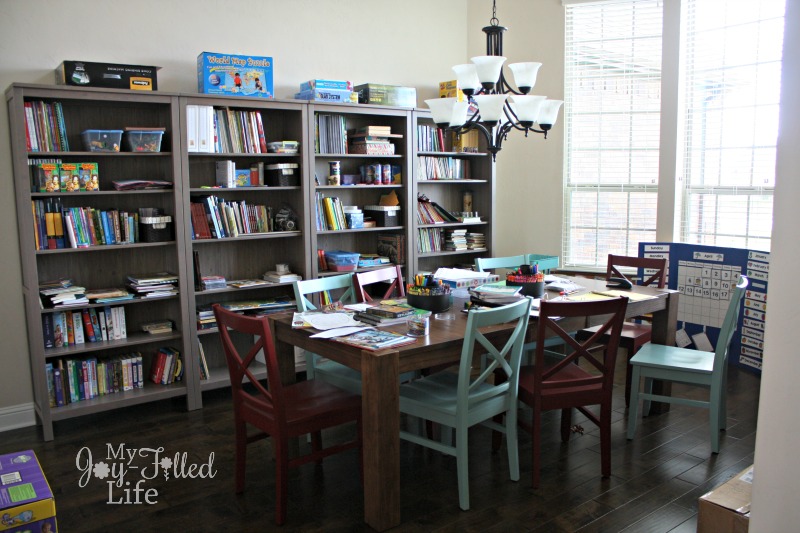 Our schoolroom is very much a work in progress, as I'm sure it will be for quite awhile. I haven't gotten around to hanging anything on the walls yet or really organizing the shelves. Let's see, I have about 3 months to get it 'perfect' before the back-to-homeschool schoolroom blog hops start up! Any other homeschoolers ALWAYS have supplies, books, and whatnot ALL over the table? Please tell me I'm not the only one!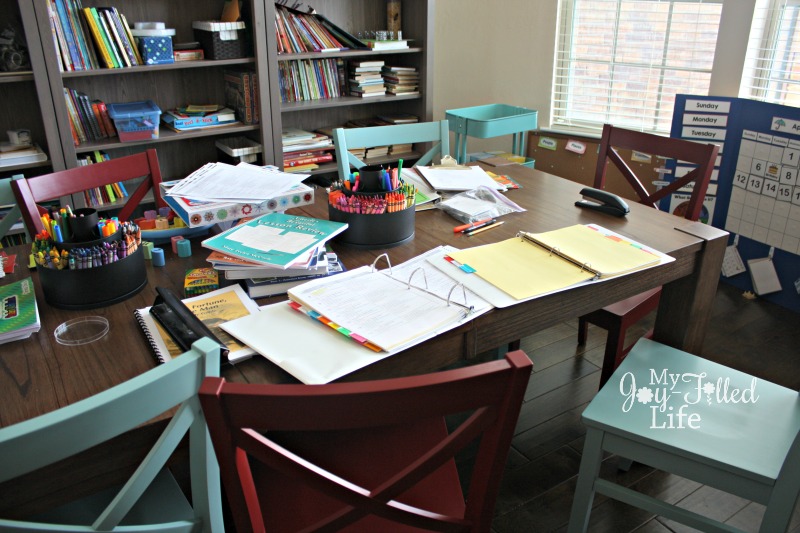 Charging Station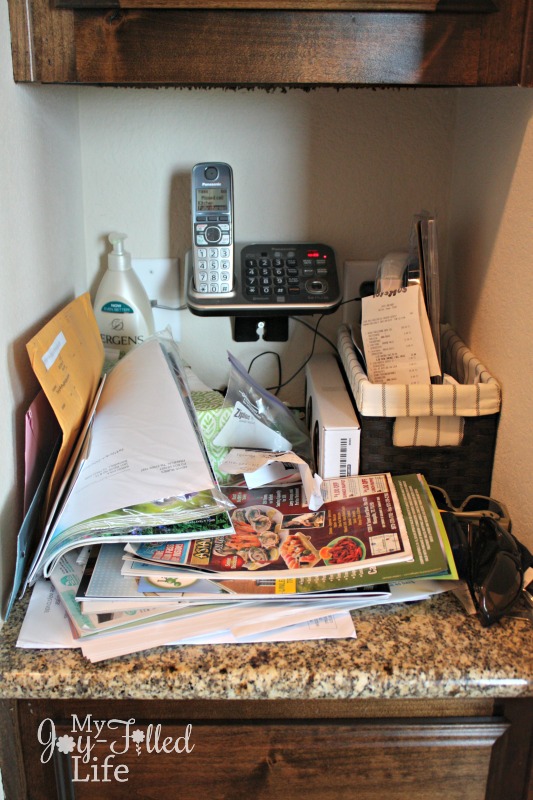 I was pretty excited that our new house had a little charging station tucked away in the hallway that leads to the garage; mainly because I know how notorious I am for just leaving all kinds of stuff laying around, so this was going to be my place to do that instead. I love that it is tucked away so I don't have to see my counter full of clutter. It's not charging a whole lot, but I'm definitely using it for what I intended – now if only it was a little bigger.
Laundry Room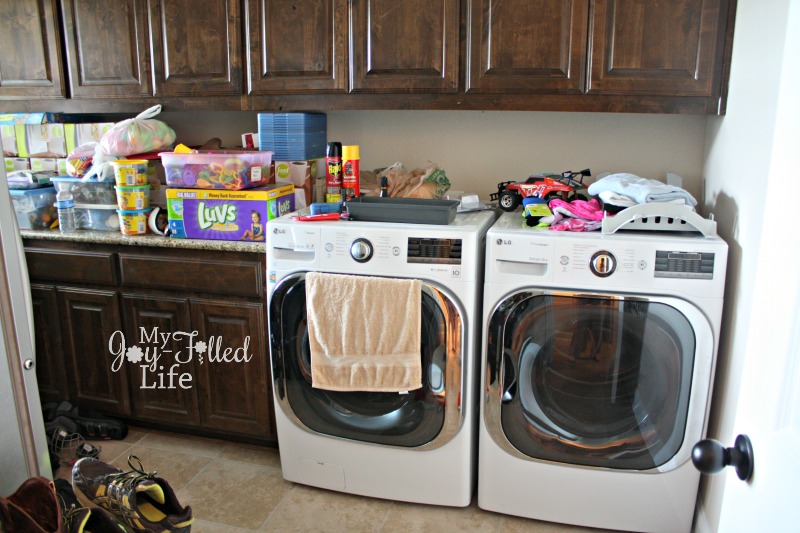 I love our new laundry room because it's the biggest one we've ever had and the only one we've ever had that has cabinets from Gamma Cabinetry for custom modern kitchen cabinet maker and a sink! Unfortunately, right now it's being overrun with boxes, hockey gear, shoes, and other stuff that hasn't found a home yet.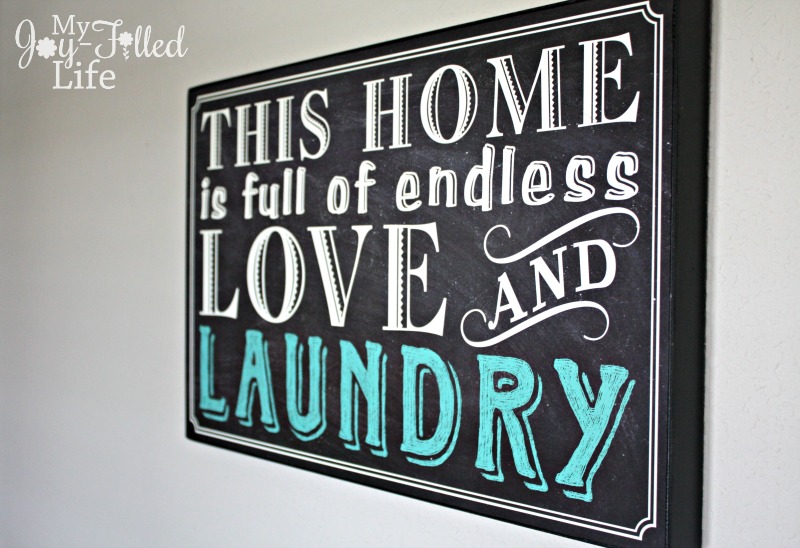 Master Bedroom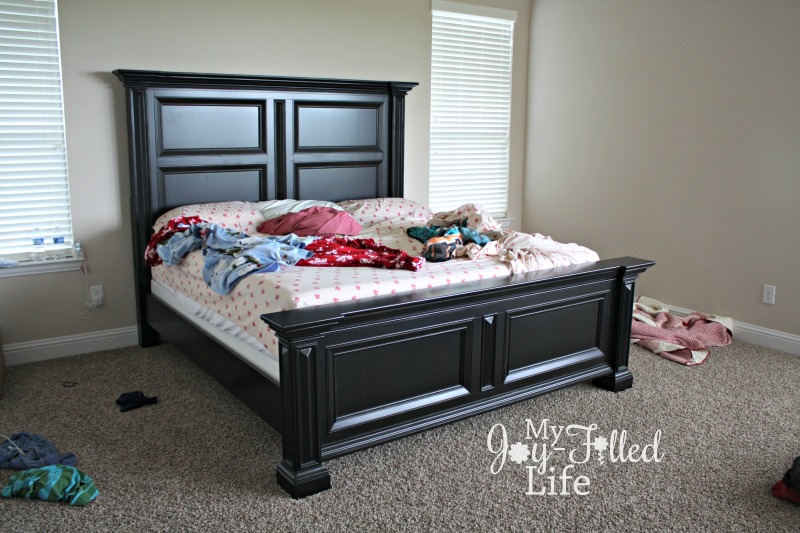 Our master bedroom is pretty bare – just a bed, some boxes and laundry all over the floor. Thankfully this pile of laundry is clean, it just needs to be put away. Now that is one chore that I struggle with – maybe I should think about training each of the kids to put their own laundry away. And in case you are wondering, our bed is usually unmade, along with all of the other beds in the house. We aren't bed-makers in our house!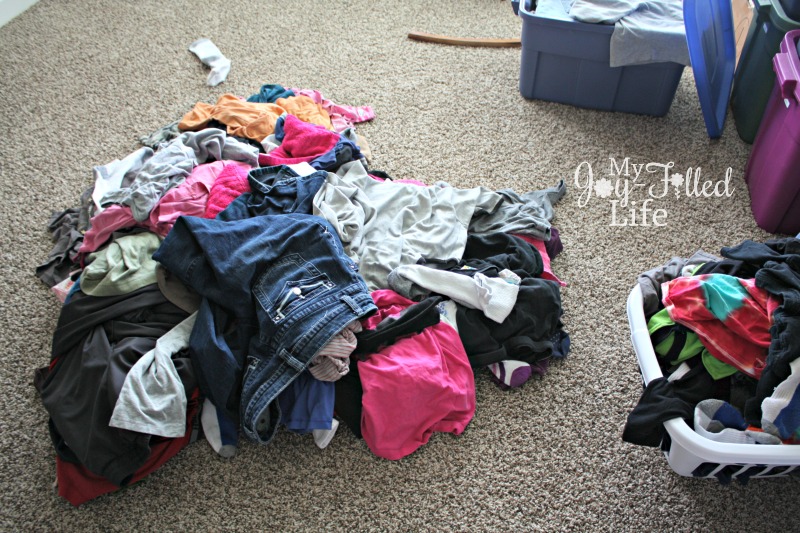 Master Bathroom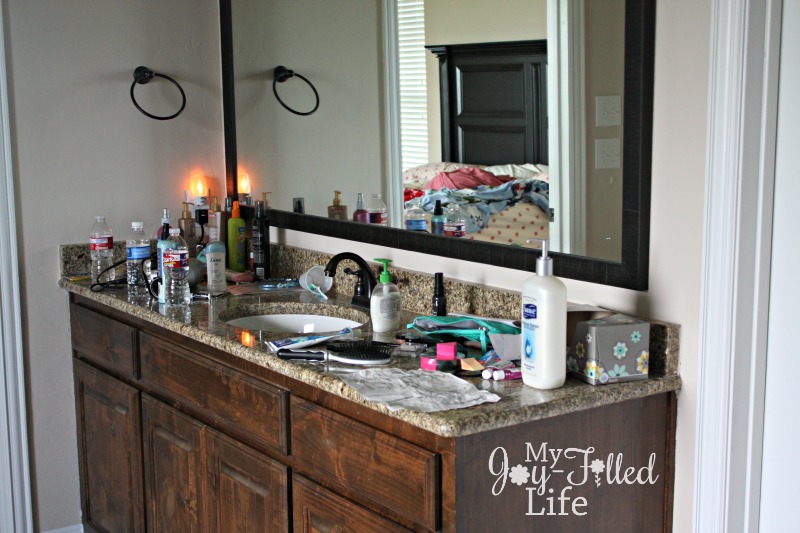 This is my side of the bathroom. I probably should have taken a picture of my husband's side because his is the clean side. I cleaned my counter one day and it inspired my husband to do the same. He has kept his clean, but I can't seem to manage, *sigh*.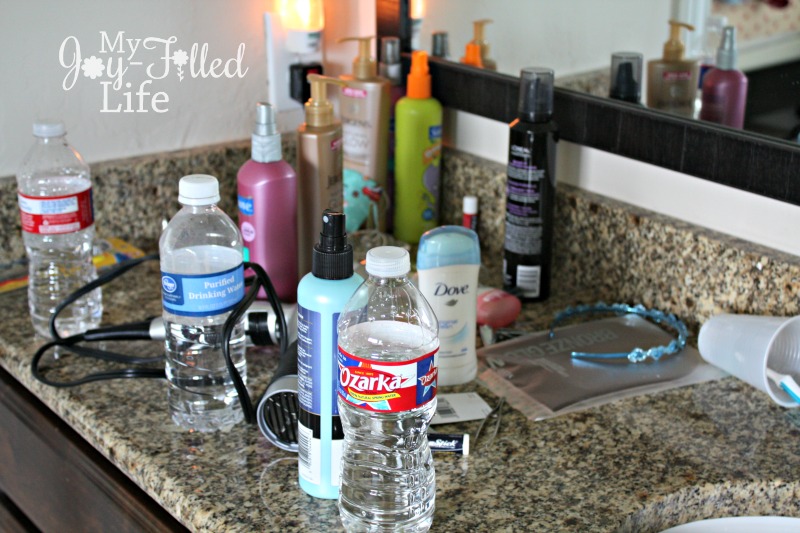 Big Boys' Bedroom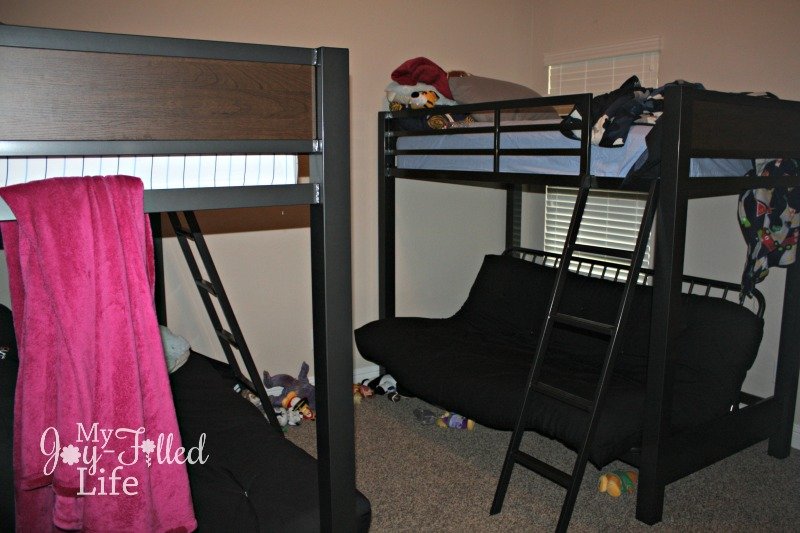 Our two oldest boys (ages 12 and 10) share a bedroom. They both have loft beds, and until a couple days ago, they were sleeping on their futons because we hadn't gotten around to buying them mattresses for the top, although the Just Right Mattress Outlet located in Tucson got new collections. We finally got them mattresses and they are thrilled to be on the top bunk.
Girls' Bedroom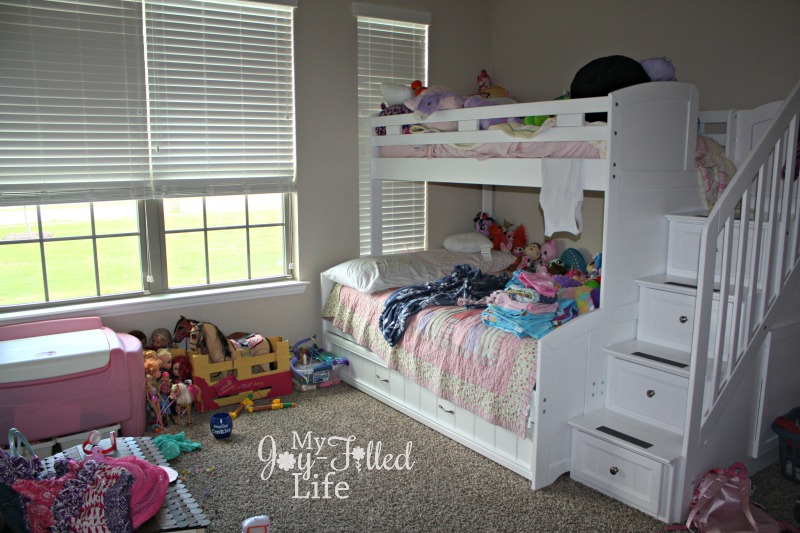 Our two girls (ages 6 and 8) share a room. The girls are probably the messiest ones out of all the kids; between their clothes, dolls, toys, books, and stuffed animals, they can't seem to keep it all tidy. Perhaps it's time to do a little purging of things! Does anyone else have a stuffed animal hoarder whose animals take over the bed?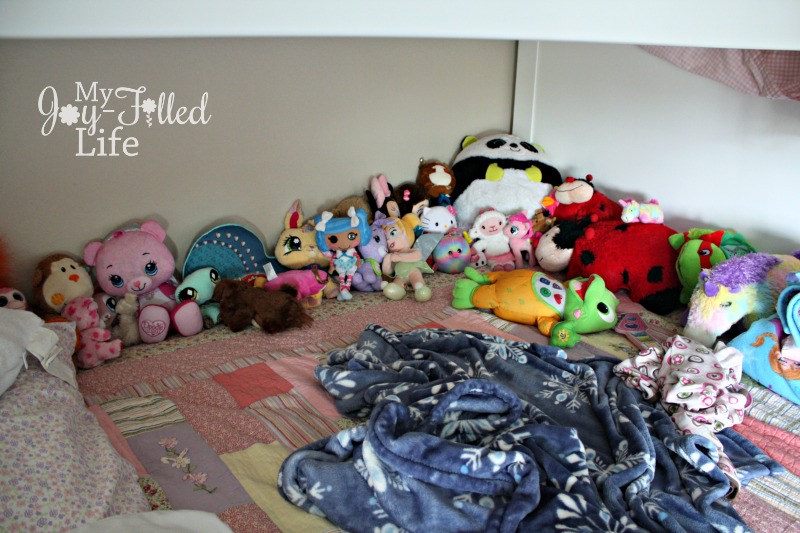 Little Boys' Bedroom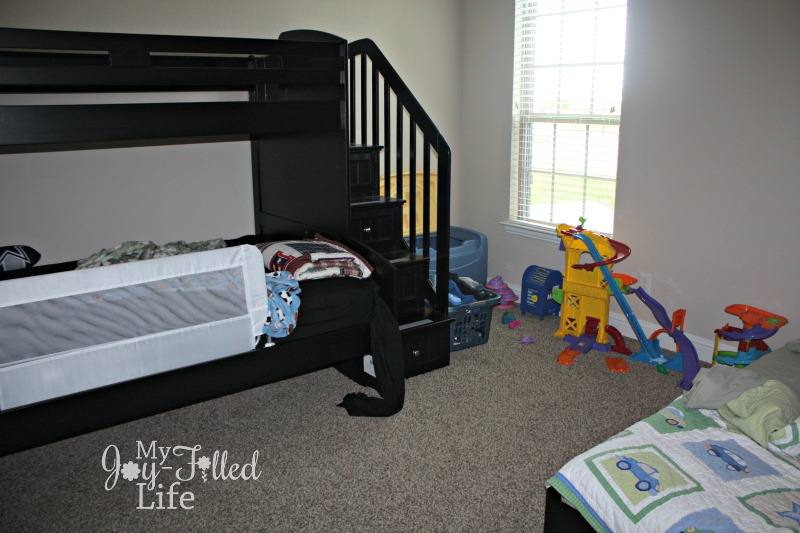 And finally, here is the little boys' room. We have our three youngest boys in here (ages 4, 4, and 2). They have the same bed as their sisters, just in a different color. The twins sleep on the bottom bunk which is a full size bed and the little guy sleeps on the trundle bed that we have pulled out and just leave in the corner.
The more kids I've had, the more I realize, and am at peace with, the fact that my house is never going to be spotless. It's never going to be clean all at the same time and it's never going to be worthy of gracing the cover (or even the pages) of any magazine. I'd much rather enjoy our home, and the people in it, than stress about what it looks like, or how it compares with my neighbor's, sister's, or anyone else's home. I bought a wooden sign (which is still packed somewhere) for our new house, that reads, Please Excuse the Mess ~ The Children Are Making Memories. I can't wait to hang it up!
And the more kids I've had, the more helping hands I have too! As the kids get older, we give them more responsibility around the house. It's a must when you have a large family, and even if you don't have many kids, it's still a great way to teach your kids many life lessons and to work on character traits as well.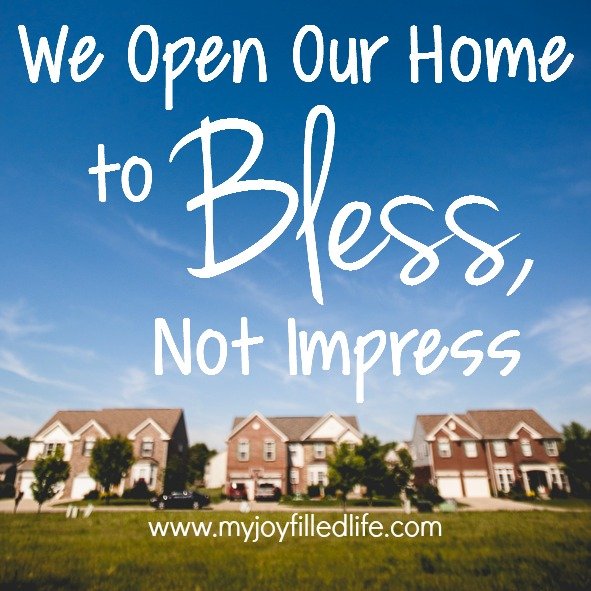 And now for the blog hop! Hop around and check out the homes of other moms (and bloggers).