BE SURE TO ENTER THE SCIENCE GIVEAWAY AT THE END OF THIS POST!
As a homeschool mom, I want my kids to enjoy learning. Sure, not all school subjects are going to be fun and entertaining, but still, I want to do the best I can to instill a love a learning in my kids.
When our kids were young, it was easy to teach them the alphabet and how to count – in fun, hands-on ways. But as the years pass, certain subjects become more difficult to teach, and may not be so fun anymore – for the kids, or for you. It can be easy to be intimidated by certain subjects—like the sciences.
I actually enjoy science! And I want my kids to love it too! It was probably my favorite subject in school; I even went on to become a registered nurse. But teaching it. That's a different story – finding the time to make it fun and engaging, instead of just going through the motions with a boring textbook is difficult when you are homeschooling multiple kids (I have 8!).
That's why I love Journey Homeschool Academy – they have online science curriculum that will help solve your science woes (it has helped solve mine)! They have science courses for elementary, middle, and high school (plus a Bible course for teens).
These courses provide a high-quality, hands-on, engaging science experience. The online courses include engaging video lessons, comprehensive quizzes, lab, project & reading assignments, research questions, and lesson outlines.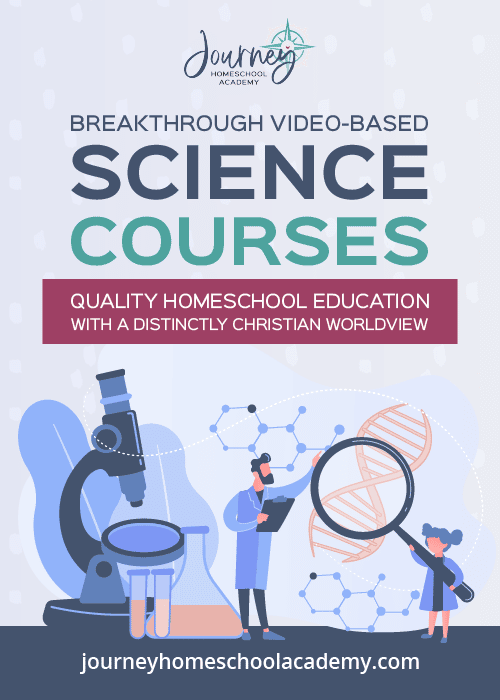 Check them out:
ELEMENTARY COURSES
MIDDLE SCHOOL COURSES
HIGH SCHOOL COURSES
Check out this sneak peek inside Experience Biology (high school):
Why Journey Homeschool Academy?
You, the parent, don't have to be the expert: The instructors, Luke and Trisha Gilkerson, will do all the teaching for you (via video).
It's integrative: the courses include integration with history, literature, and even the Bible.
It's interactive: in astronomy, your student will get outside on a weekly basis to take notes or draw specific observations in the sky; in biology and chemistry they'll conduct several lab experiments each month—something that used to be reserved only for kids in classrooms. And in Earth Science they'll get their hands dirty exploring rocks, minerals, earthquakes, and more!
From the comfort of home: all the required activities can be done online + in your home.
Christian emphasis: the subject of science is studied through a Christian worldview. In Biology, the courses help students think critically about how the Bible and science address evolutionary theory, which they'll encounter throughout their lives.
Be sure to sign up for some free lessons to try out of the course(s) you're interested in!!
My oldest son took the Experience Astronomy course in 9th grade (he has since graduated) and it was such a welcome change to the textbook learning we had been doing, plus he pretty much did it all on his own – one less thing I had to worry about! And my next oldest son, who is in 10th grade this year, took Experience Biology last year – another thing I didn't have to worry much about because the course fosters independent learning. This year, he is taking their Equipped course, which is a Bible course for teens. With several new courses available this year from Journey Homeschool Academy, I'm having a hard time trying to decide what to choose for next year!
As you've probably learned with your own kids: you can't force your kids to learn. Sure, you can coerce your kids into getting their school work "done," but that's not really learning, is it?
Learning happens not when we require it, but when we inspire. And that's what Journey Homeschool Academy does: it inspires kids to love the sciences.

The videos, the activities, the reading assignments—all of it is designed to help kids enjoy learning and make it easy for them to take charge of their own education.
Sure, you could throw a boring textbook at your kids this year.

…but when you sign up for Journey's science courses, you'll be fostering a love of science and encouraging them to explore the subject in a fresh, exciting way. This is solid science education developed by—and for—homeschoolers.
Check out what other parents are saying….
Our science curriculum was stale. I wanted to spend time with my son on a subject we could enjoy together…
I loved getting outside with my son and doing the observation activities. The videos always had something that we really related well to and could remember even beyond test. And I really enjoyed the teaching on classic mythology—it's something Christian curricula is often afraid to touch, but it opened up lots of good discussion about worldview.
– Cindy R. (mom to Upper Level Astronomy student)

I needed a pick-up-and-go science program with a Christian foundation.
I homeschool 3 kids that range in ages from 8 to 11 and wanted something we could do together that wasn't difficult to understand, but not dumbed down either. Everything in Experience Astronomy is taught through the lens of God's Word. It's thorough and engaging, with a great list of recommended reading that really enhances what's taught. I'm learning almost as much as the children. We're having amazing discussions about the stars, space, mythology, God, and our place in the universe!
– Alexis (mom to Elementary Astronomy students)

I didn't know if Experience Astronomy advanced would be challenging enough for my high schooler…
I hadn't ever enrolled in an online course and was new to homeschooling. I've been very impressed with the assignments the upper level students complete and especially like the tie in to scripture for some of the projects. I highly recommend your program. My only wish is that there were more courses for my high school student to do!
– Heather D. (mom to Upper Level Astronomy student)

I was concerned about the cost, but knew I was going to struggle with getting the fun, but important subjects done…
We had a new baby arriving this year and a herd of goats to manage daily. Experience Astronomy was perfect for this time of our life because it was so easy to use. I liked that the lessons were brief, but deep. And five of our seven kids were able to enjoy them, which was such a gift to me because with such a span of ages, it's hard to find something we can all enjoy. Experience Astronomy provides a great and easy to assimilate science into even the busiest of weeks.
– Karissa (mom to Elementary Astronomy students)
---
GIVEAWAY TIME!!
As I mentioned above, Journey Homeschool Academy currently offers 3 elementary science courses – Astronomy, Biology, and Earth Science. These courses will help foster your child's natural curiosity and inspire a love of learning.
These elementary courses will introduce 6 to 11 year olds to new concepts through their senses, hearts, and minds, feeding their appetite for knowledge, and setting the stage for success in later years. They will build a strong foundation for future learning through living books, videos, hands-on activities, copywork, and, quizzes.
When you purchase (or win) one of the Journey Homeschool Academy elementary courses, you can use the course with ALL of your elementary students, and you have lifetime access.
To enter for your chance to win an elementary science course of your choice ($129 value), simply use the Rafflecopter form below to enter.
Giveaway ends August 26, 2022 at 11:59pm ET. Must be at least 18 years of age. Selected winners will have 48 hours to respond to email notification to claim their prize or another winner will be drawn. By entering this giveaway, you agree to be added to the My Joy-Filled Life email list (see the Terms & Conditions on the Rafflecopter form).