Keeping track of your child's homeschool career is very important, especially if you live in a state with strict homeschool laws and regulations. Regardless of where you live and what your state's homeschool laws are, it's essential to be diligent in tracking your child's journey through high school. You'll want to keep good records so that your child can go onto college, the military, or any other future plans they may have. A homeschool portfolio is a great way to keep track of everything. Many colleges are wanting to see more than just a transcript these days. They want to get a good idea of who the student is, so keeping track of more than just grades is important.
A homeschool portfolio can help you keep things in order. You may be asking, what is a homeschool portfolio and how do I build one? What should go in it and how do I organize it? Just as there is no one-size-fits-all way to homeschool, there is no right or wrong way to create a homeschool portfolio.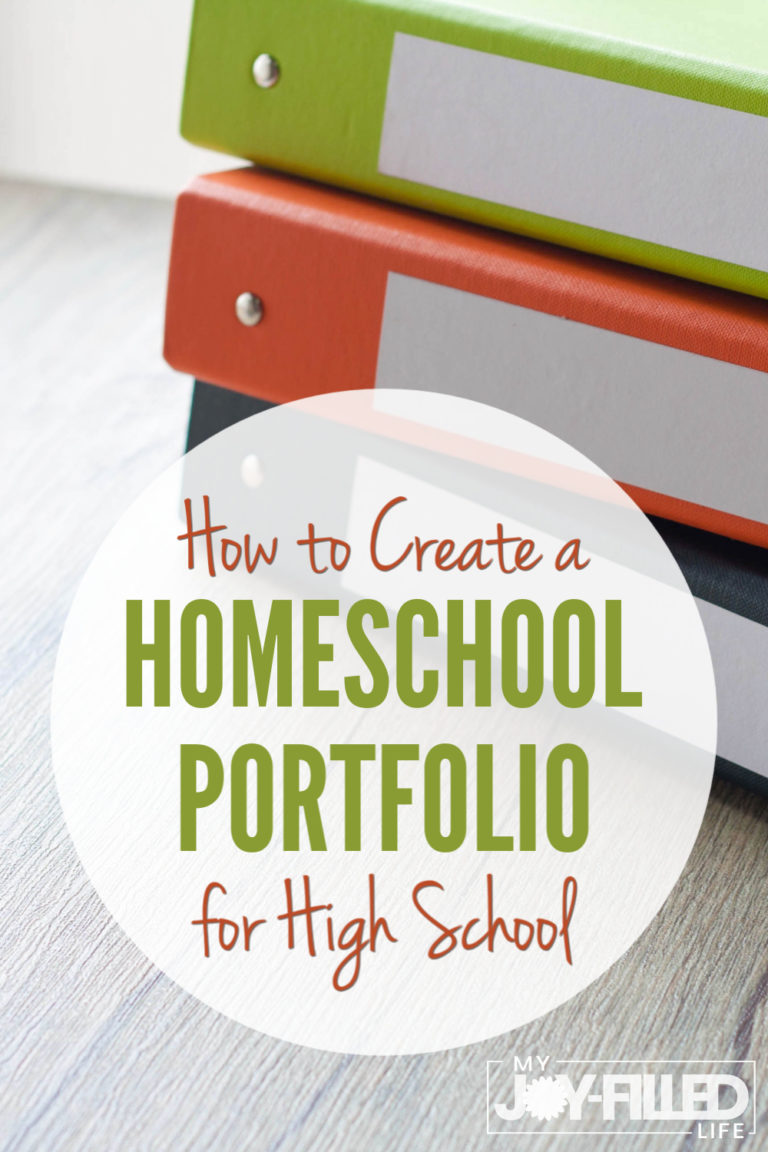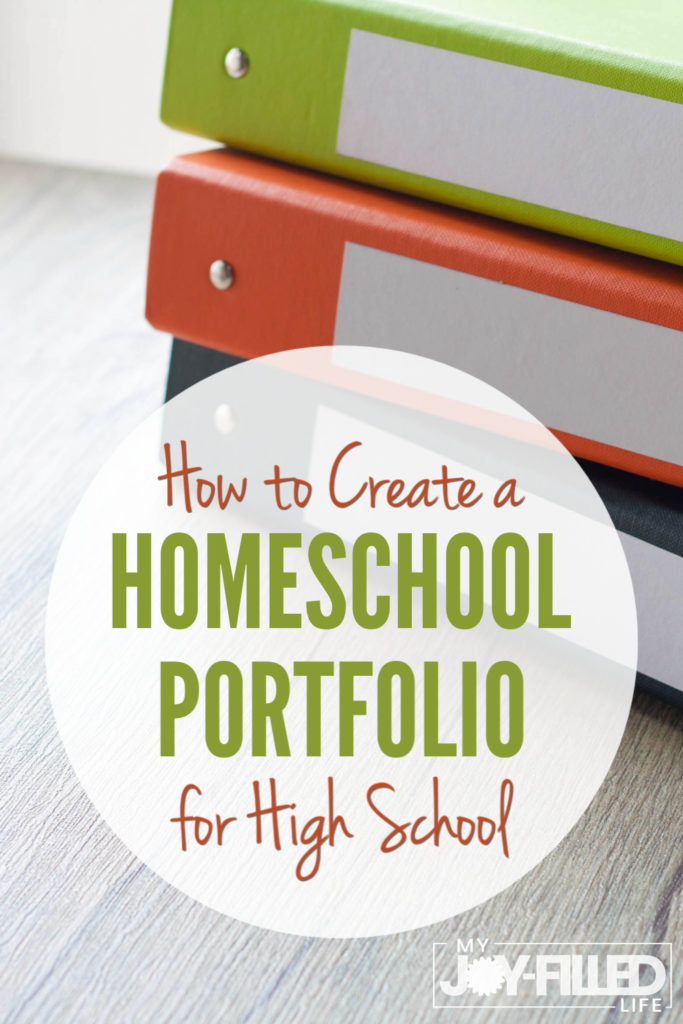 What is a homeschool portfolio?
Simply put, a homeschool portfolio is a way to keep track of your child's educational progress and growth each year. They are used to track what your child has learned, what resources were used, progress made, and can even include samples or photos of their work.
What to include in a homeschool portfolio
Check the laws in your state to find out what paperwork is required and what you need to keep track of each year. Some states require very specific things like an attendance sheet or log for school hours. Others do not require anything, though a homeschool portfolio can still come in handy should an official question your homeschooling, plus it's a great keepsake of what your child has learned and accomplished over the years.
Here is a list of things you can include in a homeschool portfolio; these are simply suggestions, you don't need to include everything on this list (and you may want to include things I didn't list), but you do want to be sure to include anything that is required by state law –
Courses taken, along with course descriptions
Grades
Attendance
Standardized tests taken and results
Transcript
Academic goals
Year-end evaluations
Field trip log
Book log
Honors and awards
Extracurricular activities and volunteer opportunities
Course of study
Enrichment classes/dual enrollment classes
Writing samples and other assignments/completed work
Using a homeschool portfolio checklist is a great tool to help ensure that you include the most important things in your portfolio.
How to organize a homeschool portfolio
Again, there is no right or wrong way to put together a homeschool portfolio. I feel that using a 3-ring binder is the easiest, most flexible way to put your homeschool portfolio together. Using a 3-ring binder helps you keep everything organized and together, plus allows you to easily move things around and add things as needed.
Use tabbed dividers to help organize papers within your binder. You can organize by subject or grade. I prefer to organize my kids' binders by subject (once they are in 9th grade, I start creating a separate, more official portfolio for the high school years, organized by grade; more on that below), with important papers in the front, like attendance and course of study. I also prefer to use digital planning pages so that I can print what I need, when I need it and easily add it to the binder.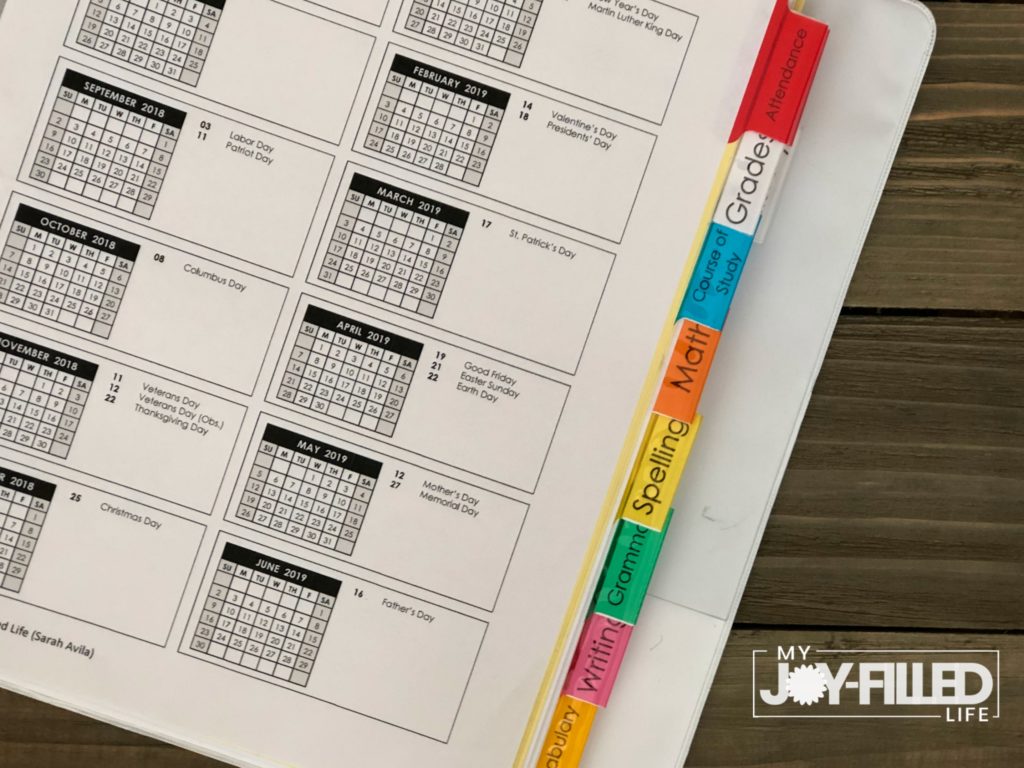 Homeschool portfolio for high school
Even if you have lax homeschool laws in your state, you are still going to want to keep good track of your child's high school years. This will help with college admissions, plus make a nice keepsake of their academic achievements.
When it comes to the high school years, I prefer to keep track by grade, not by subject. I also prefer to make it a little more official and professional looking. I still keep track of everything by subject in each child's binder, but when the high school years start I also keep track of things in a document on my computer where I can type things in so that it's much neater and professional. Once a child is done with high school, I will print out the document and bind it so that I have their entire homeschool high school career in a nice booklet. I can also print out certain pages from the portfolio for college admission purposes like the transcript, grades, and course descriptions if needed.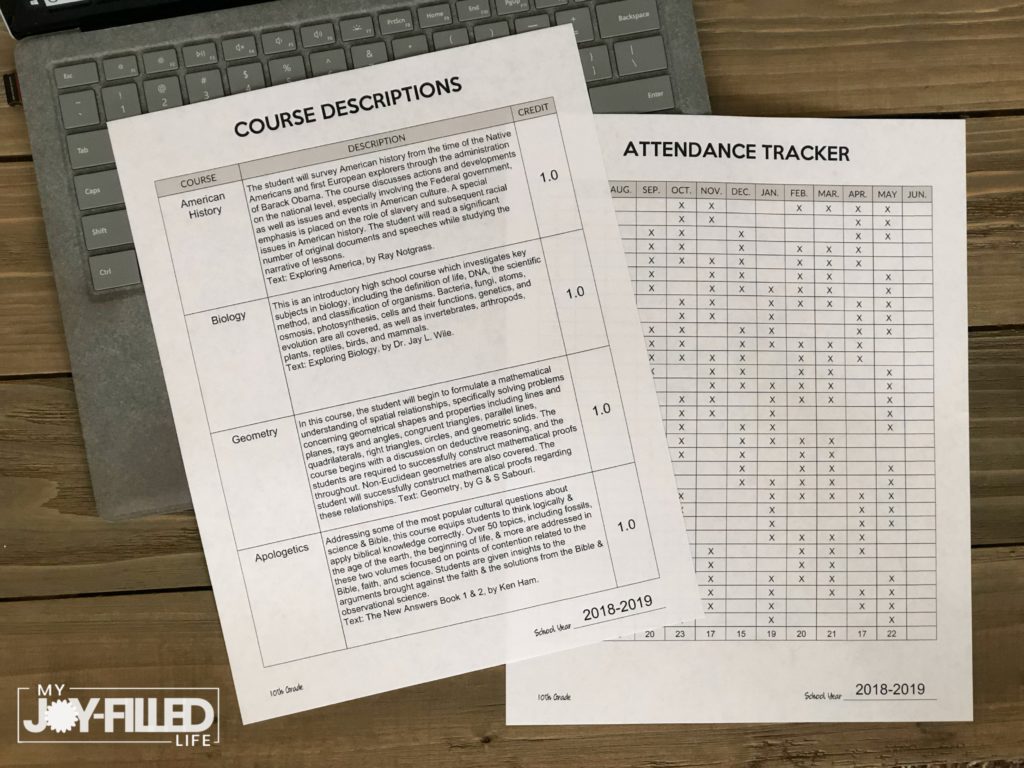 I include many of the same things in the high school portfolio as I listed above for a regular portfolio. I created an editable PDF document to use to create a high school portfolio and record book for my kids and I'm making it available to my readers!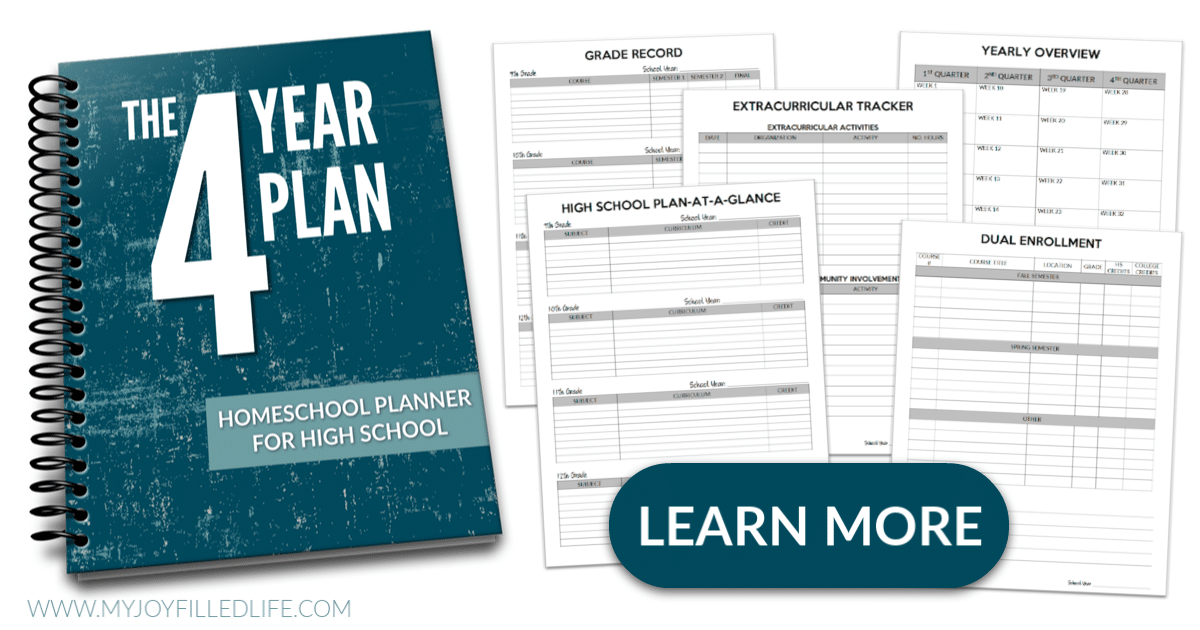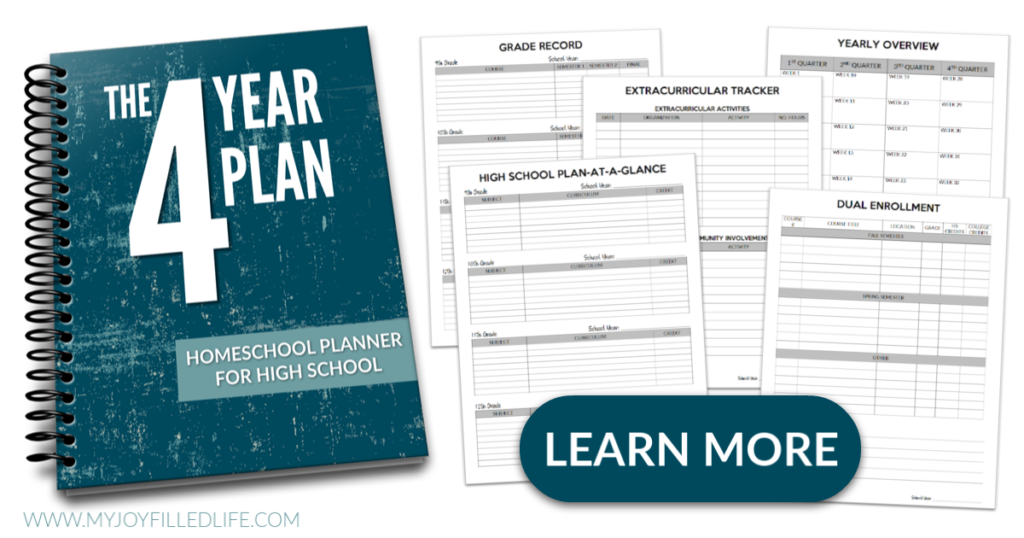 The 4 Year Plan – Homeschool Planner for High School is printable, editable, and undated, making it flexible, adaptable, and reusable for all of your kids! It includes planning pages for ALL four years of high school – pages like grading records, standardized test tracker, yearly overview, academic goals, course of study, course descriptions, year-end evaluations, monthly & weekly calendars, and so much more!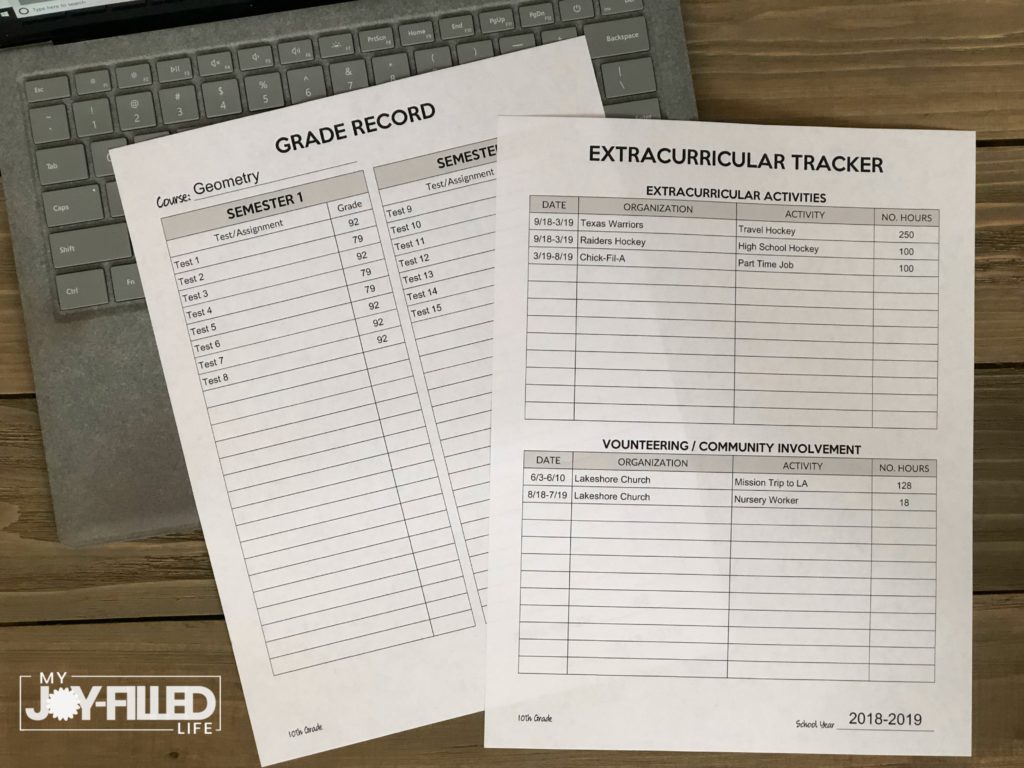 I also have an editable transcript printable if you are in need of that, and it's FREE!!
I'm offering this editable homeschool transcript template FREE to My Joy-Filled Life subscribers. To get yours, simply click on the download button below, add the transcript to your cart and go through the check out process (don't worry, it's free); if you aren't already a subscriber, you will then be added to the list. If you are a subscriber, you will still need to go through the check out process to get access to the transcript printable (but don't worry, it won't add you twice to the email list). After check out, you will be redirected to a page where you can download the printable (FYI, it is a zip file); you will also receive an email with the download link (be sure to check your junk mail if you don't see it in your regular inbox within 5-10 minutes).

As a subscriber to My Joy-Filled Life you will get weekly(ish) updates and occasional information about great freebies, giveaways, and offers.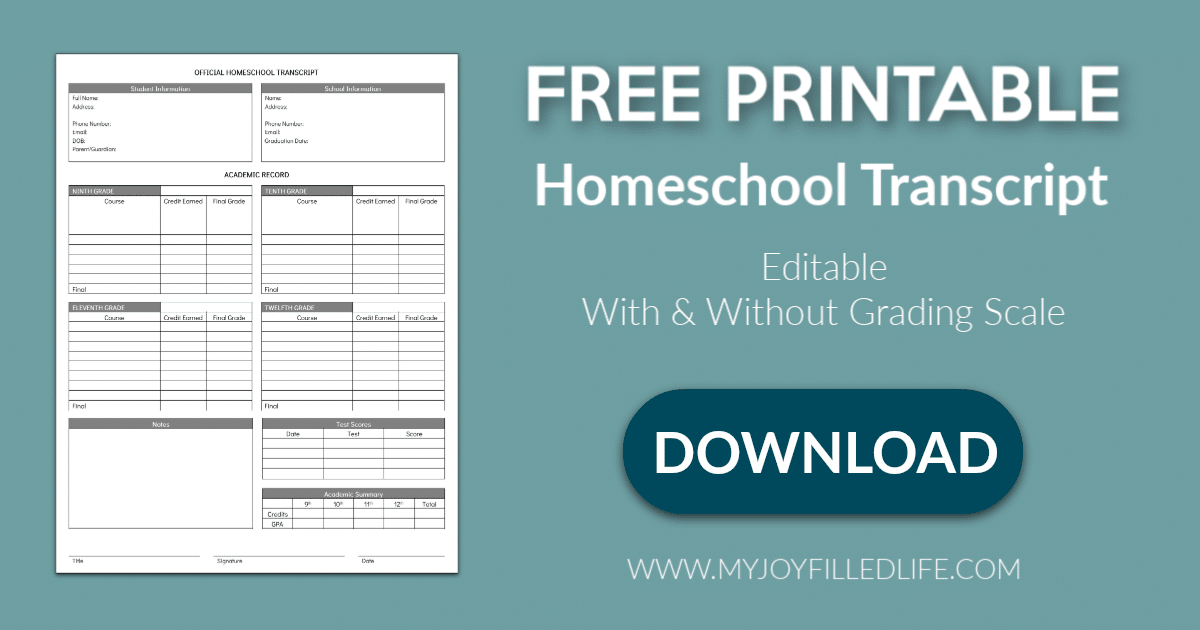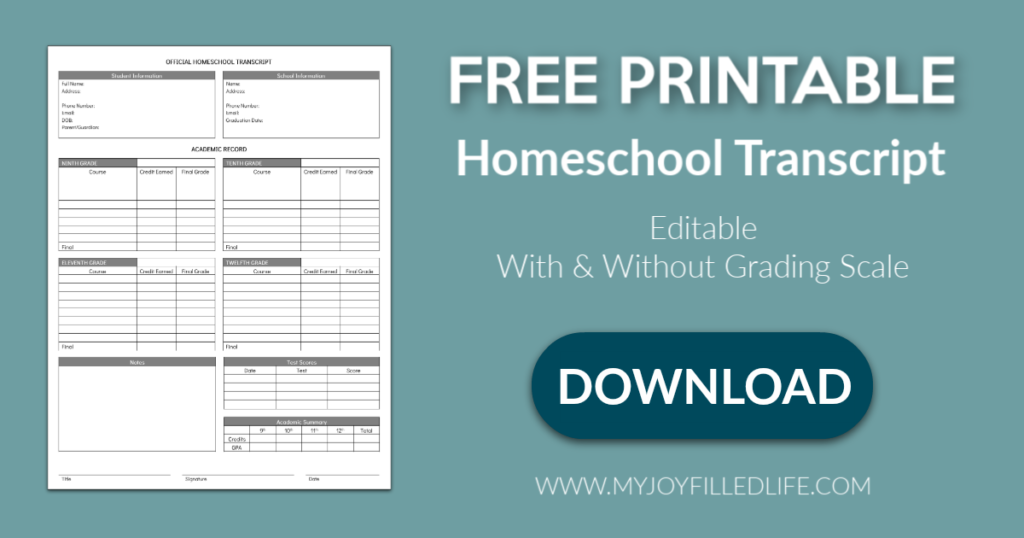 Making a homeschool portfolio for high school is actually quite easy. Even if you don't use the printables I created, it's still pretty simple to keep track of your child's high school journey – remember, you mainly want to record what courses they take, grades and progress, extra activities & accomplishments, and maybe some samples of their work. You'll also want to include any paperwork that is required by your state. Organize it all in a manner that is easy and makes sense for you. My biggest tip is to keep track as you go; don't wait until the end of each year or until the end of high school – it will likely be time consuming, stressful, and you might forget some important details.