Homeschooling has many great spiritual rewards for you and your children, that will last for eternity. But it's definitely not an easy endeavor. Trying to survive just a single day sometimes, can make you want to pull out all your hair, and lock your kids in a broom closet. The truth is, you can't be the best homeschooling teacher if you're trying to do it on your own. You have to remember to rely on God's truth and promises to get you through each day, and the rewards for keep pushing forward.
You also need to remember that most days aren't going to be perfect, but if you seek Him first before your day starts, homeschooling will fall more into place then you thought possible. Here are some great Bible verses that will encourage and strengthen you.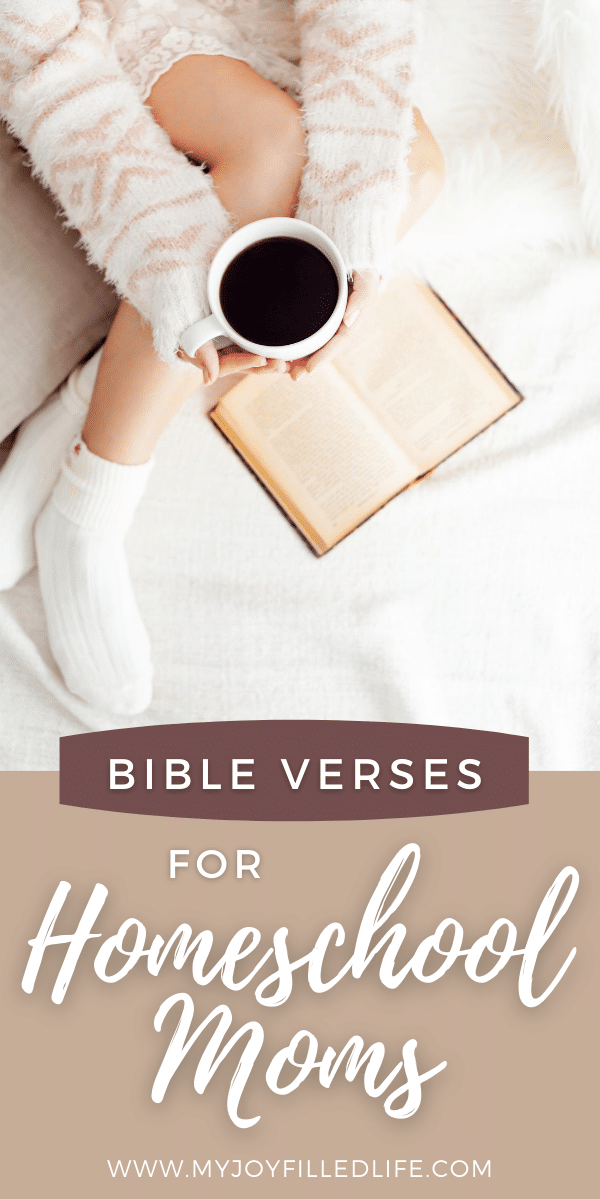 ---
Deuteronomy 6:5-9
Love the Lord your God with all your heart and with all your soul and with all your strength. These commandments that I give you today are to be on your hearts. Impress them on your children. Talk about them when you sit at home and when you walk along the road, when you lie down and when you get up.
This is a verse that provides a model for homeschooling. We need to be our children's main teachers of truth, not relying on the public school system or society to teach them earthly wisdom and deceit.
---
Psalm 19:14
May the words of my mouth and the meditation of my heart be acceptable in your sight, Oh Lord, My Rock, and My Redeemer.
Sometimes our patience runs thin with our children while homeschooling. Having this verse memorized, will help you with your words and actions when you are struggling most.
---
Proverbs 22:6
Train up a child in the way he should go, and when he is old, he will not depart from it.
Sometimes you think nothing you teach spiritually is sinking in with your children. This verse tells us to be persistent in teaching them which way to go. When they are fully grown, they will be reminded of everything you've taught them.
---
James 1:5
If any of you lacks wisdom, you should ask God, who gives generously to all without finding fault, and it will be given to you.
When you and your child are struggling with learning, this is a great verse that promises Godly wisdom.
---
Galatians 6:9
And let us not grow weary while doing good, for in due season we shall reap if we do not lose heart.
This verse is a promise that what you are teaching your children is not all for nothing. Don't lose heart, the rewards of your dedication in your child's education is coming.
---
Proverbs 3:5-6
Trust in the Lord with all your heart and lean not on your own understanding; in all your ways acknowledge him, and he shall direct your path.
We forget at times that our ways are not the best ways. Before each day kicks off, ask God to direct your teaching, and allow him to lead out the day instead of you trying to control the teaching process.
---
Psalm 118:24
This is the day the Lord has made; we will rejoice and be glad in it.
When we are doing the same thing day in and day out, and something that requires so much of our time and energy, it can be draining on our soul and easy to lose motivation. Getting up each day, knowing that God created the day and that He has a plan and a purpose for it, can help get you going each morning.
---
Philippians 4:13
I can do all things through Christ who strengthens me.
Homeschooling is hard work, but having Christ on our side, giving us the strength we need to guide, teach, and train our children each day is so reassuring. This verse is a good one to have on repeat in the back of your mind for when you're having a tough homeschool day.
---
Matthew 11:28-29
Come to Me, all you who labor and are heavy laden, and I will give you rest. Take My yoke upon you and learn from Me, for I am gentle and lowly in heart, and you will find rest for your souls.
Homeschooling requires a lot of work and labor. Jesus can help, and wants to help. If we go to him with our weariness, our burdens, He will help us through. He will help lighten our load. We can lean on Him, learn from Him, and trust in Him as we walk this path.
---
Joshua 1:9
Have I not commanded you? Be strong and of good courage; do not be afraid, nor be dismayed, for the Lord your God is with you wherever you go.
God has commanded you and laid it on your heart to homeschool your children, He isn't going to leave you to do it on your own. It can be scary to step out on this journey, or you can encounter things along the way that bring you doubt and worry, but never forget that God is with you, right by your side. Turn to Him in good times and in bad.
Scripture cards are a handy way to have God's Word with you wherever you go – keep them in your purse or diaper bag, put some in your car, hang some by the kitchen sink or bathroom mirror, keep some in your homeschool planner, or simply put a couple in your pocket. They are also great for helping you memorize scripture – before you know it those Words will be hidden in your heart.
To get a printable set of 20 cards (including the scriptures above and 10 more) with scriptures especially selected for homeschool moms, click the image below.


---
Bonus Kid Scriptures
Great Verses For Children to Memorize
It's not just you that needs strength and encouragement to make it through the day. Your children need to be fed God's truth just like you. Instead of reciting these verses to your children, have them look them up on their own, before they become discouraged with an overwhelming day.
---
Col 3:23
Whatever you do, work at it with all your heart, as working for the Lord, not for human masters.
This verse is great for children who tend to be lazy, rush through their work, and do not spend time making sure they are doing it right. Plus they are reminded they are doing this for the Lord, not just you.
---
Ephesians 6:1-4
Children, obey your parents in the Lord, for this is right. Honor your father and mother, which is the first commandment with a promise. So that it may go well with you and that you may enjoy long life on the earth. Fathers, do not exasperate your children; instead, bring them up in the training and instruction of the Lord.
Make sure your children know this verse long before they begin not listening to you. Reading this verse after they have disobeyed, might not be as beneficial, as they've already shut down their ears.
---
Proverbs 23:12
Apply your heart to instruction and your ears to words of knowledge.
Your children need to be shown that God wants them to learn, and to use that brain that He gave them.
---
Proverbs 1:7-9
The fear of the Lord is the beginning of knowledge, but fools despise wisdom and instruction. Listen, my son, to your father's instruction and do not forsake your mother's teaching. They are a garland to grace your head an d a chain to adorn your neck.
This verse teaches your children that listening and holding onto their parent's teachings will make their lives go easier. Nobody wants to be the fool.
---
These are scripture verses that will remind you of your purpose of homeschooling, as well as providing the Godly encouragement that you need. Which one of these verses spoke the most to you, offering strength? What other verses are there that you use for homeschooling, that help you survive each day?