I'm really excited to share this review and product with you all. I discovered Home School in the Woods at the very start of our homeschooling journey, about 6 years ago – when my oldest child was in kindergarten. I had the privilege of meeting Amy Pak at our local homeschool convention and she is just as kind as she is talented (yes, she is the artist behind all of these beautiful drawings; she does amazing work). At that time, my son was a bit young to use Home School in the Woods products, but I took a mental note that I wanted to use the Pak family's products in our homeschool as soon as my kids were old enough. Well, now they are old enough – Yippee! Home School in the Woods offers products that brings hands-on to history; some of their products include timelines, maps, lapbooks, and activity studies. We were blessed with the opportunity to review the Great Empires activity study.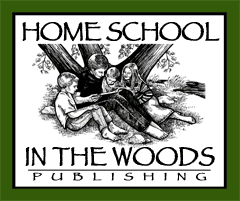 The Great Empires activity study is for children in the elementary grades and is available in a downloadable ($18.95) or CD ($19.95) version. As you go through the Great Empires activity study, you will learn about 14 Great Empires from our world's history. The 14 empires you will encounter are:
Ancient Egypt
Ancient Greece
Ancient Rome
Ancient China
Arab-Muslim Empire
Mongolian Empire
Viking Empire
Spanish Empire
French Empire
English Empire
German Empire
Japanese Empire
Russian Empire
The United States of America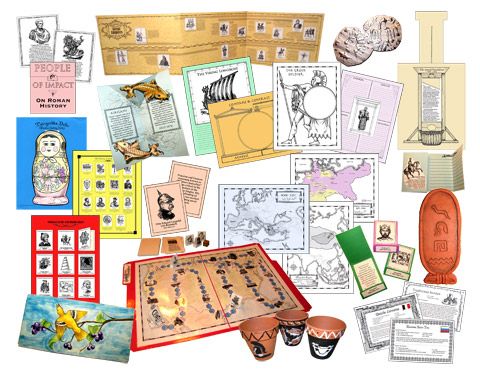 For each empire that you study, you are provided with 2-3 pages of text, a projects/activities page, masters, and instructions for the projects. You will need to supply any materials needed to complete the projects. Each empire's project page includes a mapping activity, two recipes, a website that provides you with links to explore each empire further, 1-3 projects/activities, and a list of additional reading suggestions.
I mainly used this activity study with my 8 and 10-year-old sons, however, I was able to include my 4 and 6-year-old daughters in some of the activities. The study is very adaptable to a wide age range; my preschooler was able to take part in some projects and a junior high student could easier expand and dig deeper into each empire with the suggested internet links and books.
The vendor's website says that each empire's materials can be covered in 1-3 days; we decided to stretch each empire out over about 4-5 days instead. The study is very flexible in that you can pick and choose how in depth and how many activities you would like to cover for each empire.
For the first day of each empire we studied, I read the text pages aloud and then we did the mapping activity together. I was a little worried that the text was going to be difficult for my kids to comprehend, but they enjoyed the readings very much, asked lots of questions throughout, and didn't get that glazed over or lost in space look at all. It was easy to read, very informative, and not over my kids' heads.
The next day of our study would be a project day, or two days, depending on how many projects we did for that empire. Here are some of the projects that are included in the study:
Make a Cartouche
Design a Greek Shield
Paint Greek Pottery
Create a Fresco
Make Viking Coins
Matryoshka Dolls
Make a Paper Guillotine
Greek Shields
Greek Pottery
Making a Cartouche
The next day we would search around the internet with the provided links, and throughout the entire week, the boys would be reading a book or two from the suggested books list.
The activity guide also comes with a mini timeline that you can print out on cardstock and 14 timeline figures, one for each empire.
I think the Great Empires activity study is an excellent history resource. It can be used as a supplement or a stand alone study. It also provides a lot of flexibility and can easily be adapted to suit a wide range of ages, which is always a plus for us as a large family. You can study the empires in any order you wish, making it easy to add any empire's activities to an existing curriculum. We will continue to use this product as we encounter each of these empires during our history studies, and we look forward to adding more Home School in the Woods products to our curriculum line up.

Don't miss a homeschool review!
Have My Joy-Filled Life delivered right to your inbox!
Enter your email address:
Delivered by
FeedBurner


©2012-2013 My Joy-Filled Life. All rights reserved. All text, photographs, artwork, and other content may not be reproduced or transmitted in any form without the written consent of the author. http://myjoyfilledlife.com