Fall marks the beginning of a three month long baking season. There are so many wonderful treats and desserts to be made between now and Christmas – apple crisp, pumpkin pie, fresh rolls, cookies, and candies – that it can be difficult to be disciplined about watching our waistline. I have a love/hate relationship with this time of year – I love to bake and eat, but I hate the extra pounds it can add.
So, to start this baking season off on a good note, here are some healthy autumn desserts that will hopefully keep the guilt, and pounds, at bay.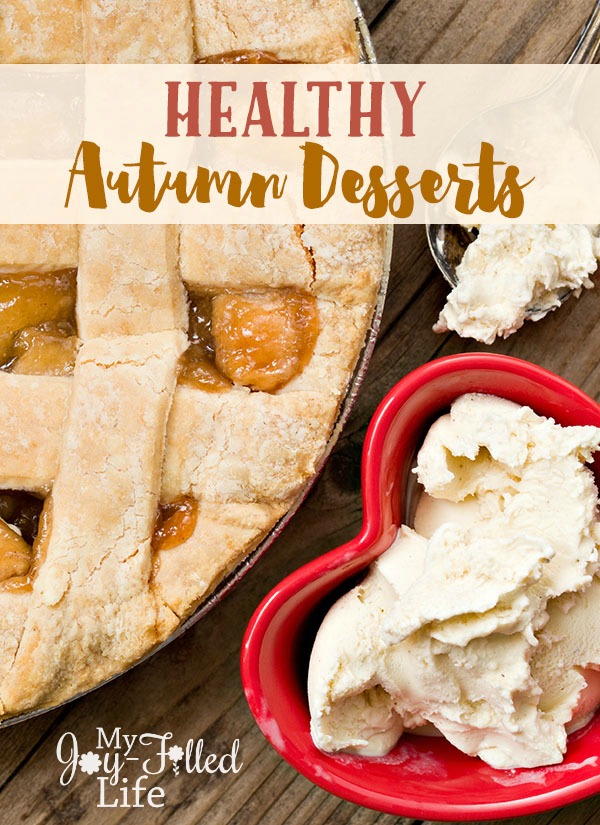 Healthy Autumn Desserts
Pumpkin Pie Bars with Brown Sugar Oatmeal Crust | Ambitious Kitchen
With all of the tastes of fall wrapped into this pan of bars, this dessert is gluten free and dairy free. (It also can be easily edited to become vegan!) There's always ample layers of textures and flavors – crunchy, creamy, pumpkin, cinnamon, oatmeal – it's perfection!
Raw Caramel Apples | Forks and Beans
Kids will love making their own caramel apples; made with a sticky homemade caramel sauce. This would make a great hands-on afternoon activity!
Pumpkin Chocolate Chip Bread | Well Plated by Erin
Mixed with chocolate chips, this moist pumpkin bread makes a great addition to any autumn meal. Image: Well Plated by Erin
Vegan Pumpkin Muffins | Show Me the Yummy
Enjoy these muffins any time of day with a swirl of textures; creamy and crunchy. They're also vegan, and naturally sweetened with a homemade maple glaze.
Pumpkin Pie Dip | Swanky Recipes
Pumpkin pie dip can be expensive, but it doesn't have to be! Make your own creamy fall dip with this recipe.
Apple Dessert Pizza with Caramel Cheese Cream Frosting | Sally's Baking Addiction
There are five aspects of this apple dessert pizza. Each layer is made from scratch, but if you're in a bit of a time-crunch, a few of the layers can be substitued for store-bought alternatives, making this recipe diverse and convenient! Image: Sally's Baking Addiction
Apple Roses Dessert | Munchkin Time
Made with real apples, this apple dessert has beautiful swirls, and an overall simple recipe!
Apple Butter Snickerdoodles | Crazy for Crust
Bring an autumn twist to snickerdoodles with this apple butter flavor! This recipe would also probably work with your own favorite snickerdoodle recipe.
Ginger Spiced Bean Cookies | Healthy Helper Blog
There's no gluten in these ginger spiced bean cookies. They're high in protein, and no added sugar as an additional bonus.
Cranberry Pumpkin Whole Wheat Muffins | Amy's Healthy Baking
Perfectly proportioned for each person, these cranberry muffins are filled with spices and fresh fruits. Despite being completely homemade, there's also no butter, refined flour or sugar in them! Image: Amy's Healthy Baking
Peanut Butter Pudding Cookies | Inside Bru Crew Life
Soft and chewy, these pudding cookies have a bit of crunch with banana chips, making a great healthy dessert.
Apple Crisp | Tastes Better From Scratch
Thinly sliced apples with a crumbly cinnamon topping make up this delicious baked apple crisp! It also leaves your house smelling absolutely incredible!
Healthy Pumpkin Soft Serve | Make the Best of Everything
This soft serve ice cream only has five ingredients, making a quick dessert! This recipe is meant for only 1-2 people, but can easily be doubled or tripled as you need it! There's no added sugar and it's made with a blender, which means no churning and no ice cream machine is needed.
Pumpkin Oatmeal Chocolate Chip Bars | Yellow Bliss Road
Pumpkin and chocolate collide with these oatmeal cookies. They're thick, and great for satisfying a sweet tooth. Image: Yellow Bliss Road
Healthy Spiced Pumpkin Yogurt Granola Parfait | Cookin' Canuck
Parfait has multiple layers of sweet and crunchy. These recipe combines pumpkin with Greek yogurt for a light dessert full of texture and warm spices!
Apple Pie Bites | The Blond Cook
Made with crescent rolls (that work well with everything), these apple pie bites are gooey, and texturized with pecans. They're ready to dive into within less than a half hour!
Upside Down Pear and Coconut Cake | Cake Whiz
For a warm pear recipe if you're growing tired of apples, try this upside down cake! Plus, it has a homemade caramel topping.
Healthy Pumpkin Cookie Dough (For One) | The Big Man's World
Paleo, gluten-free, and vegan – this pumpkin cookie dough only has five ingredients. You can make this recipe in bulk for a big family as well! Image: The Big Man's World
Pumpkin Pie Nicecream| Feasting on Fruit
This naturally sweetened treat will hit the spot even on chilly fall afternoons. Try your favorite fall dessert as a cold, scoopable treat. You'll love it!
Maple Almond Butter Cookies| Texanerin Baking
These cookies are not only healthy, but easy to make. They are vegan, gluten-free, dairy-free, and ready in ten minutes.
Pumpkin Gingerbread Blondies| The Man's World
All you need is four ingredients and 15 minutes to whip up this tasty treat. These flourless blondies are vegan, paleo, and gluten-free goodness!
Apple Poutine| My Joy-Filled Life
Also known as apple nachos, this is a quick healthy treat that even the kids will love. Image: My Joy-Filled Life