I have a super cute board book to share with you today from Tommy Nelson. It's called God Bless You & Good Night by Hannah C. Hall. And you have the opportunity to win your own copy at the end of the review!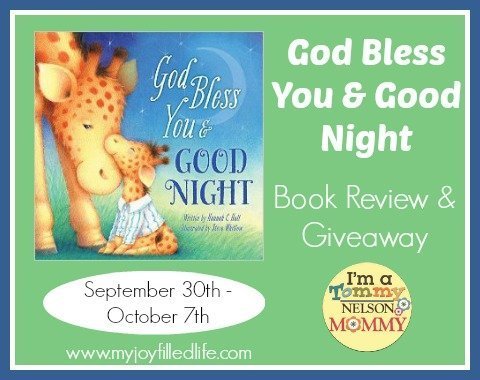 God Bless You and Good Night is an adorable bedtime storybook that takes you and your child(ren) through the bedtime routines of 10 different animal families. Your children, age infant through age five, will love the sweet illustrations and enjoy the catchy rhyming story as you read this story as part of your bedtime routine.
As soon as we received this book in the mail, we read it that very night before we tucked our littlest kids in bed. I read the book aloud as my 6-year-old, 4 year-old, 2-year-old twins, 9-month-old, and my husband all eagerly listened to the story. My kids love animals and enjoyed seeing a new animal family as we turned each page of the book. We especially liked the meerkat family because it had 7 little meerkat children, and we have 7 children in our family. My husband was a little put off by the book because in each animal family, it showed the mother getting the child(ren) ready for bed and the father was no where in sight! I don't blame him for feeling this way and I wish they would have included the dad in the bedtime routines as well.
Overall, this is a very cute book to add to your bedtime story lineup, especially if your kids love animals like mine!
Here is a little peek inside the book at some of the adorable animal families you will meet:
Would you like to win your own copy of God Bless You and Good Night? Use the Rafflecopter form below to enter:
Residents of the U.S. only. Selected winner will have 48 hours to respond to my email to claim their prize or another winner will be drawn. Giveaway ends 10/7 at 11:59pm EST.