Get the undated and editable version here!
My two oldest girls were all about the calendar this past year. They are 7 and 9 and they both know the days of the week and months of the year, but several months into 2016 they both got really interested in wanting to know when things were going to happen – things like birthdays, holidays, appointments, sports practices, and vacations. They would count down the days to whatever it was they were looking forward to and cross off each day on their calendar as they went to bed each night.
I would print them out a couple of months at a time of just a plain old calendar I had found in an online search and they would just put it on a clipboard, marking down any special, upcoming events.
This year I decided to make them each their own little calendar (they shared it last year), and make it more appealing to the eye, as well as, bind it together so they could have all the months together in one calendar. And then they can also look back on the year to see what they had done.
And you know that when I make something for my kids, I like to share them with you too! You can grab this printable calendar for free at the end of this post.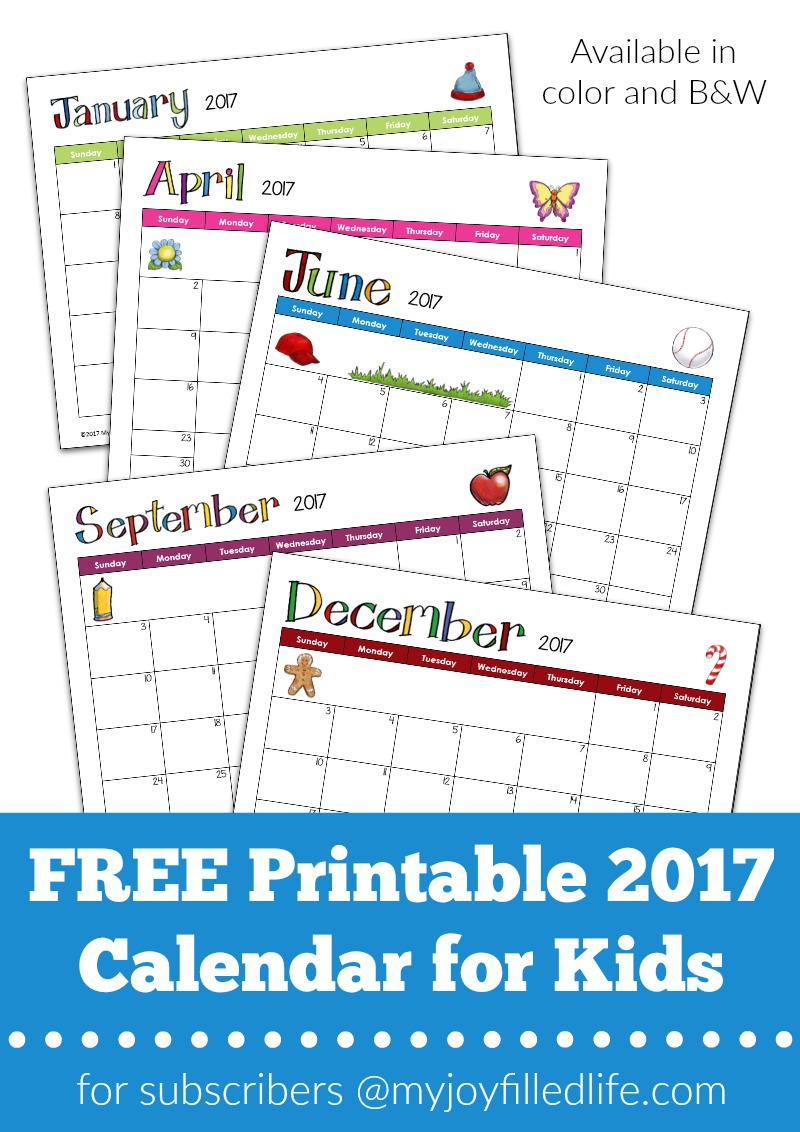 Included in this printable is each month of 2017, available in color and black & white, as I know not everyone has a color printer or wants to spend the extra money to get it printed in color. And also a cover page.
Use the calendar as you see fit for your family. I printed each month out on cardstock to make it a little sturdier for kids and then I used my comb binder to put it together. If you don't have a binding machine, you can simply staple it together.
I didn't include any holidays on the calendar because I'm planning to go through the calendar with the girls to mark down the holidays that we celebrate and observe, as well as, family birthdays. I thought that this would be a good way to help reinforce for them when each holiday is.
I'm offering this calendar FREE to My Joy-Filled Life subscribers. To get yours, simply subscribe below.
As a subscriber to My Joy-Filled Life you will get weekly(ish) updates and occasional information about great freebies, giveaways, and offers. Use the form below to subscribe.
You might also like: