Twenty years ago when Sue Hooley was a young homemaker, she read Getting More Done in Less Time by Donna Otto. Donna's book recommended using a simple daily planner to keep track of duties, appointments and commitments – "It will be your friend for life," she promised.
Sue began her search for a planner that would help her organize her days and duties. But she soon realized that her homemaking days did not fit into neat little time slots. It was frustrating to be rocking the baby at 10:00 when the planner said, "Weed flower bed." So, she started designing her own planner pages so that she could have a flexible plan.
Today, The Homemaker's Friend Daily Planner is a professional version of those homemade pages of years gone by. Through eleven moves, from one child to six, from toddlers to adult children, this basic, flexible planner kept Sue on track while allowing her to change from one stage to the next.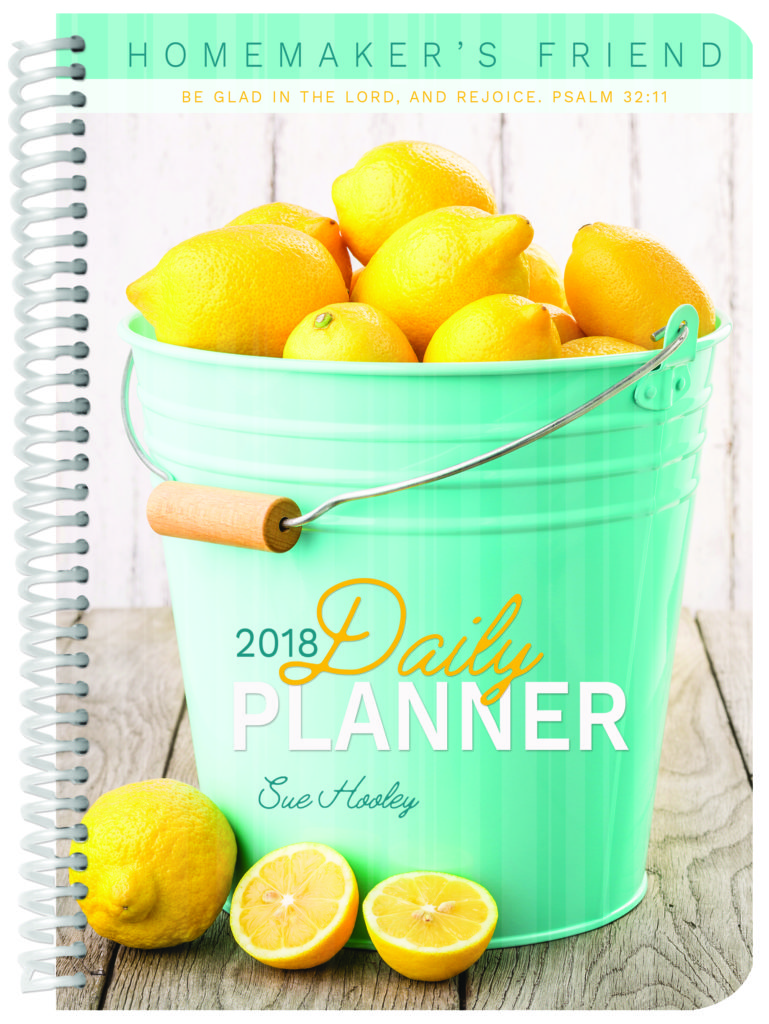 The planner is divided into the following sections –
Weekly Planning
This user-friendly section helps you make the most out of your week and day. The "Task List" gives you a visual of what needs to be done and you can divvy out those duties on specific days. Typically, Sue uses a four-week menu plan, but she still write what is for dinner in the menu block.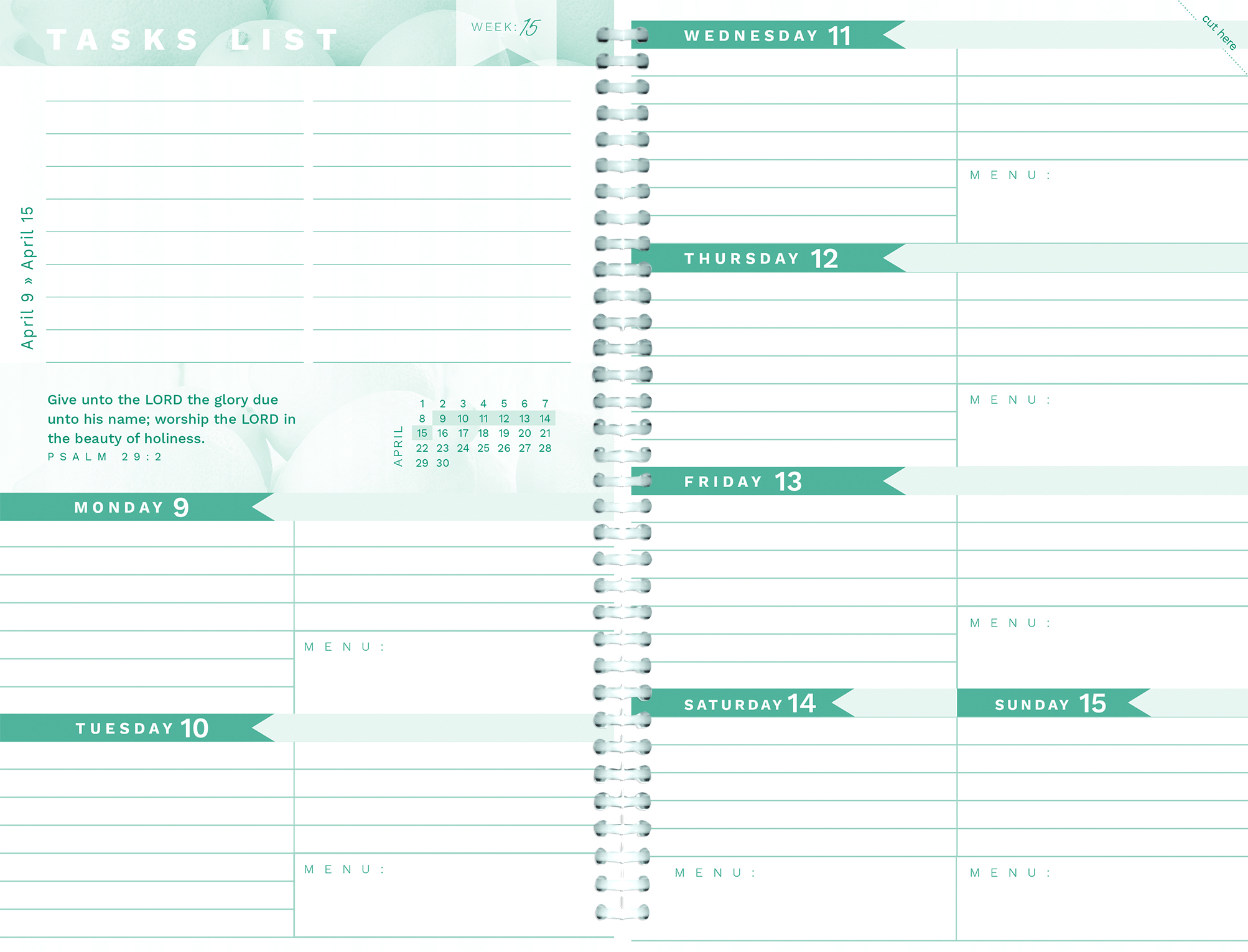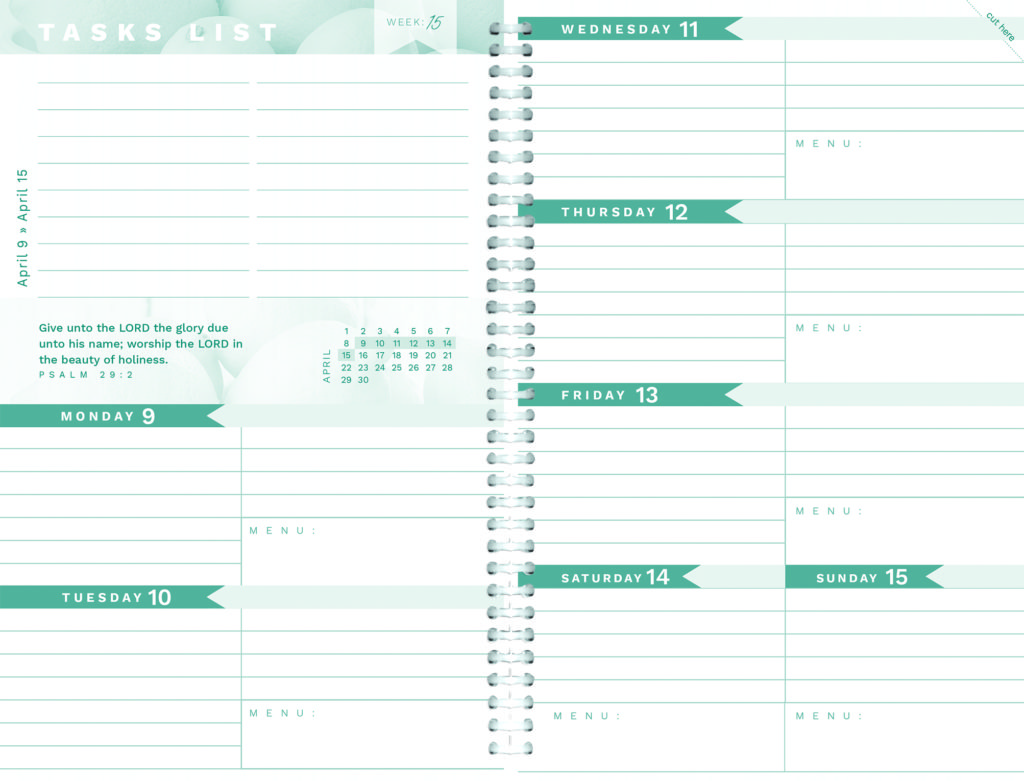 Monthly Calendar
This section gives an overall view of events on the horizon. This helps Sue to be more realistic with weekly planning since she can see at a glance what will be happening over the next few weeks.
Yearly Calendar
This section has a place for basic notations. Now with the 52 untitled sections, you have a place to journal or write prayer requests, birthdays, and quotes.
Tasks List
These pages are untitled to give you the freedom to create monthly, bimonthly, or seasonal lists.
Projects and Events
This section is for occasions that need more space for writing like when planning a baby shower or a family gathering. Again, these pages are untitled for flexibility.
Information
This section can be used for phone numbers and addresses that are needed temporarily, such as an address for a card shower or the information for the eye specialist.
Shopping Lists
These lists are perforated for your convenience. Sue uses the shopping lists several ways – sometimes as a comprehensive shopping list and other times as a central location for items needed for an upcoming event, project, or menu.
Download these FREE Menu Planning Pages!
Click the image below to get them.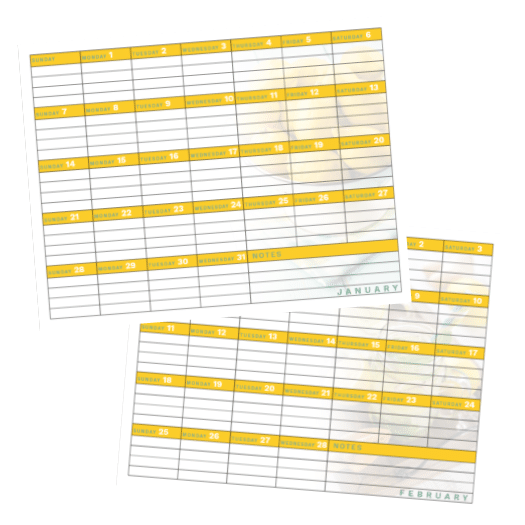 Women juggle dozens of daily tasks, from appointments and commitments to homemaking and perhaps homeschooling. Homemaker's Friend Planner brings organization to your days and your duties.
Use the Rafflecopter form below to enter for your chance to win your very own 2018 Homemaker's Friend Daily Planner – there will be 3 winners! Don't want to wait to win it? Purchase it now and save $2 with coupon code MJFL200.
Enter to win a Homemaker's Friend Planner by filling out the Rafflecopter form below. The giveaway ends November 8th at 11:59pm ET. Winner will be notified by email and will have 48 hours to respond. Please read all the Rafflecopter terms & conditions upon entering.
*Thank you to Homemaker's Depot for sponsoring this post.