Are you in a place where life just seems plain hard? If so I want to encourage you today that you can find happy during life's hard times.
Recently I asked some of my reader friends on Facebook how they found their happy in hard times, I was blown away by the response I got.
We all go through tough times and we all deal with those times differently. I loved the responses from my friends and how they were all different and unique just like each of us.
I want to share some of these ideas with you today hoping that you may be encouraged and inspired to find your happy in a new way. We have to step out of our comfort zone sometimes to find a new perspective of what happy is.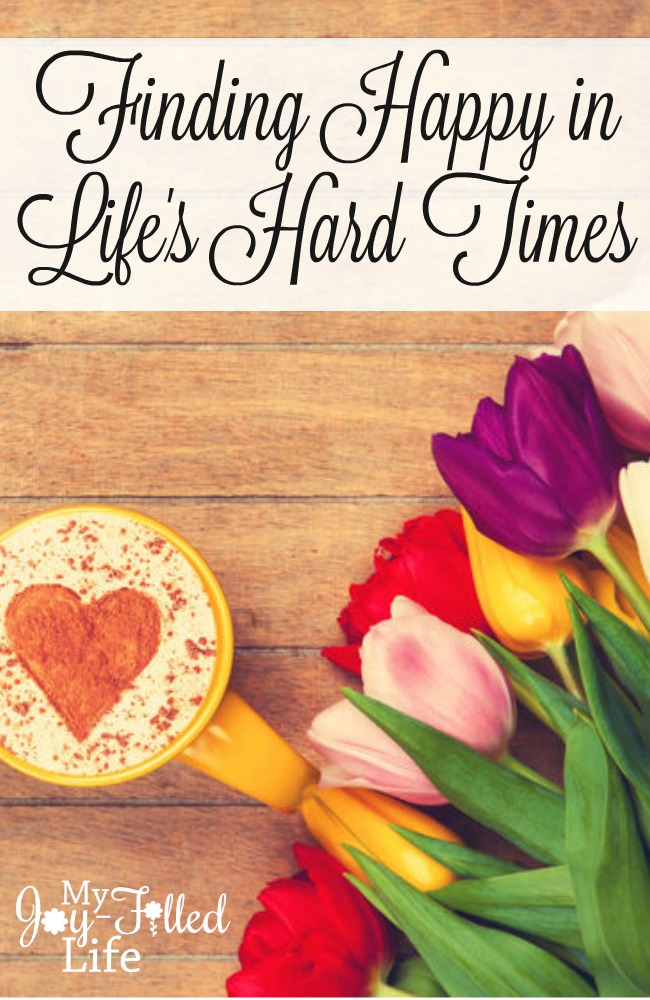 Finding happy in life's hard times:
Amanda Wright Richardson wrote:

I think of my children and either call them or go see the oldest because my health has been a big issue for a while, but as soon as I talk to my girls or get them together I am laughing so hard my side hurts. Its small things like hearing your child laugh that makes me happier than anything.
I agree nothing can make me happier than side-splitting laughing parties with my kids. Play a game, or have a dance party and just laugh with your family.
Megan Harner-Thompson wrote:

Being around family always reminds me of what is truly important when life gets hard. Focusing on my 3 girls and truly living in the moment makes all the difference.
Living in the moment is huge! Even the bible reminds us in Matthew 6:34 God will help you deal with whatever hard things come up when the time comes. (MSG) So don't sulk or wait around, live in the moment.
Cat Elsby wrote:

Making a cup of tea and taking some time to breathe and put my feet up. Sometimes we forget to think of ourselves and it's nice to just be in the moment.
Taking a quiet moment alone is essential. Catching your breath and relaxing in this fast paced world is vital. When we feel out of control taking the time to unwind can help us refocus.
Desiree St Clair Glass wrote:

I pray, read/study Scripture, and journal at least one sweet treat from God's Word every morning. I praise, even when I don't feel like it, I continue to go to church and journal at least five things I'm grateful for at the end of every day. I talk to friends, I walk, I walk with friends and talk. And I keep my eyes open for God signs.
Journaling and talking with friends can help us release some of the worry we may have. Sometimes we just need to get all the crazy out of our heads by writing it down, or spending time with a close friend that you can talk freely with. You will find that if you can release it in some way it may not be as big as it once was.
Jessica Smith wrote:

By doing something for others, I find I always re-center and gain my happy. I love taking my kids with me to do it. Sometimes it is by visiting the nursing home, buying groceries for a family in need, or just picking up trash. Serving others is the key I have found.
I love this idea. When we take the focus off ourselves we tend to be able to refocus our own lives. It can really put things in perspective when you see the struggles of others. Think of some ways you and your family can serve others.
Brandy Ourthriftyhome wrote:

Of course I think that going to the Bible for scripture is the number 1 go to when life is proving to be difficult but another way for me to deal with hard times is getting away and enjoying one of God's most beautiful treasures he left us. Because I am a water baby, I find great comfort in enjoying the water; snorkeling, swimming, searching for shells, or just simply hanging out on the water in a boat. There is a peace about that, that helps me reflect and cope.
Getting outside and seeing God's big world and all of its beauty can really do good for one's soul. There is nothing like the quiet alone time with God in His creation that He made for us to enjoy.
To read the rest of these responses you can find them here.
What are some ways you find happy in hard times? I pray that some of these ideas will spark your soul and inspire you to find happy in a new way.
---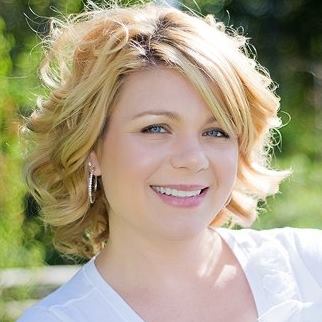 Alana Satterly is a mom of four kids that keep her on her toes, a follower of Christ, a wife of 18 years, and a lover of peppermint mocha coffee. Her husband is a cancer survivor, and that journey started her love of writing on her blog I have a Future and a Hope where she encourages women to find hope in their faith, home, finances, parenting, and more. Connect with her on Facebook, Twitter, Pinterest, and Instagram.