Today was the first day of our new homeschool year. I didn't have high expectations going into the new year because I didn't want to set myself up for failure and disappointment.
Unfortunately there were tears on our first day. And they were all. mine. There were no tears shed by the children (except for the regular baby tears, toddler whining, and crying resulting from sibling arguments), only school-related tears from mom.
Homeschooling 7 children (or any number of children) can be overwhelming. I was not prepared for how my 3 littlest kids (two 3 year olds and a 20 month old) would be so clingy, rambunctious, and LOUD. If I had a nickel for every time I said, "Shhhhhh" today………
Add to that the fact that a majority of our homeschool supplies and books are packed away pending a move out of state at an unforeseen date, I felt defeated right out of the gate. I thought I had kept out the things we would need, but I realized that wasn't the case when I couldn't find the Math-U-See blocks that I needed for two of my kids; then the read aloud I needed for history; and I had forgotten to print out a lapbook we needed and I couldn't find the file on my computer.
Talk about unprepared!
Even though I didn't have high hopes for the day, I went into my office and cried, and I prayed for the Lord to give me strength and to help me see that these are trivial things. These are little things in the grand scheme of it all. I realized that I needed to be thankful that I have the opportunity to homeschool my kids and that all of the kids were enjoying the day and that their cooperation and diligence had improved from our previous year.
Then I remembered these scripture cards I made for moms, especially for time like these, and I read a couple of them and meditated on them throughout the rest of the day.
In honor of the new school year, I'm bringing back this subscriber FREEBIE that I offered back in May – 20 Printable Scripture Cards with scriptures to help encourage you in the day-to-day of motherhood and homeschooling. You can get a set for yourself by subscribing.

I pray these cards bless you and encourage you.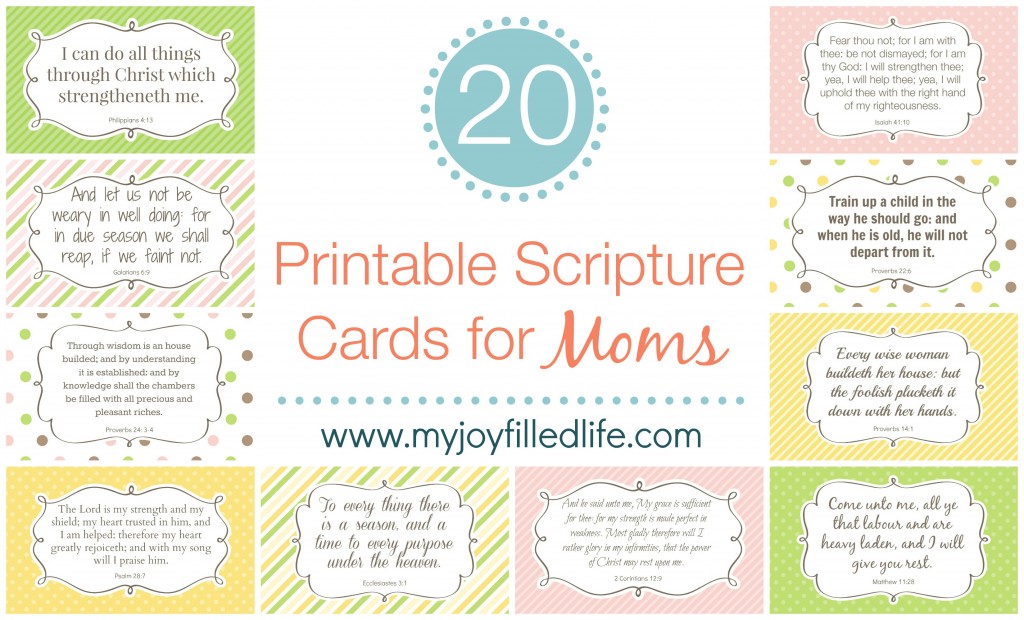 This FREE offer is now over, but you can purchase the cards by clicking the button below.