Thank you to Union Gospel Press for sending us the Illuminate Bible Series to try in our home in exchange for an honest review.   All opinions are 100% my own.
Bible study is important and doing it together as a family is super important to me.
But as a mom a many, it's not always easy to find Bible study resources that cater to a wide age range of children. 
I have been on the lookout for some time now for a resource that would help my husband and I have a productive Bible time with our kids; something that will help include ALL the kids and ALL the age/grade levels.
I was recently contacted by Union Gospel Press, a company that publishes a Bible study resource called Illuminate Bible Series that sounded like it could be what I have been looking for.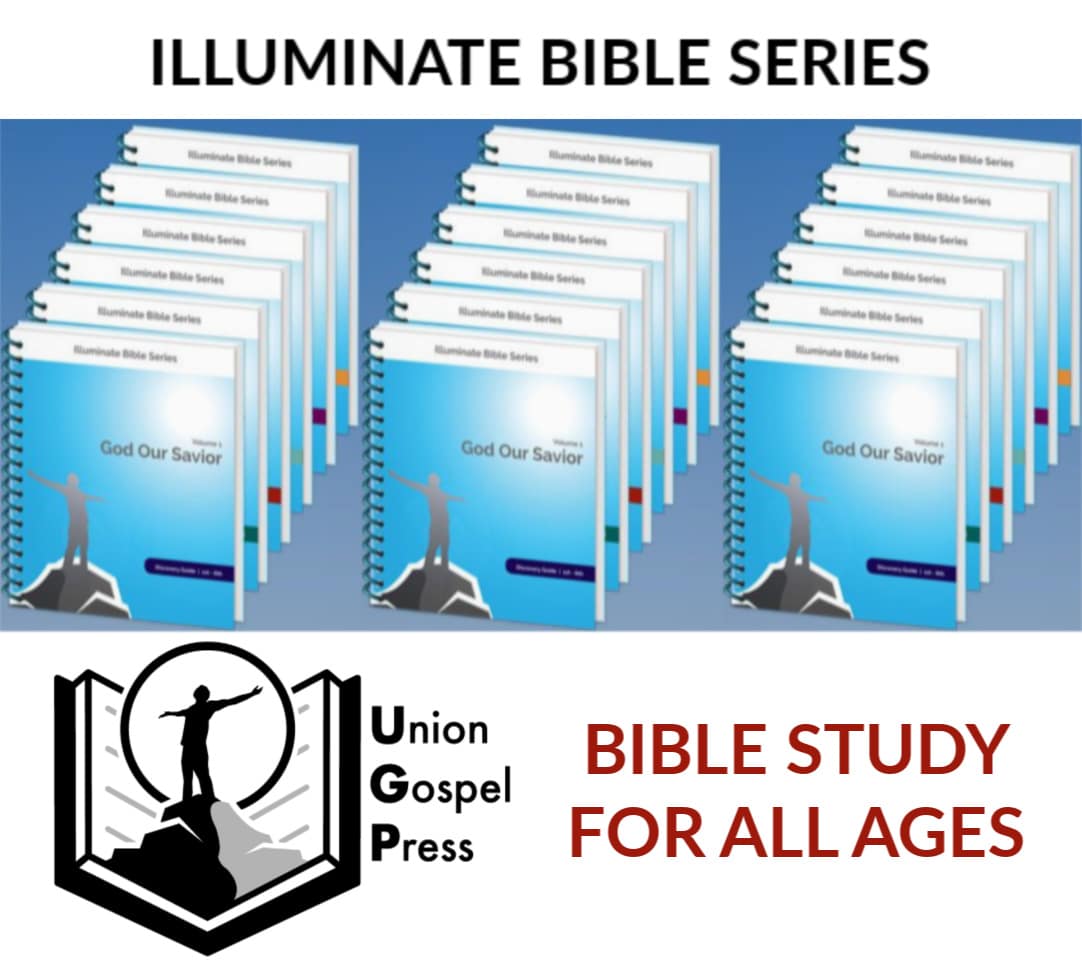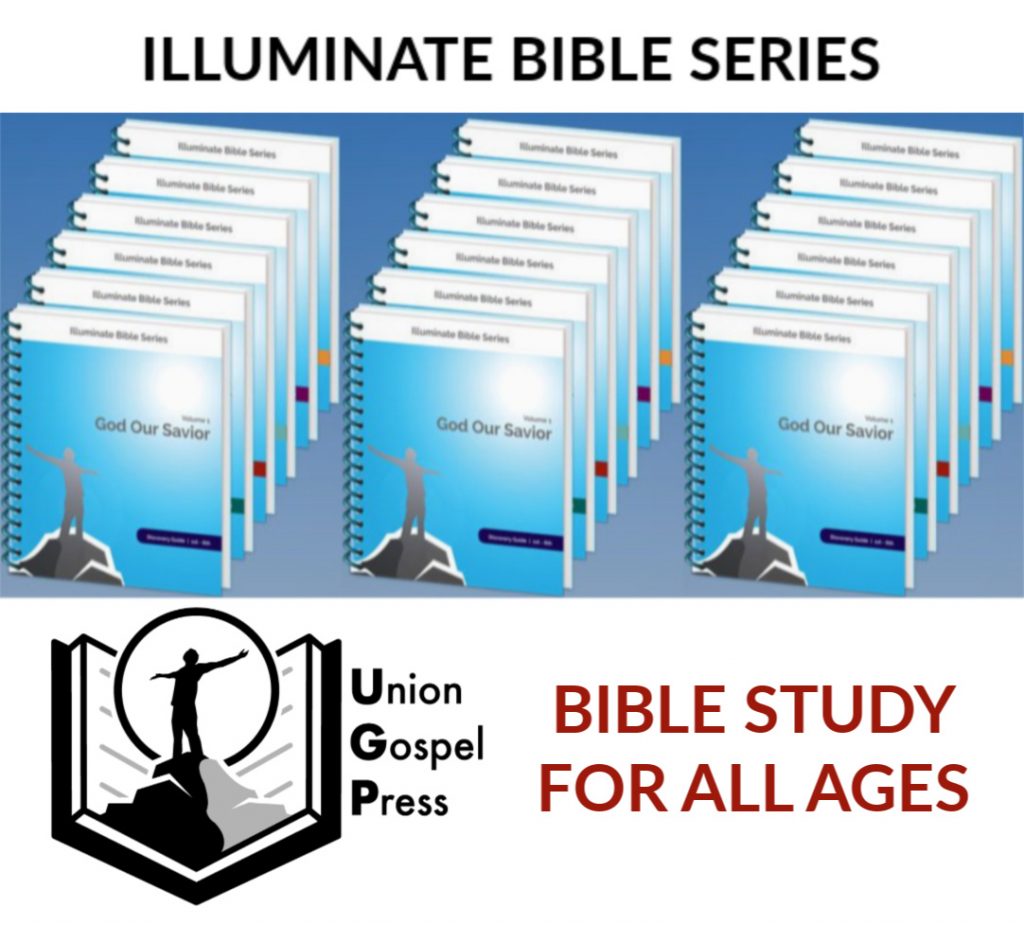 The Illuminate Bible Series by Union Gospel Press is a Biblically-based study that leaves the fluff at the door for kids and teenagers, created by Union Gospel Press. 
The goal of this study is to teach about God's grace and glory and to help give your children a better understanding of scripture and theology. They are compatible with all versions of the Bible but use the New King James Version when quoting Scripture. 
The study is split into two categories: 1st-6th graders (Discovery Guide), and 7th-12th graders (Student Guide). Workbooks are also available but are an optional resource. 
Six Years Of Study
Union Gospel Press has 12 books planned in this series for each age group! These annual study guides are designed to "help students see the grace and glory of our God and give them a deep understanding of Scripture."
God our Savior (1st-6th) and God's Glory: The Reason for Everything (7th-12th) was released in February 2020. The following guides as follows are in the works: 
Guides for 1st -6th grade:
Our Faithful God
Our God of Mercy and Grace
Jesus our Profit, Priest, and King
Jesus God's Son
Our Victorious God
Guides for 7th -12th grade:
The Glory of Christ: The Center of History
Faith: The Response to God's Glory
God's Glory as He Builds His Kingdom
Living for God's Glory
The Triumph of God's Glory
Discovery Guide
The study book for 1st-6th graders is called God Our Savior Discovery Guide. The book is made up of 8 units, with weekly lesson plans, spread over 32 weeks (2 semesters). The cost of this guide is $85, and only one is needed per family. 
Each week starts with a Bible story, and the following 4 days are made up of other small passages and scripture that cultivate and grow the understanding of the main story, as well as other biblical truths. 
The lessons also include a daily Bible reading, a daily Christ Focus (showing how it all points to Jesus), a daily Prayer Point guide, a weekly Bible memory verse, questions/activities (inside the workbook), review, and practical application. 
Although workbooks are not required, they are available for $45 and are broken down for grades 1st-2nd, 3rd-4th, and 5th-6th.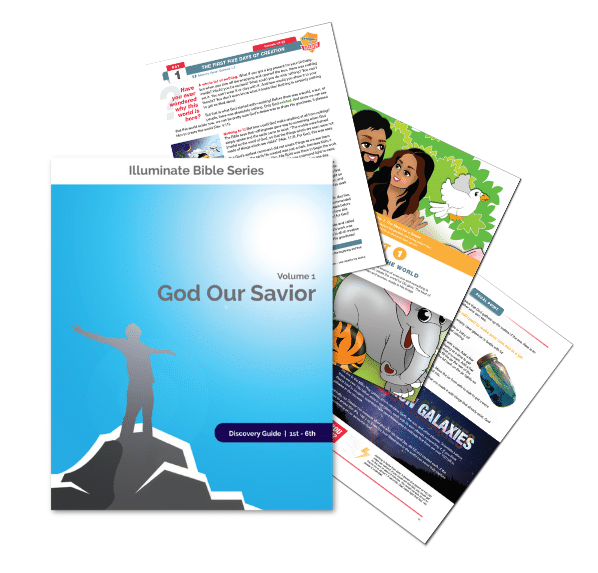 Student Guide
The study book for 7th-12th graders is called God's Glory: The Reasoning For Everything Student Guide. This book is laid out the same as the elementary book, 8 units over 32 weeks (2 semesters). However, this is a more in-depth study and costs $90.
The sections are outlined with an introduction, story elements, Bible and History, context connections, Christ-centered doctrine, worldview (how Biblical truths have impacted the world around us), and application. The workbook for 7th-12th grade costs $45 and is optional as well.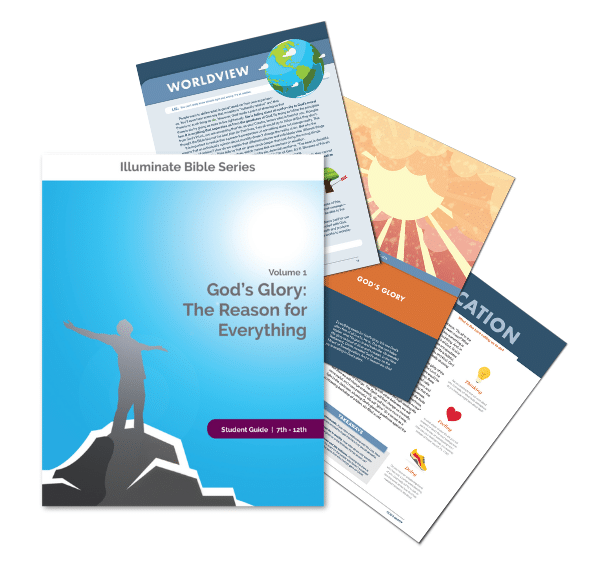 How To Use Each Guide
Union Gospel Press estimates that these lessons would only take about 30 minutes to do each day. There would be 10-15 minutes for reading the passages, and another 10-15 for workbooks. These guides are meant to be understandable to the younger groups, but still challenging for the older groups.
The Discovery Guide can be broken down into 5 days:
Discover (Day 1): Read Bible verse
Investigate (Day 2): Context and Background of Bible verse
Connect (Day 3): Connect Bible verse with other Scriptures and Biblical concepts
Focus (Day 4): Discussion on doctrinal truth related to Bible verse
Illuminate (Day 5): Review and put the truths to practice
Each week also supply's extra material related to each week such as Focal Point (archaeology, geography, etc), Callout boxes (ideas to consider), Important vocabulary words, and a weekly memory verse. 
The Student Guide can also be broken down into 5 days:
Story Elements (Day 1): Read Bible verse
Context (Day 2): Context and Background of Bible verse
Connections (Day 3): Connect Bible verse with other Scriptures and Biblical concepts
Doctrine (Day 4): Discussion on doctrinal truth related to Bible verse
Application (Day 5): Review and put the truths to practice
Each week also includes enrichment to help with equipping your children with applying truths such as The Bible & History to understand Biblical history's impact on the world, Christ Focus scriptures, and Worldview. 
My Thoughts
I think that the Illuminate Bible Series is a good option for families.  I like how they group large age ranges together to go through the Bible study together.  I also really liked how they connected the featured Bible story with Biblical concepts and scriptures throughout the entire Bible.
I especially appreciated the application and worldview sections in the Discovery Guide and how in both guides, Union Gospel Press makes it a point to always point back to Jesus.
The activities and projects in the Discovery Guide were a favorite part of the study for both me and the kids.  I'm always a fan of adding activities, crafts, and projects to our Bible time (and story time) to help cement the story and concepts for the kids.  Some of the activities in the Discovery Guide are make an aquarium in a bottle, make an editable ark, make a marshmallow Tower of Babel, basket weaving, and a lot more fun projects.
Unfortunately this Bible study resource is expensive.  I don't feel it is an affordable option for families that are on a budget.  The guides alone are $85-$90, and then if you add the workbooks on, it might just be completely out of the realm of possibilities for many families.  I know it would be for our large family.
Thankfully you can cut the cost by forgoing the workbooks, which are optional anyway, and based on my experience are not needed, especially in the younger level.  We actually decided to ditch the workbooks after several weeks.  I had kids in 3 different level workbooks that went along with the Discovery Guide and that got hard to manage.  My desire was for us to do this together as a family and using multiple levels of workbooks made that difficult.  The guidebook alone was sufficient in content and discussion prompts that we preferred just to use that instead of adding in the workbooks.
I also felt that the Student Guide (grades 7-12) is enough without the workbooks if you are wanting to go through the study with your teen or you simply went your teen to go through it on their own and perhaps keep a journal as they go instead of answering questions in the workbook.
The workbooks just made it feel more like 'school,' and I try to avoid that when it comes to our Bible studies and activities.  School is something that my kids HAVE to do.  I want their Bible time and time with the Lord to be something they WANT to do and look forward to (although I wish they felt the same about school, but not many kids do, right?).  There were also times that I felt the questions in the workbook were a little advanced for the age it was recommended for.
Something I was really bummed about with this Bible study series is that the younger and older levels don't line up.  Perhaps once they finish all of the levels you could pick and choose ones that might go together, but really I have no idea.  The Discovery and Student guides that are currently available are studying different things.  They aren't studying the same part of the Bible.  I have kids all over the board when it comes to grade levels and ages and I really wanted something that we ALL could do together, but since the guides are broken down into levels for grades 1st-6th and 7th-12th, that didn't work out for our family.  If all of your kids are in one of the levels though it could work out as a whole family study for you.
Overall I feel that this is a solid, scripturally based Bible study resource.  The guides alone make for a good resource for families to study the Bible together.  For the older level it also is a great option for independent study if you are looking for a Bible course for your teen. 
Be sure to check out the free samples on the Union Gospel Press website.  You can try out a whole unit so you can see if this would be a good fit for your family.