When you have children between the ages of about one and eight years old, a band aid fixes anything.
This is my Kid tested and Mother approved theory.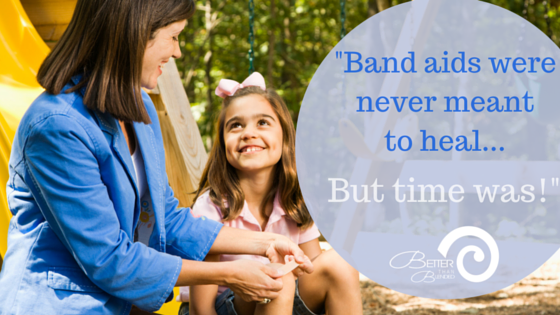 In the mind of children, it can fix things that don't exist, or things that are age old like past bumps, bruises, or scars.
If they prick a finger, they want a band aid. If they bump heads with their sibling, they want a band aid. If they fall and see invisible blood through the tiny scar left barely on the surface of their skin, you guessed it, they want a band aid.
An old scar, a new scar, a red scar, a blue scar, no matter what, in their minds a band aid could fix it.
Recently I found myself at the grocery store, and as I walked down the aisle, the cartoon band aids caught my attention. Toy Story, Minnie Mouse, Veggie Tales, so many characters, "They will love these!" I thought to myself. I was so tempted to purchase them as I stood in the aisle for about five minutes, until reality set in. I had to remind myself that although they are more attractive, they aren't any more effective. All they will do is increase the desire for my children to use them 'by any means necessary'. So I came to my senses and decided that the plain old tan ones would do just fine.
So what lead me to the band aids in the first place?
It's what I'd like to 'The Band Aid Effect.'
The thought that if I cover up the wound, my kids will forget that it is there and not become completely hysterical about it. It's a quick fix for a visible wound.
But it never heals the wound.
The truth is that band aids ONLY help in the healing process. The actual definition of a band aid is "a makeshift, limited,or temporary aid or solution that does not satisfy the basic or long-range need". Band aids never heal, they only aid. They aid in preventing excessive blood flow from wounded areas, they aid in calming hysterical children after painful or embarrassing falls, they aid in protecting the area from further damage. They were never created to heal, only to aid in the process of healing.
The "Band Aid Effect" has a cross over effect and before we know it we have applied it to other areas of life, such as blending our family. One of the many challenges of a blended family is embracing the healing process that needs to take place for individuals within the family. Wounds may have been caused by each other, outside sources and past hurts. Blended families are usually full of individuals that have been using "The Band Aid Effect" to survive, hoping for a quick healing to their long lasting wounds. Eventually, we must face the reality that covering things up doesn't heal them. This is key to fixing the brokenness within ourselves, our spouses and our children.
No matter how much research you do on how to heal a wound, you will find one common theme, healing takes TIME. Although everyone's process may be different, everyone must go through a time period (whether short or long) to heal. For your blended family this time frame may seem different than that of another blended family or a traditional family. But keep in mind that it is a time period that is specific to your needs, your family's needs and your healing experience. In some cases band aids can assist with healing, but in others they can prevent the wound from healing properly. We must be prayerful and purposeful in knowing what our blended family needs to heal.
Remember, GOD is the creator of time. Seek His wisdom on healing and he will direct you on how to care for your wounds.
---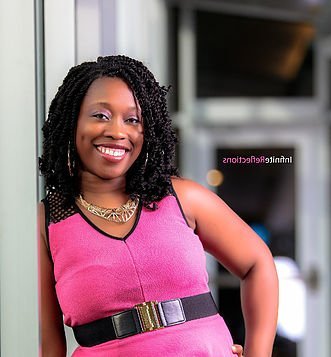 Rachel G. Scott is a wife, mother, mentor, author and teacher. She is a graduate of Kansas State University and The University of Mary. She has written an e-Booklet titled, "7 Ways to Deal with Conflict in Co-Parenting". Rachel will be releasing her latest book on April 1, 2016 which she co wrote with her husband Willie Scott entitled "Better Than Blended Workbook" Rachel is deeply devoted to serving God and raising her children in a Godly home where they experience authenticity and embrace their imperfections. She is dedicated to encouraging blended families and working alongside her husband to accomplish this goal.