Raise your hand if you're a grilling enthusiast (*waves hand excitedly*). That's right. My name is Jessy and I love grilled food. My husband and I are those people who even grill in the winter. And around here it's winter way more than it's summer. So when mother nature finally provides nice weather you can bet that we are getting in as much grilling as possible. Since I'm always looking for new recipes that feature ingredients that I already have on hand, you can imagine my excitement when the idea struck for this Apple Juice Marinated Pork Tenderloin.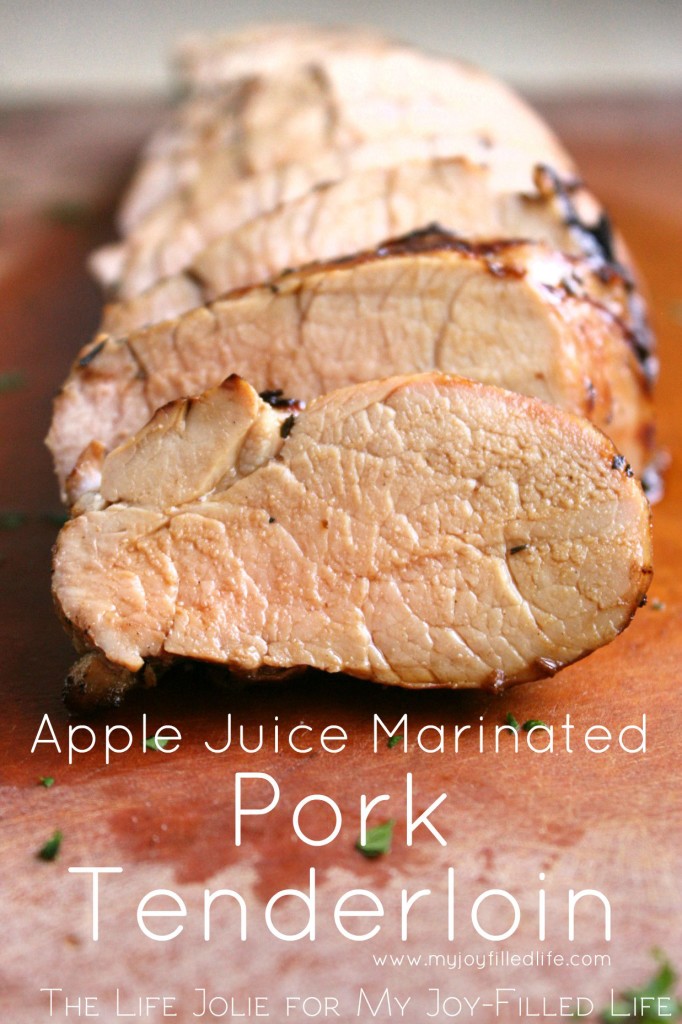 Many of the moms that I know often have apple juice in their refrigerator. While I'm personally more of a cranberry juice kind of gal, my husband favors apple juice and I sometimes find myself picking some up on my weekly grocery trip.
So I got to thinking, apples and pork go very well together. These guys are buddies and with good reason. While I still have about a month before the local apples get amazing, I just could not get my mind off of apples and pork. And that's when I remembered that big, old jug of apple juice hanging out on my refrigerator door.
The great thing about this recipe is that your prep work involves minimal chopping and throwing things into a bag to marinate before it's time to cook it. I suspect this would freeze quite well. It took me five measly minutes to prep this and it also grilled up in no time. Give it a shot!
Apple Juice Pork Tenderloin
2015-08-04 21:06:23
This Apple Juice Marinated Pork Tenderloin is such a great meal for busy nights! It's super quick and easy to put together (in advance!) and tastes delicious.
Ingredients
Pork tenderloin
1 medium onion, cut into chunks
3 cloves of garlic, peeled and smashed
1/4 cup of olive oil
2 cups of apple juice
1 tsp. of Herbes de Provence
1 Tbsp. of salt
1/2 tsp. of black pepper
Cooking spray
Instructions
Combine the first eight ingredients in advance and refrigerate until it's time to cook. Your pork can marinate for at least an hour and as long as overnight.
When you're ready to cook spray your cool grill with cooking spray.
Preheat your grill to between medium and medium high heat.
Cook for 12-14 minutes on each side or until it reaches an internal temperature of 145 degrees.
Remove it the pork from the heat and let it rest covered in foil for 10 minutes to redistribute the juices.
Enjoy!
Notes
Cooking times may vary based on the grill and it's respective hot spots so keep a close eye on it.
If you want to get the nice grill marks, rotate your a bit half way through each side.
My Joy-Filled Life https://www.myjoyfilledlife.com/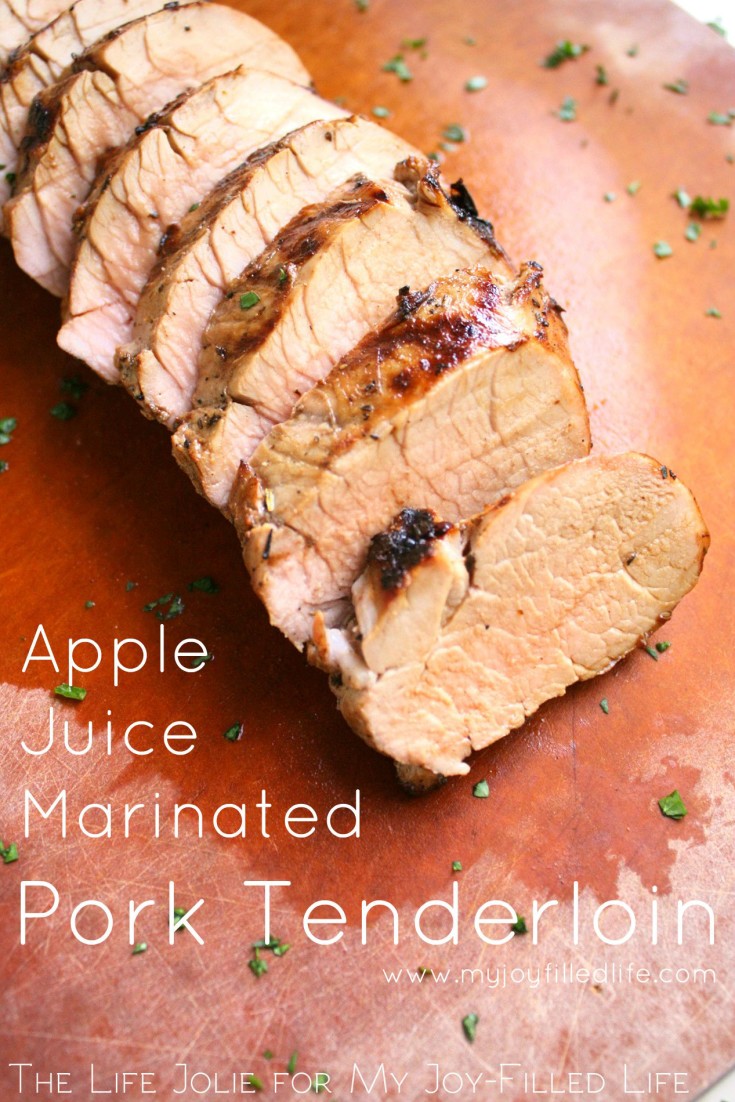 Here's where you can get all of my recipes.
The following two tabs change content below.
Jessy is the founder of
The Life Jolie, which celebrates all of the pretty things in life and also contributes recipes at Organized Home Organized School. She has the privilege of being a wife to her husband Justin, and a mother to her daughter Alice and dog Macie. Jessy is a financial professional by day. She has a passion for cooking (eating!), home design, crafts, theater, singing, travel, laughing, and learning. She aims to spread positivity and build a community through The Life Jolie and to continue growing, learning and evolving as a person.