Are you a blogger who will be using Apologia for your science or Bible curriculum for the 2013-2014 school year?
If you are, I'd love for you to link up your blog below. That way we all can connect with other Apologia users, see how others are using this curriculum, gain ideas, advice and tips for projects and experiments, or to simply find fellowship.
In your link-up, please include the book(s) you will be using (Astronomy, Botany, Zoo1, etc.), and your name or blog title.
After you link up, please share the blog roll button in your sidebar. This will allow other Apologia users to find the list, as well as provide you an easy way to navigate back to the list.
Please note: your blog does not have to be exclusively about Apologia science; this list is for anyone using the Apologia curriculum for science. However, if you label your Apologia related posts as such, it will be easier for others to find the appropriate posts.


New this year……..
As well as a place to link up your main blog page, you can now link up specific posts that you write related to the Apologia curriculum.
Share experiments, projects, activities, or anything related to your experience using the Apologia curriculum.
Just scroll past the main blog link up to find this new link up option.
Please try and be specific with your post description (what book, lesson, project…)
This link-up will be open ALL year!
(posts from previous years are welcome)
Happy Exploring!!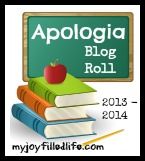 For the 2012-2013 Apologia Blog Roll, click

here.
Link up your blog here:

Link up your specific blog posts here: