Do you have a large family? It gets a little panicky when you realize how expensive large families can be around the holidays. As our family has grown over the years, I've learned how to handle Christmas in a much different way than I used to. If you have a large family or plan to some day, I hope these tips help you to stress less and afford more for your large family over the holidays.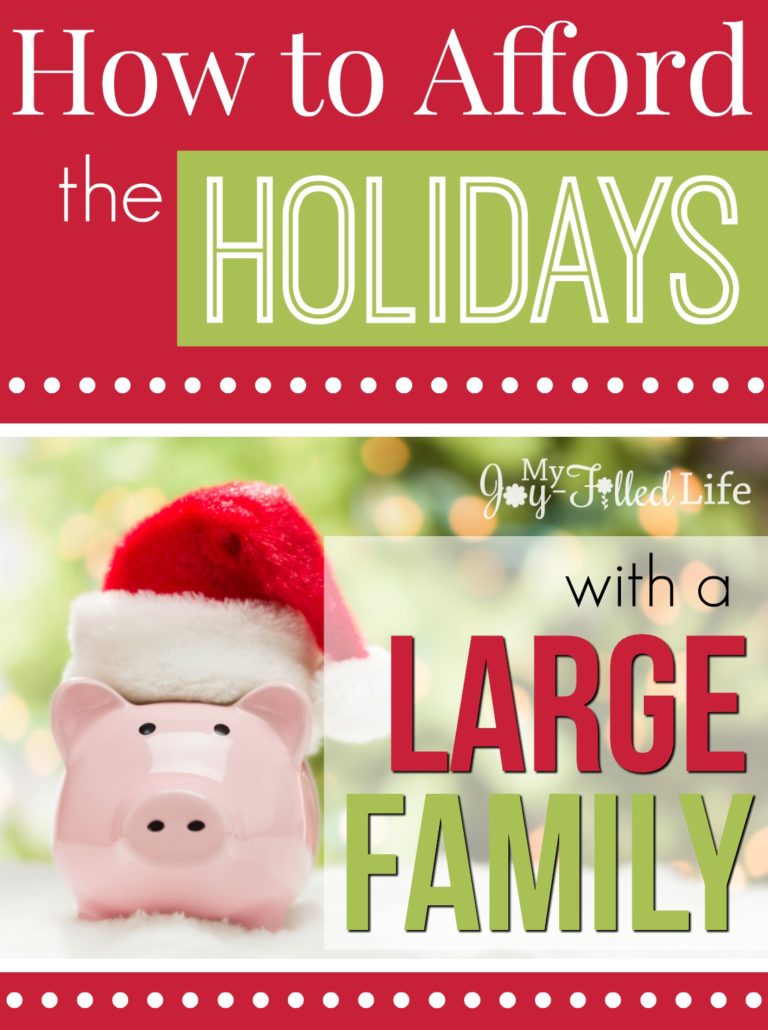 Keep it simple
One of the best things for affording a large family over the holidays is to keep it simple. Setting a budget for each person is the way to go. If you keep buying until your wallet is empty, you will have a bigger problem than before. For example: Each person in the family has a $100 limit.
Cash is a great option
This is especially true as your kids get older. Simply giving money and letting them pick out what they want is sometimes the best gift of all. Let's say you give them a $50 bill, they get to pick out their own gift with this money. It takes the stress off you and the child can choose to do with it what they want.
Choose a large gift for everyone
I love this idea and think that it can go so far when you're trying to afford a large family over the holidays. Instead of choosing gifts for everyone, choose a destination, experience, or large gift. A destination could be an indoor water park or it could be a vacation for after the holidays. Whatever you choose, remember that this will be an experience that the whole family gets to do together.
Go with one large gift
Sometimes it can seem as though going cheap with small gifts is the way to go, but what about one large gift per person? When you buy one large gift, you aren't spending $5 here and $10 there, you are investing in one large gift. While this may feel odd, the outcome might be better for the whole family.
Have Secret Santas
We have eight children and most of them (obviously the baby doesn't) like to give gifts to each other. While I love their desire to give to one another, it can get a little costly because the little kids don't have their own money to spend, so mom and dad are the ones actually buying the gifts. So now we have the kids draw a name of one of their siblings and they only have to give a gift to that one person; and we put a maximum value on the gift so that it's fair and we don't spend too much. Plus this makes it fun trying to guess who is your Secret Santa.
Now that I've given you some ideas for what to buy during the holidays for a big family, here are some ideas for staying on track financially.
Set a realistic budget and stick to it
This may seem to be an obvious bit of advice, but it is so easy to see something that makes you think, "Oh, this would be perfect for *insert child's name here!*" Then you realize that one child has more gifts than another or that you spent more money on a different one, so the "evening out" of gifts begins. Before you know it, you've gone way over budget and you realize you'll be paying for Christmas for months afterward. Use a planning sheet to keep track of your spending.
Don't use debit or credit cards
It's really easy to whip out the plastic when your shopping list is long, but try your best to reign in that desire. For years and years, our family didn't even have credit cards. If you've followed the advice in the previous tip, you should be able to manage your gift shopping using cash you've saved. Having a visual of what you have to spend often helps you make more frugal and wise decisions when it comes time to decide on what to buy.
Start saving early
At the start of the new year, start setting aside a set amount of money on a weekly basis. Treat it as if it's a monthly bill you have to pay so that when Christmas rolls around you won't be stressing about how you'll pay for gift. If you could save $20 a week, that would give you roughly $1000 by Christmas.
Let your kids learn along the way
I get that some of you are buying for your kids. However, if you are buying for other family members, let your kids in on the process. Let them know how you budget and how you decide what gift to buy each person.
Affording a large family over the holidays comes down to being wise about how your money is spent and getting creative. It also comes down to keeping it simple and realizing you can't buy your children the moon and stars. Someday they'll thank you for being wise about money and teaching them the ropes along the way.
Save
Save