We've been homeschooling for 11 years now and have pretty much just used one grammar curriculum. The grammar curriculum I have used with my four oldest kids is very thorough and very effective. It is also very dry, and very boring, for both student and teacher.
With my four youngest kids coming up through the ranks, I am considering trying a different approach with them. My seven year old twins will be ready for grammar instruction this fall and I have decided that we are going to try out Grammar Galaxy. My twin boys do very well with subjects that use living books and stories to convey the concepts and learning material. We recently switched our science curriculum to one that is in story form and we are having so much fun and the boys are learning a lot along the way (I'm sure you are wondering what we are using; we are studying science with the Sassafrass Twins from Elemental Science). We are also going to switch our math this fall to Math Lessons for a Living Education which teaches math through engaging, real-life stories and practical application. So I'm excited to add Grammar Galaxy to our array of curriculua that is more of a living-books approach.
If this is the first time you've heard of Grammar Galaxy or perhaps you've heard of it but don't know much about it, here is some great info from their website:
Grammar Galaxy uses the power of story to teach language arts concepts. Instead of your student forgetting dry material and having to learn the same concepts year after year, your student will master the material. Your student will learn the why of language arts and will grow in confidence. The children in the story struggle with spelling, public speaking, procrastination, and more. In other words, they're relatable. Short lessons with lots of white space and verbal or hands-on activities will motivate your students like no traditional workbook can. Grammar Galaxy teaches skills like reading fluency and handwriting speed that aren't found in most language arts curricula. And it's fun!
Grammar Galaxy is geared towards grades 1-6. There are currently three levels available, with a total of five levels once the entire series is complete.
The first level is Nebula. It is for kids in grades 1st or 2nd or those who are reading short words.
Protostar is the second level and is for third graders or those who have completed Nebula or its equivalent.
Yellow Star is the third level and is for fourth graders or those who have completed Protostar or its equivalent.
The final two levels will be Red Star and Blue Star for fifth and sixth graders.
If you aren't sure which level would be best for your child, you can always use the free placement tests or check out some free samples to help you choose the best level for your child.
Grammar Galaxy is so flexible and there are so many things that make this an ideal choice for homeschoolers –
Can be used with multiple ages
Charlotte Mason friendly
Digital version available – make as many copies for your family as you need, plus less books to keep track of
Short lessons
Child can use independently once they are reading fluently
Can be used as a complete curriculum or as a supplement
Works well for special needs students
Secular (although the author is a Christian, so the content will not infringe on Christian beliefs)
Each of the current levels of Grammar Galaxy include a textbook and mission manual (workbook) and are available in print or digital versions. You can purchase the textbook and mission manual separately or as a bundled set. The bundled sets are $60 for the print version and $50 for the digital version.
The third level, Yellow Star, was just released and you can get it at 20% off during it's launch! No coupon code needed; the Yellow Star prices in the store reflect the 20% discount. All bundles that include Yellow Star are also 20% off, so you could bundle it with other levels and get the discount. This special pricing is only good through April 8th, 2018.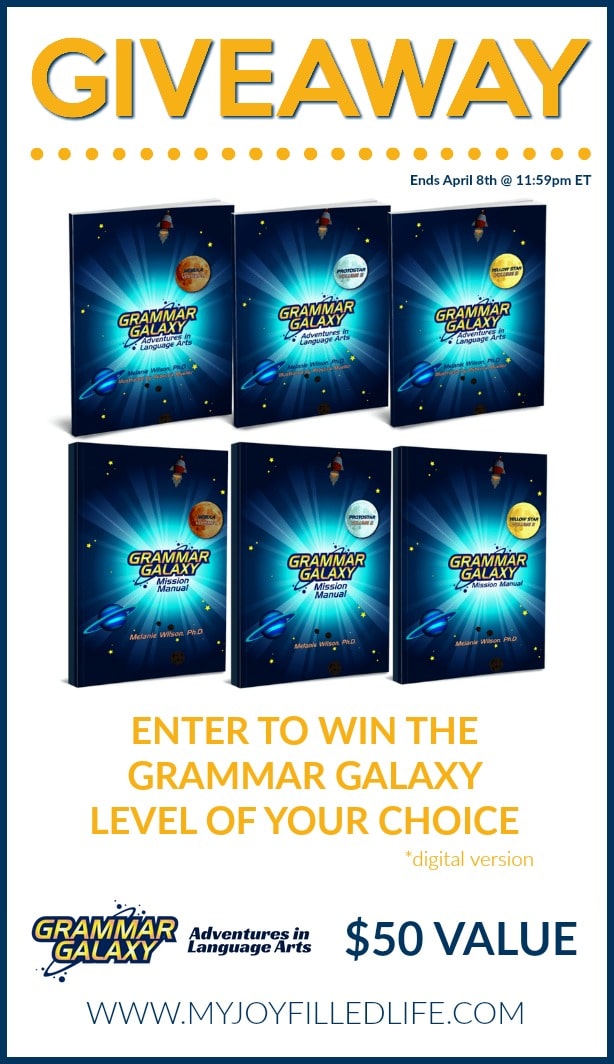 GIVEAWAY TIME!
Melanie, the author and creator of Grammar Galaxy is giving away a level of choice (digital version) to one of my readers!! How exciting!
If you'd like a chance to win, just use the Rafflecopter form below to enter –
a Rafflecopter giveaway

The giveaway ends April 8, 2018 at 11:59pm ET. Winner will be notified by email and will have 48 hours to respond. Please read all the Rafflecopter terms & conditions upon entering.