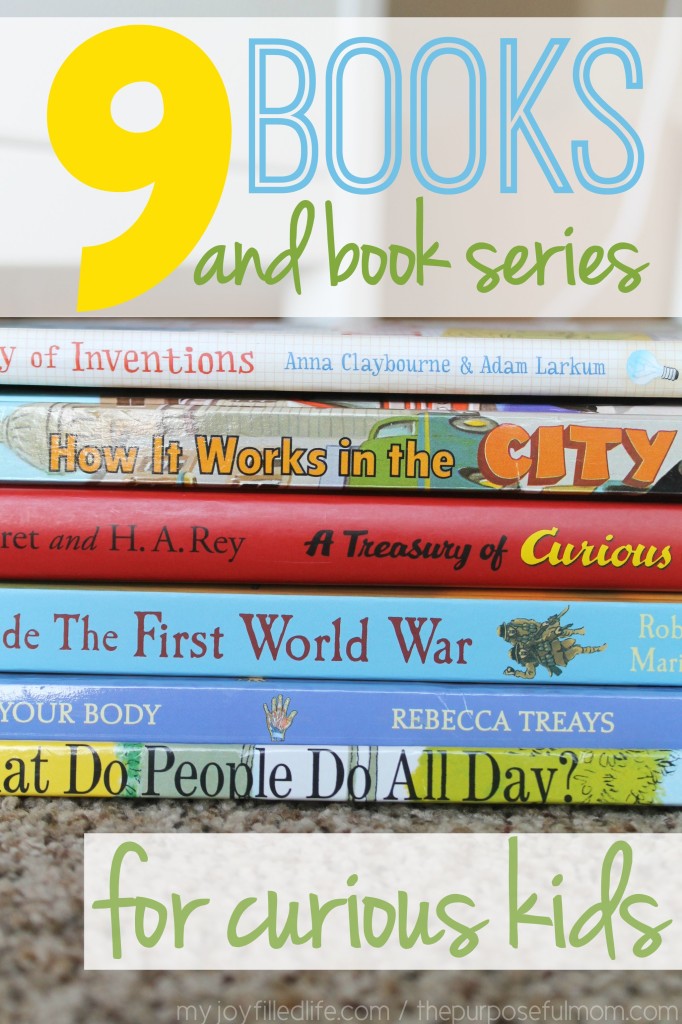 Most children are curious…..about everything! I love hearing questions from my three kids (the 1 year old just does a lot of observing at this point) and being able to answer them, but sometimes I don't know the details of my answer or some days I need a few quiet moments where they can learn about things independently!
I wanted to share with you 9 books and book series that can help satisfy a child's curious spirit! Our children have loved these books throughout the years (one on this list we will soon be trying!) and so I hope your kids enjoy learning through them too!
9 Books and Book Series for Curious Kids
The Curious Kid's Science Book – I'm looking forward to receiving this book when it's released on September 8, 2015, because it promises to have over 100 hands-on, creative experiments and activities that promote STEM skills and understanding.
Ask Max Series by Roger Howerton – in What's So Hot about the Sun and What's So Striking About Lightening, "Max" answers kids' questions about the solar system and weather systems. A very interesting book series that my older kids both loved, I wish they would make more! Great for ages 4 and up.
77 Fairly Safe Science Activities for Illustrating Bible Lessons – We don't have this book presently, but it is a mix between a devotional and activity book that helps kids understand creation and the laws of nature, while "teaching Bible principles and affirming God's power as Creator", says the explanation.
The Story of Inventions – My 9 year old son LOVED getting this book for his birthday (he's reading it in the photo above)! Beautiful illustrations throughout the pages detail inventions from hundreds of years ago until present day.
Walt Disney "How It Works" Series – How It Works in the City, Country and Home are three books I discovered at our local small-town library when my son was 4. He was immediately taken by the intricate details and stories about how farm machinery, plumbing, and other everyday processes work together to create intricate systems that help society function better. There are some very dated references in the books (they were written in the 70s after all–wall-mounted phones with dials, anyone?) but it's still relevant and interesting information. Just keep a close eye on any appliances that can be deconstructed after your child reads this book 😉
See Inside: The First World War – Another favorite of our older children, this books has over 75 flaps to lift (on pages with great illustrations) so you can find out more information about the historical aspects of this early 20th century war. There are several "See Inside" books in this series available from Usborne (Understanding Your Body is another super interesting book for curious kids too, without being inappropriate).
What Do People Do All Day? by Richard Scarry – Some of the best books I ever read as a child were those written by Richard Scarry. In this book, he takes you through the fictional Busytown with Huckle Cat, Lowly Worm and other friends as they discover how houses are built, how the mail system works and what happens when you get your tonsils removed. I love the story format of this book because it is relateable while also teaching your child about jobs and life experiences. There are many books by this same author that we own and love too, including Cars and Trucks and Things that Go and Splish Splash Sounds —find them here!
The Answers Book for Kids by Ken Ham – Answers in Genesis has put out an entire series of Biblically based "answers books" for children wondering about Biblical accounts such as creation, the galaxy, Noah's Ark and the like. Great for Christian parents who want to help their children understand Biblical truths and how a Christian worldview works together with the things we see and experience every day. We as parents could even learn something ourselves! There are several books in this series as well.
Curious George Series by H.A. Rey – I would be remiss if I didn't mention the funny and slightly ridiculous Curious George books for the youngest "curious" kids in your family. Many of these stories provide teachable moments for kids ages 3 and up while also helping them see what happens when you (go to the zoo, pull a lever on a dump truck, pour water on a campfire, etc). We've even used these books to go along with real life events, such as reading "Curious George Flies a Kite" before going out on a windy day to put up our own kites!
What are your favorite recommendations for books for curious kids?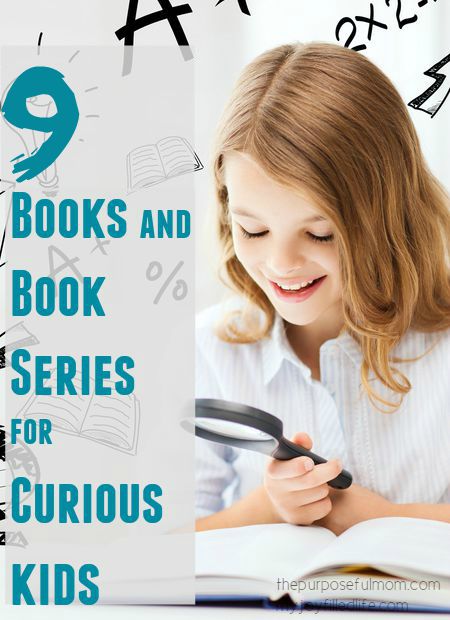 The following two tabs change content below.
Jenn blogs at
The Purposeful Mom
. Her goal is to encourage women to trust in the grace of God and embrace motherhood purposefully, without the pressure to be perfect.
Latest posts by Jennifer T (see all)