I love to travel. It's so much fun going to new places. What is not always fun is the process of getting there, especially if you have 5 children in tow. This year we are traveling the farthest we have ever gone with all of them. All the way from Florida to Virginia. In order for this trip to be as pleasant as possible and not feel too tortuous, I have planned and prepped as much as I can. Thinking back to previous trips; what went wrong, what could have gone better, I have tried to compile a list of tips that I hope will help you if you are traveling with your family for the holidays.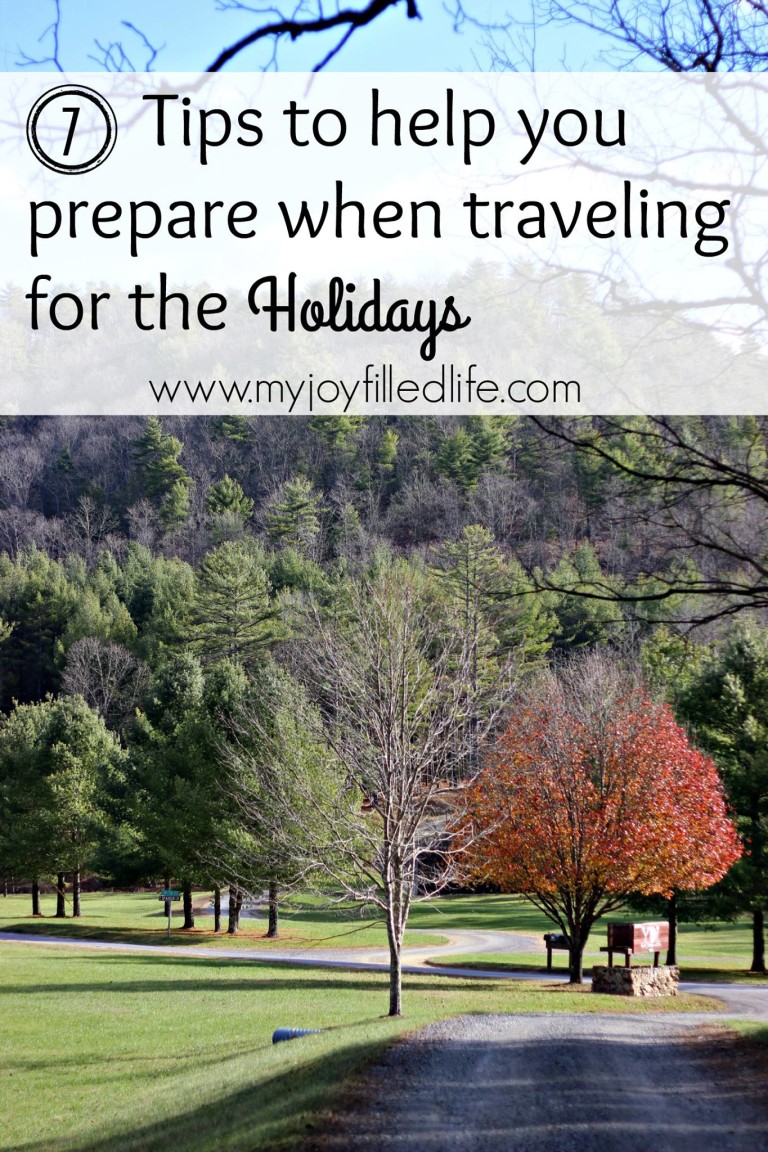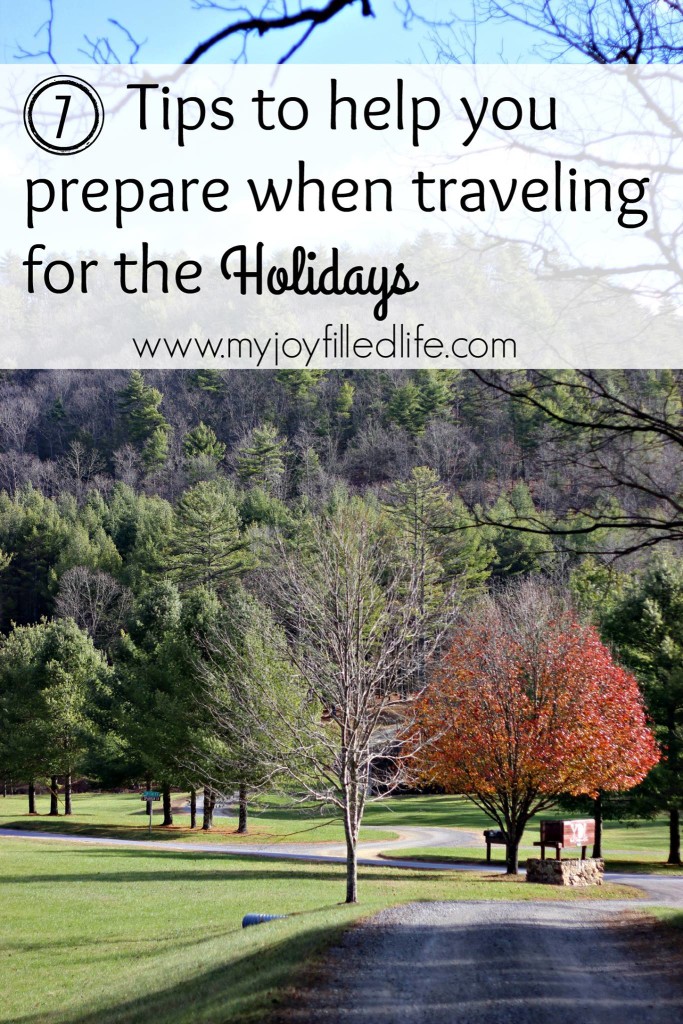 1. Make a List
There is nothing worse than getting somewhere and realizing you forgot something very important to your survival. I often think I will be able to hold everything in my head but I have learned from experience that my brain doesn't have the capacity I think it does. Especially when I am thinking of a million things all at the same time. I have come to love making lists. They are lifesavers for my memory. I can't tell you how many times I thought I packed everything only to go to my list and realize I had forgotten something. So if you are planning your trip and have a lot of people to pack for, make a list!
2. Leave Early
Nobody wants to be stuck in traffic. In order for us for us to get where we are going we have to get on a big interstate that is always filled with commuters. To avoid the morning rush this year, we are going to be leaving at 3am. I know that sounds crazy early and if it were just me, I would not even think of it, but my husband will be driving so he can handle it. Of course you do not have to leave that early, but since we have a 15 hour trip it's the only way we can get to our destination at a reasonable hour without having to stop at a hotel. Not only will you be avoiding most traffic by leaving early but all the kids will (hopefully) be asleep. This is the real kicker.
When I was young, my family traveled a lot and we always left early in the morning. More like 6am, but it was always exciting for us even though we were so tired.
3. Bring Food
My kids are tend to be starving 20 minutes after I have fed them a huge meal. I am sure they must have tape worms. Having snacks on hand will literally still their stomach rumblings and grumblings. I usually bring a little cooler bag. Here are some things I like to pack it with:
*sandwiches/turkey and cheese/ peanut butter and jelly
*cheese cubes
*hard boiled eggs
*apple pieces
*carrots
*hummus/pita
I also like to make snack bars ahead of time. Here are some of my favorite recipes:
Chocolate Peanut Butter Granola Bars
Some other great snacks to bring are:
Gummies
Snack Mixes
Trail Mix
Pretzels
Not only will bringing your own snacks and food save you money but it will save your stomachs also. No doubt we will still stop and get fast food but eating fast food is not ideal, especially when you are sitting in a car all day. I would much rather have some healthy options.
4. Take a Garbage Can
Eating food in the car is never pretty. I have cleaned too many melted gummies and crushed crackers to know this all too well. Our van has been turned into to the dumping grounds for many a lost fry and spilled drink. Having a little garbage can in the car has helped to contain all the mess. It could be a paper bag or a small plastic bin. Another helpful tool that I am sure every mother has in her bag is wet wipes. When things get sticky and messy, they get the job done. I hate going into public restrooms but it has to be done. Most of these restrooms have hand dryers which hardly dry your hands and take forever so I have taken matters into my own hands and bring my own hand towel. They are also great when you want to wash your face or brush your teeth and need to dry up.
5. Get Vehicle Maintenanced and Cleaned
Before you make the inevitable mess in your car from traveling it's better to start out with a clean car. I had my boys vacuum and clean out our van and I am so glad we will be starting our trip with a clean car. Along with cleaning the car I got an oil change and my husband got our tires checked out. We ended up needing new back tires so I am glad we checked.
6.Take Seasonal Clothing
Traveling from Florida to Virginia in the beginning of winter is quite a drastic change. Our Floridian blood has been thinned by the hot and humid weather we experience here most days. Although it does get cold here in Florida it is for a very limited time. As I write we have had all time records hight for November. It's still in the 80's!! So I have had great trepidation venturing into the unknown temperatures of 20's and 30's. Thankfully we have had some winter clothes stored away in the garage. We still were in need of some warmer clothes so I visited the thrift store and was happy to find a lot of what we needed. Our stores carry winter clothes but nothing near what we will need if we happen to encounter snow. Which we are hoping we do since the kids have never seen snow. On the way there we are planning on stopping at Wal-Mart which should have a better selection than ours here. If you are traveling into a different climate make sure to be prepared and bring the appropriate clothing.
6. Take Entertainment
This might be the most important tip of all. I am hoping and praying that my children will do a lot of sleeping and looking out the window but I am too realistic to know that this will only last for a short while. My kids love to draw so we usually bring crayons, coloring books, papers and pencils. Animal books are always keep them occupied for a bit also. After our last trip which was 10 hours things got a bit hairy in the back seats so this time I decided we needed to bring in reinforcements. I was going to buy a DVD player but a friend offered to lend me hers. Here is the one we borrowed.
The kids and I also love listening to Audio books in the car. It's amazing how quiet they get when they are all listening intently. Here are a few I purchased before our trip. I tried to find some that were also centered around Thanksgiving and Christmas.
We are so excited to get to our destination but I hope because of a little preparation before hand, our journey will be fun and memorable as well. I think the best part of going somewhere is looking forward to it. It's always great getting away and sometimes even better coming home. Along with all the physical and mental work of getting ready I have also been praying that God would protect us and bless our time. I hope and pray that if you are getting ready to go away on vacation or for the holidays you would have a memorable and pleasant trip as well and maybe feel a little more prepared as you head out on the road.
Here are some other great tips and ideas when traveling:
3 Tips to help you return to your normal routine after vacation
Vacationing with a large family
Must do attractions and must see places in all 50 states
10 Easy ways to redeem car time
The following two tabs change content below.
Rebekah is living out her dreams as wife to her best friend and homeschooling mama to 5 crazy, beautiful little ones. She loves to encourage and empathize with other women and moms as she shares her heart, faith, joy and struggles on her blog
faithful with the little
. In the midst of meeting all the needs for her ever needy family you can find her running, thrifting, crafting, taking pictures, baking, writing and finding ways to be efficient and organized in her 2 bedroom home. Most of all she loves snuggling with her children and watching them play, create and learn. She lives in sunny Florida on a little farm in the city consisting of children, chickens, bees, gardens and lizards.