"I can't do it mom. It's too hard. I'm so tired. I feel sick. I don't need to do that. How about we do this instead? No, you didn't say that. But, but, but"…etc…etc…etc…
Does this sound familiar? If so, you are not alone.
All my children have been so eager to start learning when they started Kindergarten. They were always the ones initiating learning and asking me to teach them. I was ecstatic that they wanted to learn and that they enjoyed it. I was over the moon. But as they grew older I started coming across opposition from them. Negotiating, stalling, excuses, crying, whining and downright refusal to do schoolwork.
I was becoming frazzled and worn out from the constant fighting. I was lashing out in anger. My chest was filling up with anxiety and we were not getting anything done! I wanted to give up. I knew that was not the answer though.What was I supposed to do???
I am by no means an authority on parenting and homeschooling. I am pretty much preaching to myself here, but through the years these are some things that God has shown me through this process: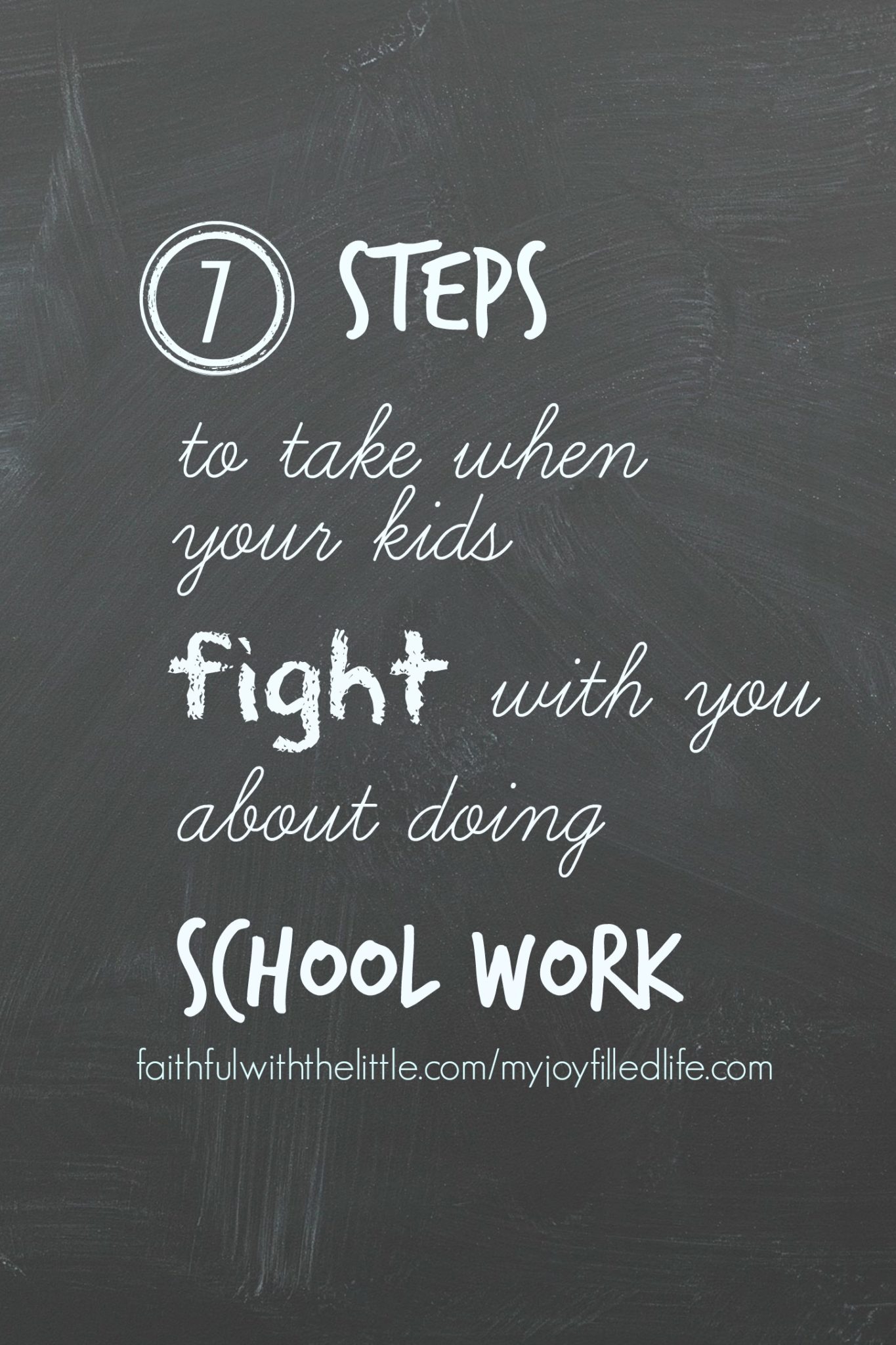 1. Nip it in the bud
It's not easy to make our children do things they don't want to do. The truth is that we are all going to have to do things that we don't want to do, but are necessary in life. They are going to have to learn this, and it might as well be now. Once the argueing starts; stop it right there.
2. Don't fight back
I have never thought of myself as having a temper or being prone to yelling but since parenting/ homeschooling I have unfortunately found myself having outbursts of anger when my children don't respond as they should. When they start in, my tendency is to fight right back. If you have experienced this also, you know this doesn't get you anywhere. We are the adults and need to act like it. We can't lower ourselves to their level. They need to see that we are in control of our emotions. This is so so hard for me as I am a very emotional person and have obviously transferred this to my children. I know this is only possibly as I ask for God's strength and die to my flesh.
3. There has to be a consequence
I really don't like being the bad guy. I would much rather reward my kids than discipline them. There has to be a consequence for bad behavior though, or they will continue to test us. It's much easier to give in and go the easy route but our children need to know that we mean business. As their parents and educators we are not only responsible for their upbringing, but for their education as well. There are certain things they need to learn. How you discipline them or give them a consequence is between you, your husband and God.
4. Outlast your children
It is emotionally and physically draining to outlast our children, especially if you have strong willed children(like I do). If we don't though, they will continue to persist and know that they can tire us out. These guys are smart, let me tell you. They know exactly how far they can push us till they get their way. I have given in many times and paid for it later. I know that if I put in the time now to be consistent and persevere…it will pay off in the long run.
5. Gain your children's respect
One of the hardest things about homeschooling is that our children are comfortable with us. My children would never act a certain way towards a stranger or another adult. I know that if someone else taught them they would not put up as much a fight as they do with me. Many days I would gladly send them off to someone else and not deal with their behavior issues. I am their mother/ teacher though and they need to respect me even more than another adult. Letting them know who is in charge and working through our struggles will only strengthen our relationships with our children. Just as we want them to be obedient and respectful to us, we have to be diligent to gain their respect instead of exasperating them.
"Children obey your parents in the Lord, for this is right. 'Honor your father and mother'- which is the first commandment with a promise- 'so that it may go well with you and you may enjoy long life on the earth.' Fathers, do not exasperate your children; instead bring them up in the training and instruction of the Lord." Ephesians 6:1-4 NIV
As we train our children to be respectful it might not seem like they are having any respect for us but they really will in time.
6. Designate a Principal for your school
Just as public and private schools have principals for their schools; we need to also. We can't do this alone. My husband is our principal. When my children continue to disobey the rules and not do their school work, I talk to him about the problem and then send them to him. He in turn will talk to them and administer either a punishment or a warning. This has made a huge difference for our homeschool and is probably the reason we are still homeschooling. There is no way I could carry the weight of our school on my shoulders alone.
7. Pray for your children and yourself
The heart of the matter of our children fighting with us… is of course sin. The most often neglected yet important thing we could be doing for our children is to pray for them. God is the only one who could work in their hearts and convict them. We also need to pray for our hearts. We can't respond in the right way to our children without his grace and strength.
Whether our children are homeschooled, in public or private schools they all will fight us at some point. It might be about chores, our convictions, our decisions and of course doing their school work, but we have to stand strong and take the right steps for the best interests of our children.
Ultimately I want my children to love doing school and to create an environment where they love to learn. I know though, that there are going to be things that they have to do, that they just aren't going to love; no matter how easy or interesting I try to make it for them.
Of course there will be times when their school work really is too hard or we are using the wrong approach. These are the times when we need to pick our battles wisely and possibly back off. As our children's parents I think we are the best judge of what is really going on. It could be more than a case of making excuses and trying to get out of school work. We need to listen to our intuition and then go from there.
Although our kids might fight us we have to remember that we need to fight for them, not with them…because we love them and have an important job to do as their parents and teachers.
Do your children fight with you?
Do you fight with them?
How do you handle it??
The following two tabs change content below.
Rebekah is living out her dreams as wife to her best friend and homeschooling mama to 5 crazy, beautiful little ones. She loves to encourage and empathize with other women and moms as she shares her heart, faith, joy and struggles on her blog
faithful with the little
. In the midst of meeting all the needs for her ever needy family you can find her running, thrifting, crafting, taking pictures, baking, writing and finding ways to be efficient and organized in her 2 bedroom home. Most of all she loves snuggling with her children and watching them play, create and learn. She lives in sunny Florida on a little farm in the city consisting of children, chickens, bees, gardens and lizards.